Sounds kind of patriotic, doesn't it? A while back I talked about the challenge of fitting sewing for pleasure into my life now that the business has grown. I really appreciated the comments on that post. Many of you responded that of course, I need to take time for creativity! (It seems so obvious to you guys from the outside, but there is always so much to do here on the inside!) And also that I'm a relentless and demanding boss of myself, but if anyone is going to succeed in running a small business, we have to be hard on ourselves. So there's that.
Rachel W said it well when she talked about taking time away from work to sew for pleasure: "And then there's the guilt– I'm convinced that my customers are waiting just outside my windows. Watching me take time off. JUDGING." Rachel, I hear you!
Many of you suggested that I get a separate machine for home, which is a great idea if I had the space and the funds. I'm in a small apartment that simply has no room for a sewing space! (I actually tried to set up a second sewing machine in the bedroom at one point last year, that didn't work out too well…) Not to mention I'd have to buy a second machine, plus a whole new set of tools to keep at home. Unless we end up in a house or larger apartment, it's not going to work. Mr Sewaholic was pretty happy to get me out of his home office, he's not going to let me back in!
In January, I made a real effort to close the computer and just sew for at least a couple of hours on Fridays. Even if that couple hours comes right at the end of the day, once the work is done.
Here's the proof! I made a muslin of the Hazel Dress: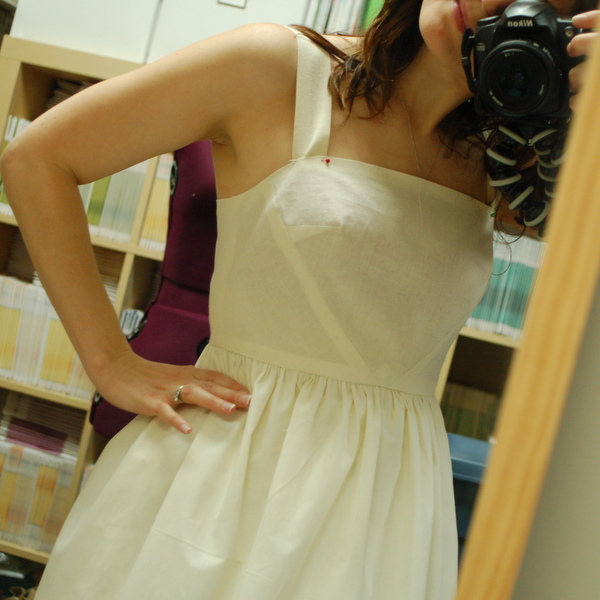 My hand is demonstrating where my actual waistline falls. I decided to leave the waistline as designed.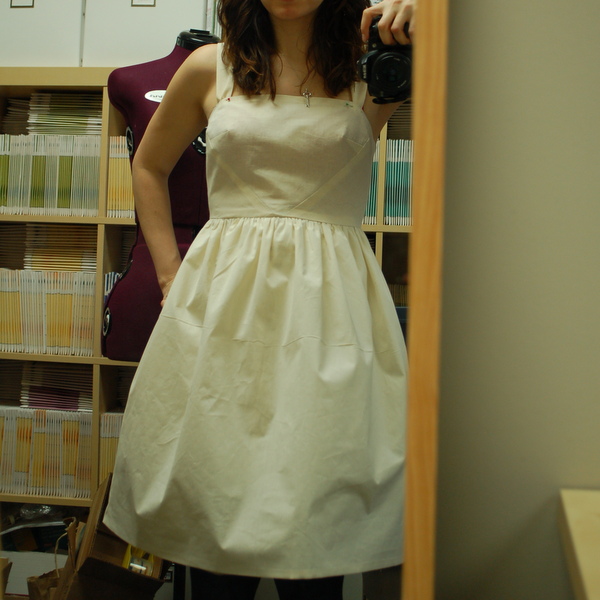 Showing off the pockets! I decided I wanted a little more fullness in the skirt, so I cut a larger size. I also added length because I'm conservative like that, and in the summer I prefer slightly longer dresses for cycling. (It may seem backwards, but I like short skirts in the winter, longer skirts in the summer. Shorter skirts in winter means that less skirt sticks out from my coat and gets rained on. Longer in summer leaves less chance of exposing myself, plus it fully covers my unsexy bike shorts.)
While I had the muslin out, I also muslin-ed Parfait!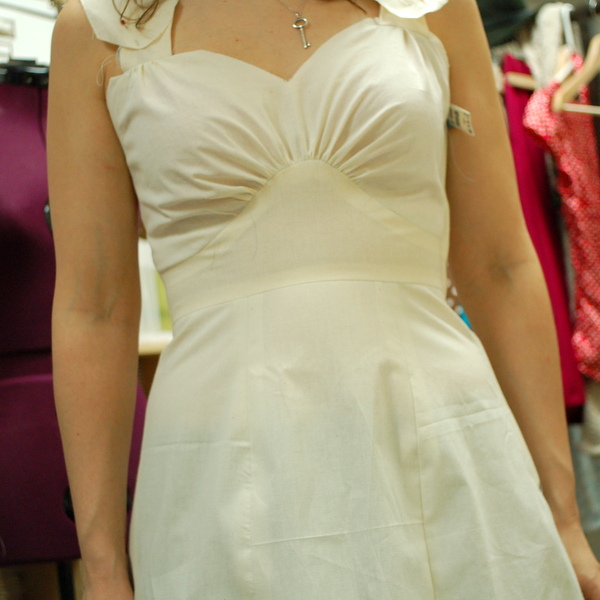 Isn't that a flattering bodice, with the gathers and midriff piece?
You can see the difference in fit between the two designs. They're the exact same size, but one is quite snug (Parfait) and one is fitted with ease to eat and move (Hazel).
This next photo demonstrates a simple reason to make a muslin – the dress straps are placed too far apart to cover my bra straps. It's something that isn't a big deal as far as fit goes, but it would make the finished dress so much better! Take a photo of yourself from the back when fitting, I may not have noticed this without taking the photo.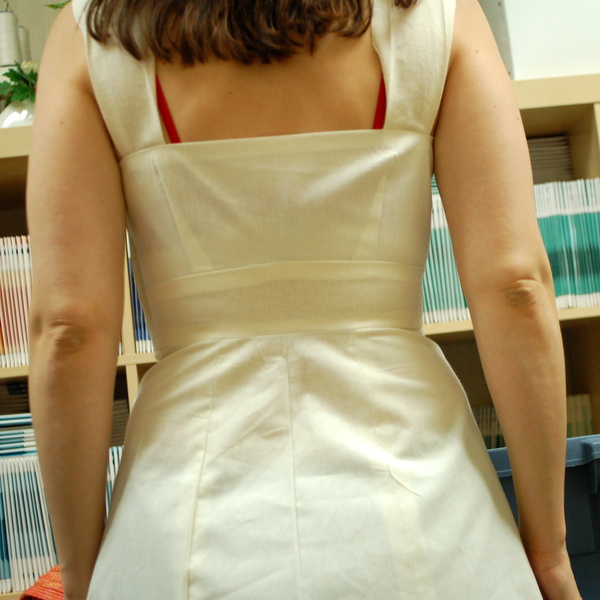 I can see that the skirt back doesn't fit perfectly from this photo. It's pulling upwards at centre back, causing diagonal wrinkles. There's extra fabric at the sides which is giving my silhouette a little side fluff. It would be hardly noticeable in the finished garment especially in a bold print, but I can fix that!
You can see the extra fabric better from the side view here: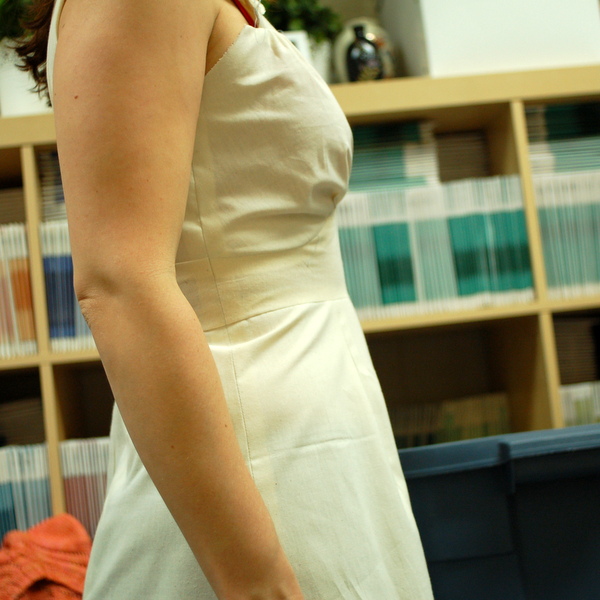 It's like if I were to pinch out that extra fabric, the skirt would hang better.
Since the Hazel muslin fit fairly well, that's where I went next. Parfait is on hold for now. although that bodice detailing is gorgeous and I have a great piece of fabric all lined up.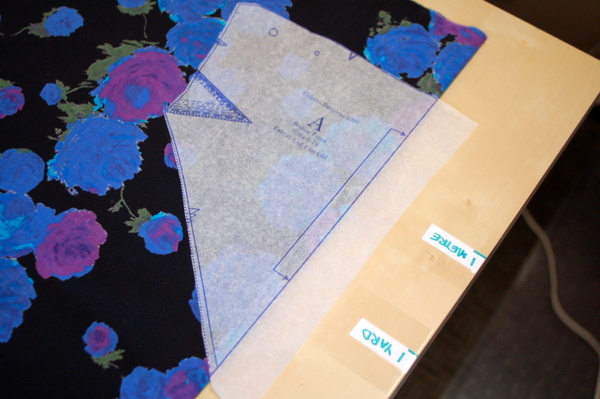 Isn't this floral border print perfect for Hazel? It's a vintage cotton print, I can tell because it's only 35″ wide. Luckily the Hazel doesn't require a lot of fabric!
I also wrote on my sewing table, you can see it in the photo above. I marked off '1 METRE' and '1 YARD' lengths on my table for quick measuring of fabric. This way if I find a piece in my collection, it's easy to measure it off quickly to find out how much I have.
At my previous job, I had to measure and count all kinds of things – tape, ribbon, elastic – so I had the table in the notions area all marked up to make the job quicker. This table isn't precious, so I didn't mind marking it up a little if it made my life easier. You might not want to do this with your table at home.
How do I feel about the start of Freedom Fridays? I feel 90% great, and 10% guilty for not sewing up the striped Renfrew Top and writing tutorials for it. (But I'll get there, and I'll probably feel more inspired to do it since I'm getting some fun sewing in my week as well.) I'm excited about my new Hazel Dress and I'm looking forward to working out the fitting of Parfait.
Most importantly, I feel like I'm getting in that sewing time that I've been missing, and know that even though Mondays are busy, by the end of the week I'll be back in front of the sewing machine, making stuff!
Have a wonderful weekend, everyone!