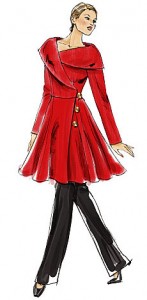 Haven't had much time to sew this week, sadly! Between work and running around, my floral projects have been on hold until I get a free evening. So I've been daydreaming about the Statement Coat, one of the items on my Top 10 Sewing Projects for 2010 list. And even though it's spring – and therefore summer-sandals-and-lightweight-coat season is just around the corner – I'm still thinking about the coat.
This coat, I'm considering – Vogue Patterns 8465. Best part about it, besides the dramatic wide collar and the skirt-like flared silhouette?
No buttonholes! Buttonholes are my enemy, there's nothing worse than finishing a fully lined coat, and having your machine gobble up the front edge where the buttonhole was supposed to be.
Although, I have to admit that feeling is based on my past experience, when I was younger and impatient.
Now I know how to do bound buttonholes and hand buttonholes, and am (slightly) more patient when it comes to sewing.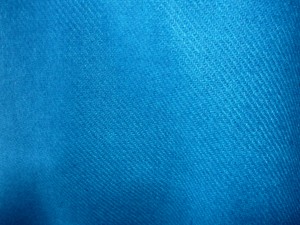 Mostly, I know that if I plan to write about it or photograph anything I make, I want it to be perfect. Thanks, readers, for making me a better seamstress!
I've picked a stunning turquoise blue wool for the coat with a cool satin lining. I scored an amazing deal too – it was in the clearance section of Fabricana for $6/metre!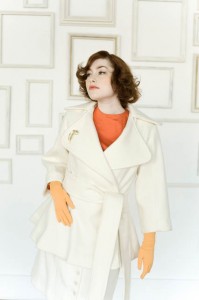 What do you think? Does it say statement coat to you?
Although, I also think Lady Grey from Colette Patterns would be gorgeous in turquoise wool. The more I look at it, the more I think it might be the perfect style for this fabric.
I love the wide belt and oversize collar, and it also has the flared skirt silhouette I'm looking for. Plus for some reason, the Lady Grey coat is more timeless to me. I am concerned that Vogue 8465 might be too much and I'll get tired of looking at the details (and fussing with the loop-and-button closure.) And I'm not supremely tall, so a long turquoise coat might be overwhelming!
What do you think? Leave me your pick in the comments below!