Remember the excerpt from the Colette Sewing Handbook last week, about thoughtful planning for your sewing projects? Do you remember the part about choosing five items you love and feel good in from your own closet, to get a sense of your personal style and guide your future sewing projects?
Just for fun, I thought I'd go ahead and do the exercise and share the results here. You guys have seen me make all kinds of projects, choose all kinds of fun fabrics, and from the Me-Made and Self-Stitched challenges you've seen some of the outfits I put together. And you know a bit about me and what kinds of things I like. So it's safe to say, you may have an idea of what my personal style is like.
Here are my five! I love each of these pieces for different reasons.
1. Twin Spruce Dress. Yes, I know, you've seen this dress a million times already. But I really do love it! I always feel great in this dress. I feel pretty, comfortable, and most importantly I feel like me in it. If I were only allowed to wear one garment, forever and ever, this would be my pick. I love the full swishy skirt, the awesome vintage print, the flattering neckline, the fitted bodice. It suits my small-on-top, big-on-bottom shape by highlighting the small and hiding the big. This dress is underlined with cotton muslin so it's fairly structured, but feels good next to the skin. Even if I've gained a bit of weight (or eaten a big meal!) this dress always fits because of the generously-cut full skirt. There's plenty of room to move without feeling too bulky, and I never find myself adjusting or fussing with my clothing in this one.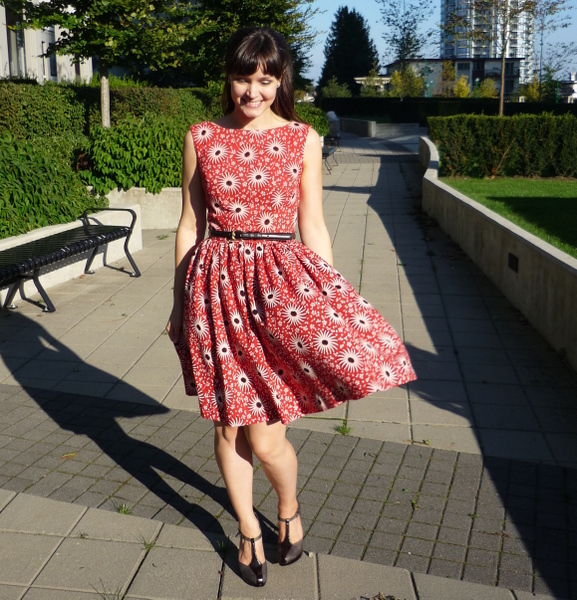 (old photo – I wish the weather looked like this outside right now!)
2. Rose-print Pendrell Blouse. This is my go-to blouse when I need to look pulled-together, and when I don't want to be fussing with my clothing. I feel pretty, covered-up, professional, colourful, and girly! I've worn it to many networking events, my 'Dragon's Den' presentation for school, my guest speaking event for the Coquitlam home ec teachers. It never fails me! It's easy to tuck into solid skirts and trousers. So it's a good idea to make more ruffly, printed Pendrell blouses as I do wear them! It would be nice to have a couple more pretty blouse options. It's polyester, which normally I hate, but the open armholes keep it cool and it's wonderfully easy-care. (No need to iron!) I hand-wash it, and hang it up to dry. The next day it's all clean and ready to go!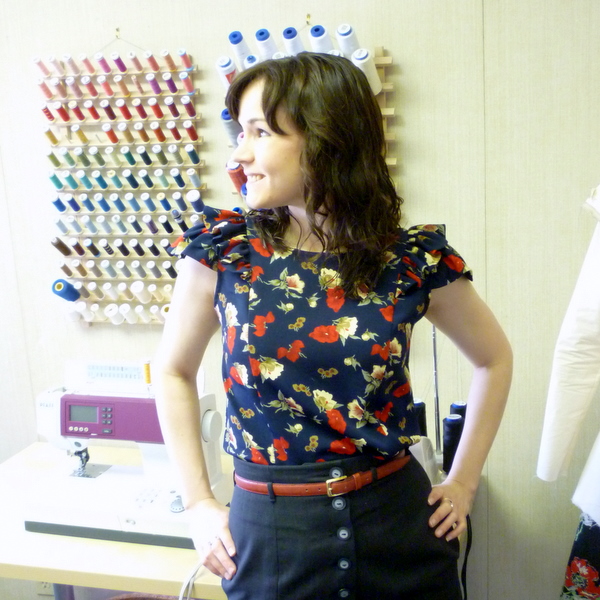 (another old photo – it used to be so bright in the office over the summer!)
3. Red pumps. These poor shoes are wearing out and getting stained and I don't care! I love them. They look awesome with dresses and skirts, and unexpectedly cute poking out of jeans. They're comfortable, bright, and fun! They're a very classic shoe in a fun colour, the heel is high enough to flatter the leg without making it hard to walk. Once they're too worn out to wear anymore, I'll be on the hunt for a replacement pair. Who knew red pumps would be such a staple in my shoe collection?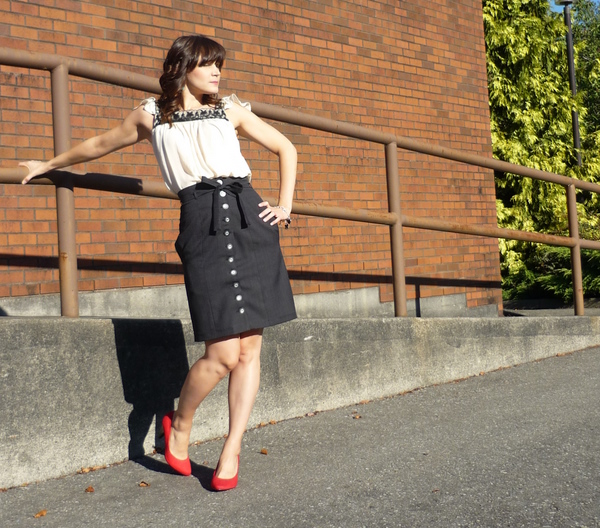 (photo from last September – modelling my Beignet skirt!)
4. Sunset Cowl. I wear this all the time! It's cosy, soft, and warm. I love the golden yellow and it looks surprisingly great with many colours – purple, red, brown, teal! For some reason I have quite a few grey tee shirts (not a good colour on me) but adding the warm yellow near my face is more flattering. I want more of these in a whole rainbow of colours. A close runner-up is the Honey Cowl, but coral doesn't go with as many things as the yellow does.  Both are amazing for cycling. No scarf ends coming undone and waving unevenly in the wind, or getting wrapped around my arm and looking foolish! This is a useful, warm, practical piece that also adds bright colour to any outfit.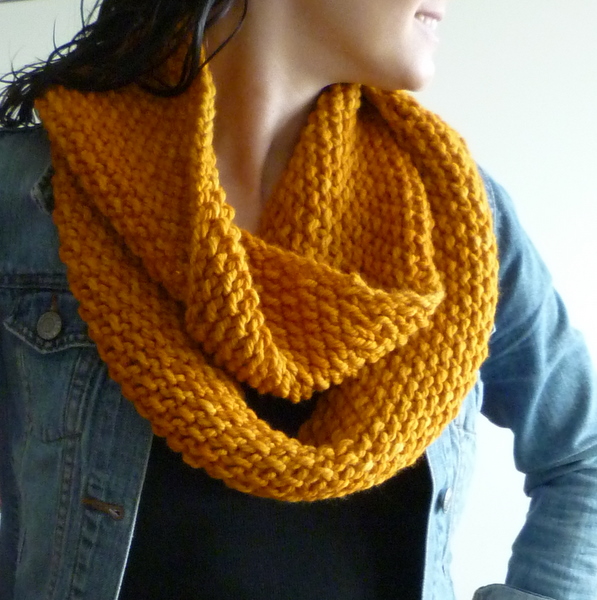 (more sunset cowl photos here!)
5. Tan wool coat. This makes every outfit look better! (No, I didn't make it. It's from H&M about three years ago.) It's not too long so it makes me look short but it covers my butt. Usually I'll have a couple of inches of skirt sticking out, showing off whatever's underneath. The warm tan colour is more flattering than black on me and looks great with my favourite colours – red, teal, turquoise, browns. It's belted so it drawns attention to the waistline, the slightly flared silhouette hides hips and thighs. It's getting very ratty up close, but looks good from far away!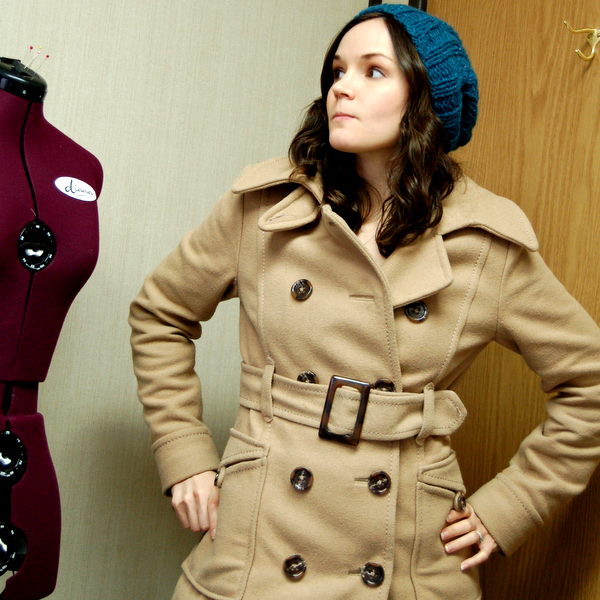 (took a quick photo yesterday – it looks like I'm staring down Diana but at least you can see the details of the coat!)
So what do these five items have in common? What words would you use to describe them? I'm definitely drawn to brights as opposed to neutrals, with the exception of the wool coat. Colour makes me happy!  I like to be comfortable without sacrificing style. The items I've picked are classic styles – pumps, the vintage dress, a simple cowl – but in colours that stand out. Colourful classics? That's not a bad description. I have all kinds of items that are novelty pieces, but my favourites are the classic, easy-to-wear, always-look-good pieces that I know I'll feel good in. Pretty, practical, comfortable classics.
Honorable mentions go to my Colette Chantilly dress and my black printed Lonsdale dress. The cotton seersucker of the Lonsdale is cool and breezy, and I wore it to death over the summer! Walks in the park, dinners out, family events, or to the office. It went everywhere and I never felt underdressed or overdressed, too covered-up or too exposed. Just right! I made the Chantilly near the end of the summer and it's fitted without being tight, which I love. The colours are amazing! And the cotton batiste lining makes it modest enough to be comfortable, adds a little extra poof to the skirt, and feels soft next to the body. All three of these dresses are fitted on top, fuller on the bottom, with a defined waistline. It's a silhouette I love to wear and feel great in!
One other thing they all have in common? They're very well-worn, almost to the point of wearing out. I bought the tan coat over three years ago when Mr Sewaholic and I started dating (on a road trip to San Francisco), and I still love it just as much. The red pumps I bought last fall and they're getting close to the end of their life, too. The yellow cowl was one of my first knitting projects, it's knit rather loosely and has definitely gotten longer, and is starting to get very fuzzy. The moral of the story? If I love something, I wear it a lot! So making similar items is a good investment of time and money. Knitting more cowls, sewing more printed blouses, and investing in colourful pumps are sure to be smart additions to my closet.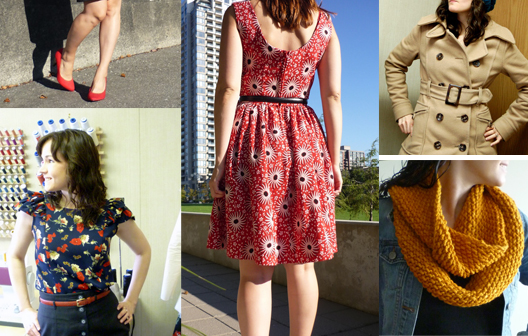 On second thought, these items do make a mini-wardrobe! Printed, feminine dresses or blouses, fun footwear, classic coats, and cosy knit scarves. If that's my signature look, I'll take it! That is actually exactly what I'm wearing as I write this, too – a printed dress in shades of blue, the tan coat, scarf, tights and boots. The boots are more basic than interesting but that's because I cycled to work. This is a neat exercise to do, as simple as it seems!
What are your five favourite items to wear? Do you see any other similarities in my favourite five items that I've overlooked? Do these five items paint a good picture of my personal style to you? If you play along, I'd love to see your five favourites!