Here's the muslin for my Vogue 8769 dress. I've nicknamed it the 'O' Dress after my friend who gave me the pattern. It could also mean 'O' for 'Oh what a lovely dress!'
Although, you might not agree with 'lovely' at the muslin stage. Could it be any more conservative? Long sleeves, high neck and ankle-length skirt. In this shade of muslin-beige, it's just about the most unflattering thing you've ever seen me in. (Although, that's not the point of making a muslin.)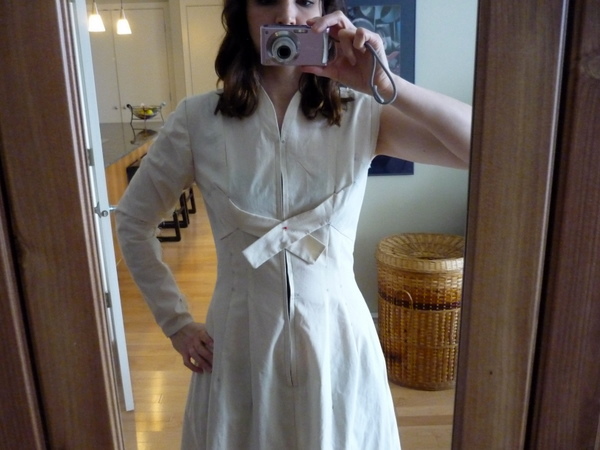 The reason for the muslin is to check two things:
1. Do I even like the style? Do I want to wear this dress when it's all done?
2. If I like the style, what changes do I need to make for it to fit?
I have to say, the answer to question #1 is a definite yes! So that just leaves the issue of fit.
When I originally tried the muslin on Diana, it seemed too loose. My natural inclination was to take it in everywhere for a snug fit. I was worried that a long-sleeved vintage dress, with its high neck and modest cut, would look too dowdy if it wasn't fitted.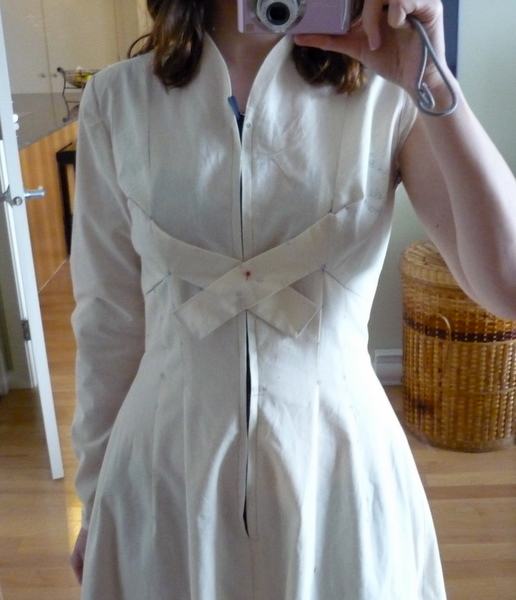 But voila! I tried it on, and it fits beautifully. I'm loving shoulder princess seams, as they create a streamlined silhouette without being super-fitted.
I love how this feels on the body! It's got ease, but it fits really well with flattering lines. I feel incredibly comfortable, but I can still move. I feel pretty! And warm. This will be a great winter dress when I want to look cute but feel warm.
There's plenty of ease, in case I wanted to wear a slip underneath. Perhaps a flannel slip for winter, and a silky slip for spring and fall?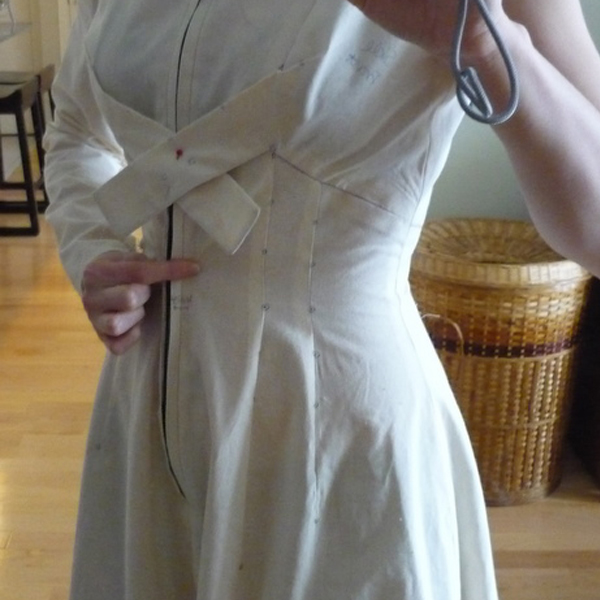 On Diana, the neckline looked puckery and strained at the front neckline, and I considered re-shaping the curve into a V-neck. I'm glad I didn't cut into it right away, because on me it sits nicely.
So I suppose the lesson today is this: fitting on a dress form only works if she's shaped exactly like you. Otherwise, it's only a hint of how it might fit. Fitting is always best on a real live person!
But whoa, is it ever long! I know I'm on the short side, but still, this is nearly full-length on me! (I put heels on, too. It looked even longer in sock feet!)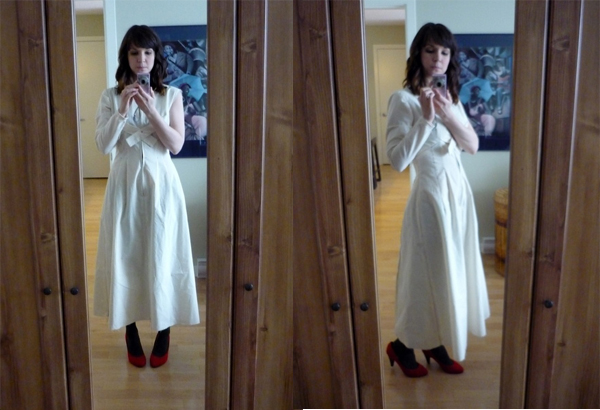 Even though it's simple to do, I'm going to share step-by-step photos on how to shorten the hem.
Here's how to shorten the hemline, using your muslin as a guide:
First, figure out where your ideal hemline falls. This may take some trial and error, going back and forth from pinning to the mirror. There is no perfect spot, as everyone's body is different!
For me I want this dress to hit right at the knee, where my leg narrows in at the kneecap. It's a flattering length on curvier legs, and it's where the dress falls on the cover illustration. (Those must be some very tall models!)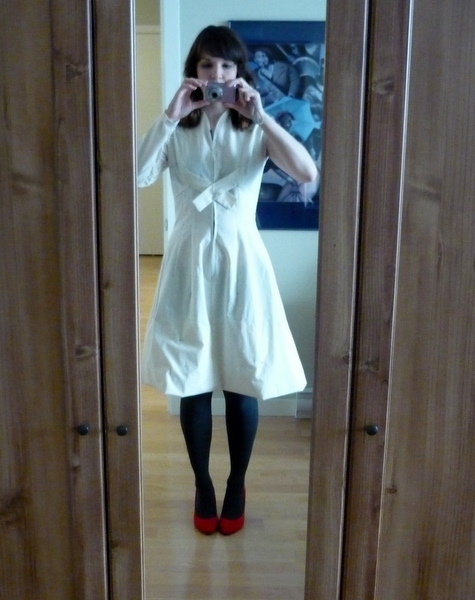 I've decided to shorten the dress by 10 inches. (Ten inches! Wow. I am short.) In the photo above, you can see my new finished length of Vogue 8769.
Let's compare before and after, shall we?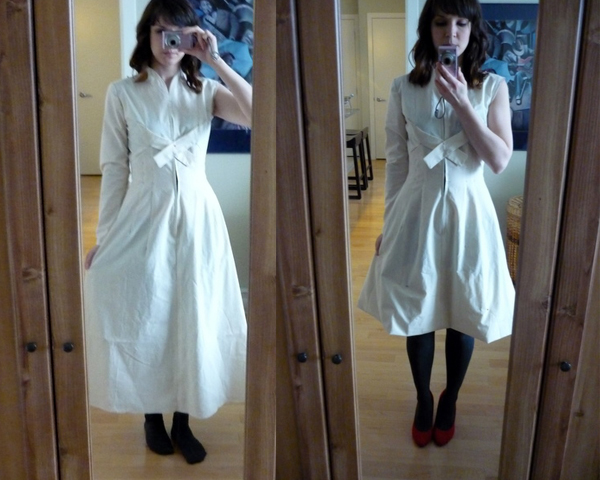 While I'm all for the vintage look, and staying true to the original pattern, the long length overwhelms me! The shorter length is still vintage-y but much more wearable.
Time to make the adjustments to the pattern. First, I'll shorten the muslin, just to make sure we like the length once all of the extra bulk has been removed.
Measure up from the edge of your dress hem 10 inches, and mark.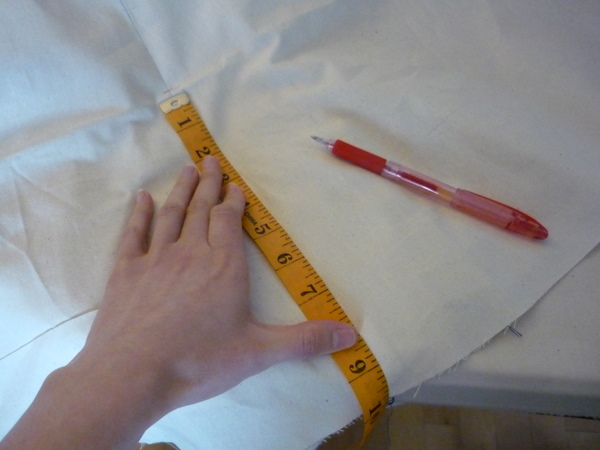 I went back to the original pattern pieces and figured out how much their hem allowance was – three inches.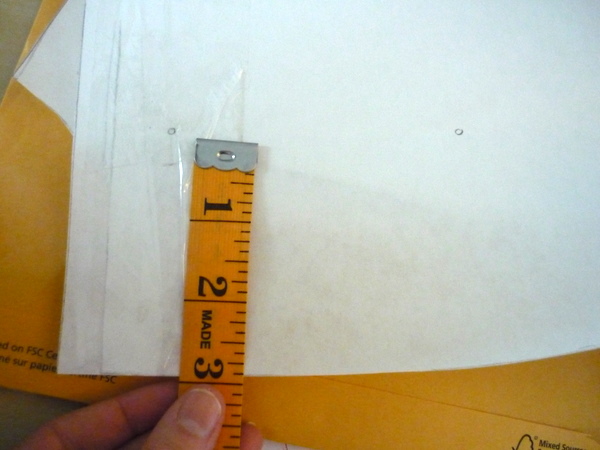 So I've marked a line on the muslin, three inches underneath the desired hemline. You can make the hem allowance as long or as short as you want, depending on your hemming methods and the look you want. I want to stay true to the original pattern, so I've kept the 3 inch hem.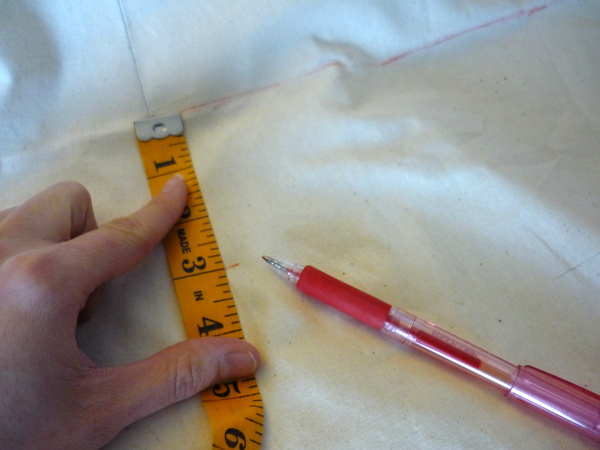 I marked three inches below my desired hemline. This will be my new cutting line.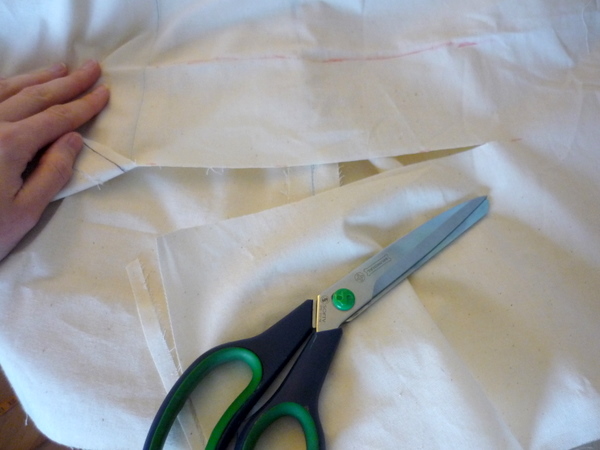 That's one way of marking your new hemline. You can either mark all around your desired hemline, and THEN add the hem allowance. Or, I'm going to measure up to the bottom of my cutting line, and use that measurement as a guide. In my case, it's seven inches. (10 total – 3 hem allowance = 7 inches to reduce)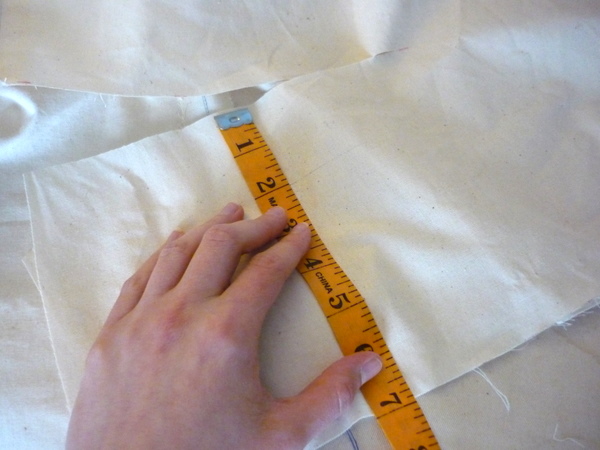 Here's a handy trick to cutting faster – have I showed you this already? Once you've cut a few inches off, fold back the cut edge, lining it up along the hemline.Now this cut piece is serving as a big seven-inch ruler! I no longer need to measure, I can simply use the waste piece as a guide to trimming the rest of my hemline.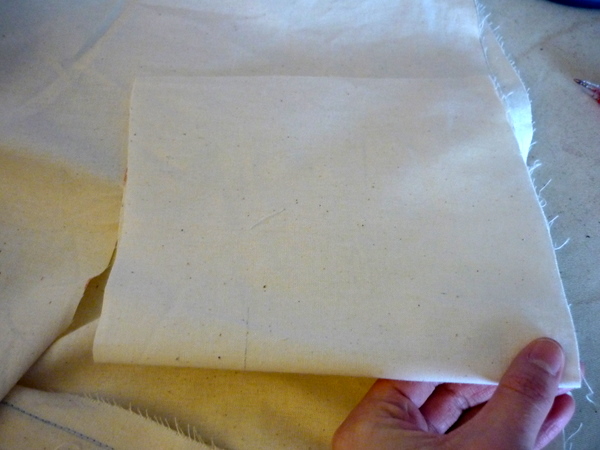 I've pressed up the hem allowance on the muslin, pinned it in place, and tried it on again.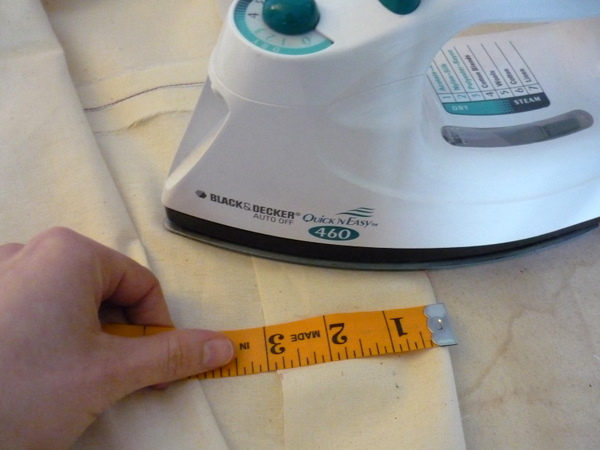 Success! I love the way it looks now.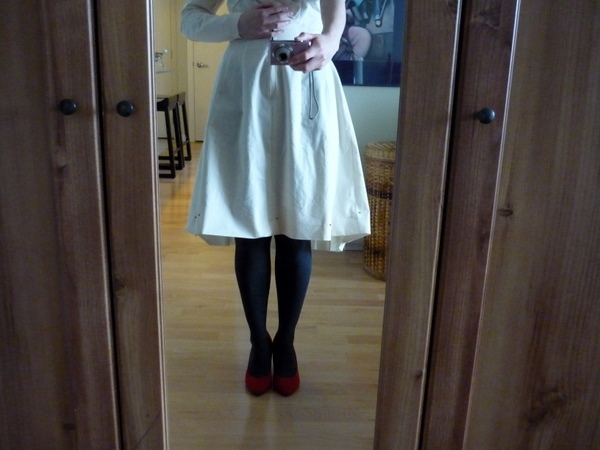 Now I have the urge to make a pretty ruffled petticoat to peek out of the hemline, and add some volume! (Clari made this suggestion on last week's post, and I think it's brilliant!) It's my inner Scarlett O'Hara coming out to act coquettish and flirt. (Just with you, Mr Sewaholic!) Would horsehair braid work in this case, even though it's not a circle skirt?
Now I'll apply these changes to my traced pattern pieces. Any changes we make, we make to the traced pieces. This is great, as the original pattern pieces preserve the original fit and original length.
All I need to do today is shorten my original pattern pieces by seven inches. I'll simply measure up from the bottom edge and mark seven inches.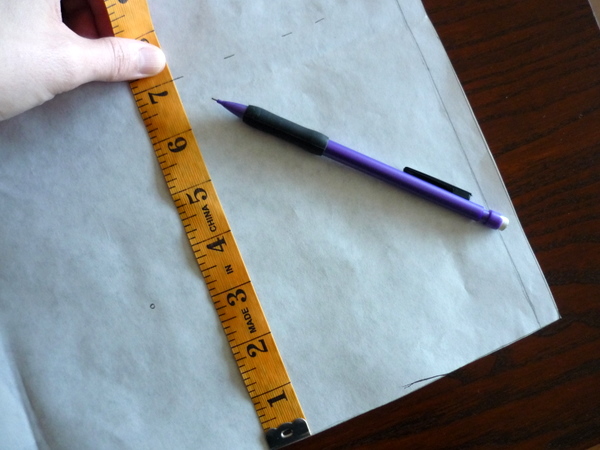 Make several markings all along the edge, connect the dots, and cut!
Repeat with all of the skirt pattern pieces. I also make a note at the bottom of each piece saying '3 inch hem allowance' so I know how much to hem the finished dress.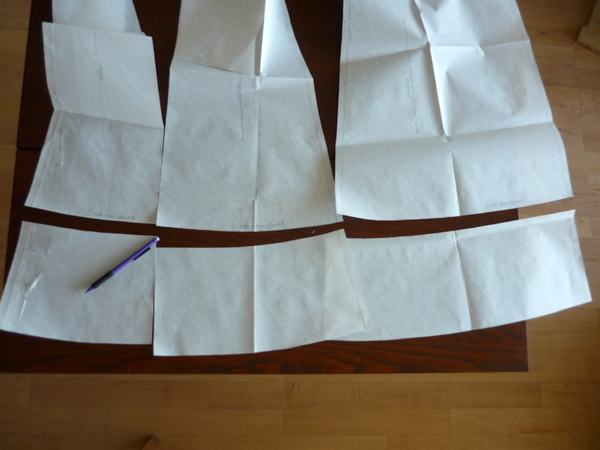 I never thought I'd say this about such a distinct pattern, but I might even make this more than once! Yes, I'm getting ahead of myself, considering I haven't made it once yet… but I love the long sleeves and the shape of the skirt. I'm one of those people who doesn't take her coat off all day if she's cold, even at home! Some days I'll come home and keep my coat on for most of the night. In wool, and with long sleeves, this dress is going to be cute AND warm – a definite winner for cooler weather!
Next up: cutting the fabric and underlining!