Happy Friday, everyone! I have exciting news to share. This week I received my first wholesale order, from Grey's Fabric and Notions in Boston, MA!
If you're in the Boston area and have a chance to check out Grey's Fabric, let me know! (Has anyone been there already?) From the photos it looks like a fantastic store if you love to sew. There's a gorgeous selection of cotton lawns and pretty prints, as well as several wonderful independent pattern lines. I'm thrilled to be included!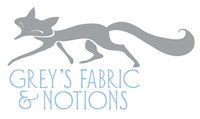 What an exciting step for Sewaholic Patterns! I just had to share it with all of you. Thanks for all your support so far and a special thanks to Grey's Fabric in Boston!
And if that wasn't exciting enough all on its own – there was a finished Pendrell Blouse sighting last night! Mary made the Pendrell Blouse and posted it on her blog. Check out her beautiful blue version!
Hope you all have a wonderful weekend! It's back to the men's shirt project for me. On that note, thank you all so much for the fitting feedback on yesterday's post! It really helps having a second (and third and fourth) opinion on how to best tackle fitting issues. I'll be making some intense neckline and collar adjustments and sharing my process as I go.
PS. Want your own Pendrell Blouse pattern? There's still time to order your pattern for the Sew-Along starting January 10th. Click here to visit the store!