Remember last year, when I ambitiously declared I wanted to sew Christmas presents? And then was laid off weeks later, which left me with more free time but a lot less money. In the end, I sewed a grand total of one present! (Which was Mr Sewaholic's Christmas shirt – click here to check out the construction posts or here to see more pics of the the finished shirt.)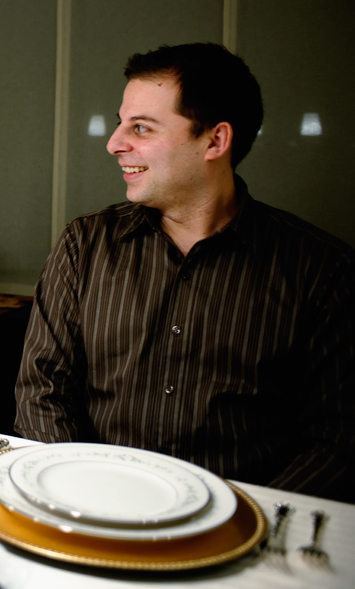 Here's Mr Sewaholic in his shirt, doesn't he look nice?
This year, I'm not making a ton of Christmas presents either. My family draws names, and buy one gift for one family member. It certainly takes the pressure off, that's for sure! For me Christmas is about spending time with family, not about buying a ton of stuff. It always has been, even when I had a regular job!
Mr Sewaholic was easy to plan for this year, too. He loved the hand-knit hat I made him and wanted another one for Christmas! Easy. I can do that, I thought!
So I bought the yarn, and showed him the colors to be sure he liked them. I picked a rather manly charcoal grey with a pale powder blue for the stripe. It's a two-sided reversible hat, and I even figured out how to make the charcoal grey the solid hat and the main colour on the striped side!
And then, feeling super-organized and on top of my game, I finished it up this weekend. It was even easier to knit the same pattern a second time. One present done, one less thing to worry about when it gets closer to Christmas! That's a great feeling!
Here's the hat – no mistakes! Lovely even stripes. A success!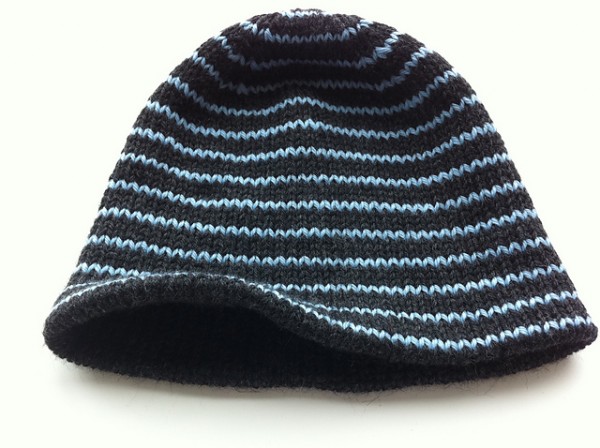 So what's the problem, you might ask?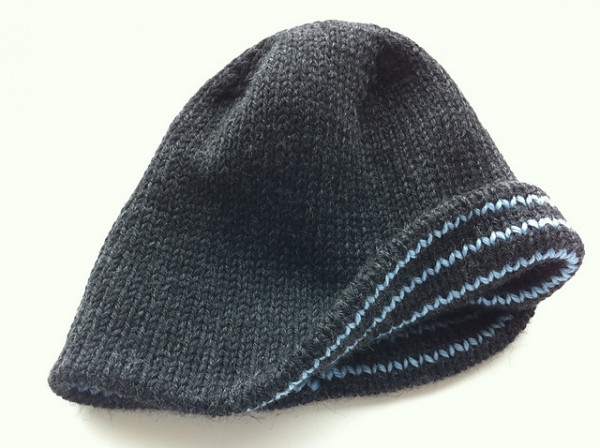 He's already taken the hat!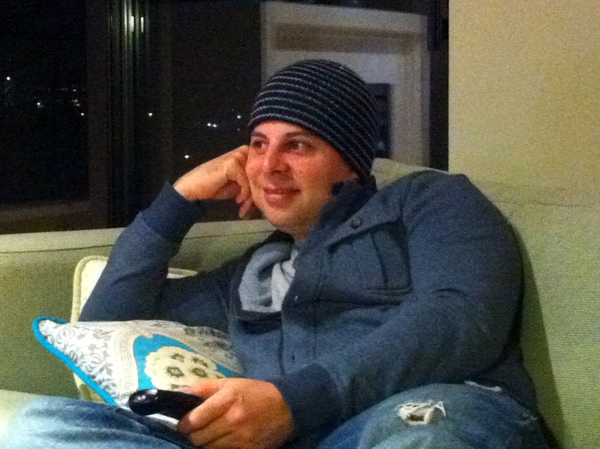 The moral of the story? Letting someone know that you're making them a gift is great, because you know they'll like it.. but once they try it on it's hard to get it back! How could I resist Mr Sewaholic's sadface when I tried to take the hat back? Hard to resist, I tell you.
Are you making Christmas gifts this year? (Lots of great reader suggestions in the comments of last year's post, if you're looking for ideas!) Have you started yet? What kinds of things are you making – knitting or sewing? (And in all the years you've made handmade gifts, has anyone ever claimed their gift well before the holidays even begin?)