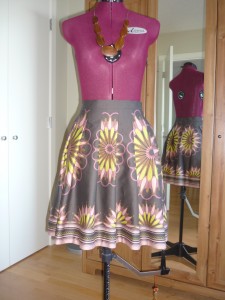 So I finished the skirt I mentioned here – check out the picture! I used McCall's Pattern 5803, still for sale online on clearance. The blouse that comes with the pattern is cute too (though, I feel it might be too matchy-matchy if I made a lime blouse to coordinate…)
The border print looks awesome on this flirty skirt. I even made sure to cut the waistband piece out of a solid brown section, so that it didn't distract from the printed skirt.
I'd recommend this pattern for a beginner to intermediate project, for a few reasons:
It's quick – only took me a couple of hours to sew, a little longer than normal because I hand-stitched the hem.
Easy to fit – it just needs to fit your waist and the rest of the skirt floats away from your body.
Details are cool but simple. Pleats add fullness and create an hourglass figure but are really easy to sew.
Functional – it has pockets!
I'd make this pattern again – I'm thinking solid black for the Basic Black Skirt on my Top 10 Sewing Projects for 2010 list. So cute and comfortable!