Here's a suggestion for organizing something dreadful. Do you have a sewing task that's so overwhelming it scares you to even think about tackling it? For me, that's my notions box. It's a disaster!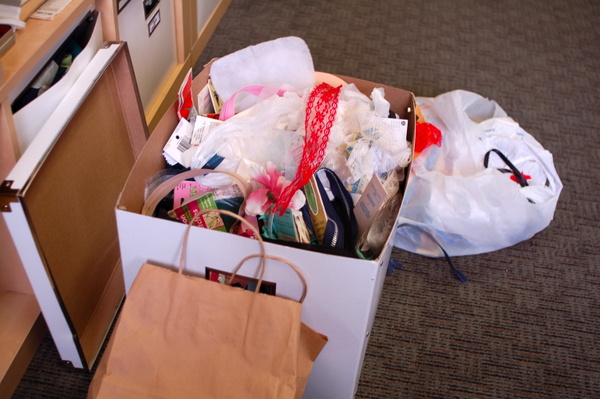 I used to have small boxes, one for each type of notion. Somehow I ended up tossing everything into one large box when I moved into the office last year. In the last year and a half, the box has been stirred up and tangled. Notions have been added and instantly lost. There are bags within bags, empty containers and unattached tags. It's at the point where I buy a new zipper for my next project rather than wade through the disastrous box of tangled trims!
So, I decided to tackle it, one fifteen-minute chunk at a time. Everything's more fun when it's a game, right? I set a timer for fifteen minutes and started organizing. Honestly, I seem to love competing, even when it's against myself. I took photos as I went, and here's how my first Fifteen Minutes in the Notions box went!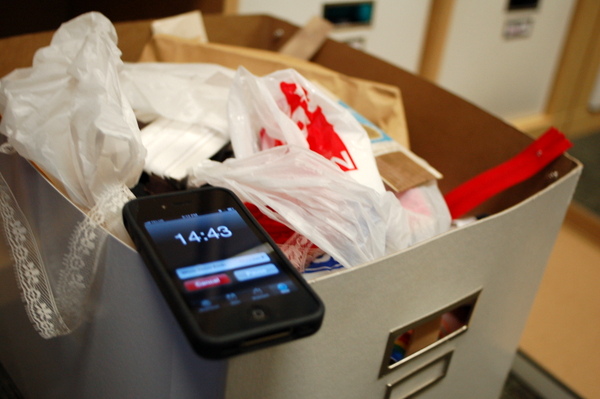 As the countdown began, I started to relax and enjoy myself. Weird, right? It's like as soon as I had an end time in mind, it didn't matter what happened. I only had to get through the next fifteen minutes and then I could do whatever I wanted. Not a bad deal!
I dug through the box, wondering where to begin, and pulled out packs of seam binding. They were easy to identify by feel, so that's where I started!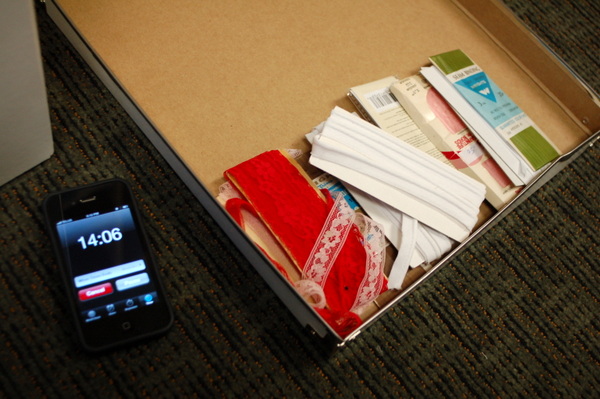 Once I'd pulled out what I thought was all of the seam binding, twill tape, bias tape and any other tape that gets packaged the same way, I started sorting within the category.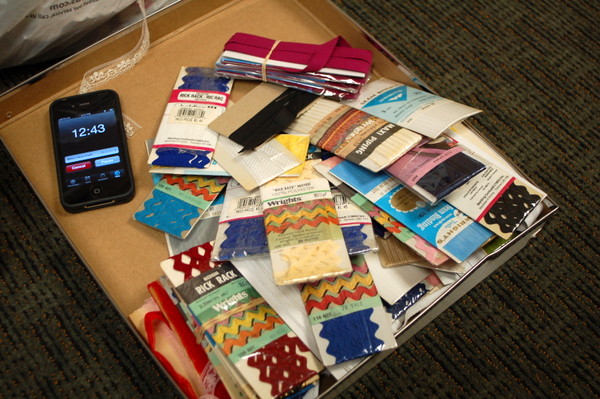 It's more fun where there's a time limit! (Or I just love games.)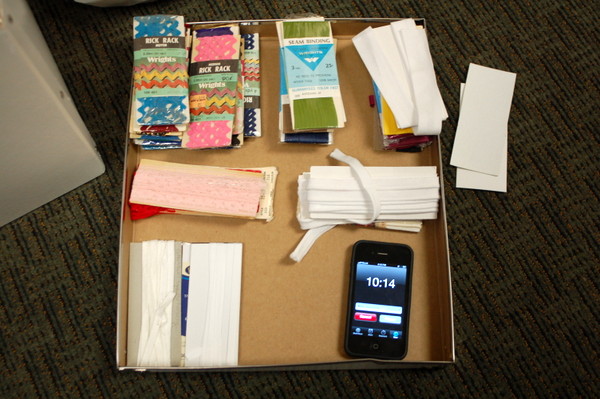 Once they were sorted, I looked for a place to store them. An old envelopes box did the trick!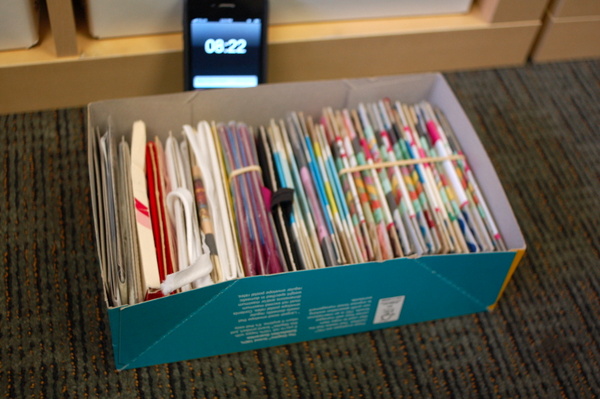 It's hard to tell from the photos but they're sorted by category within the box. Now it's easy to find all the rick rack (so much rick rack!) and all the twill tape at once.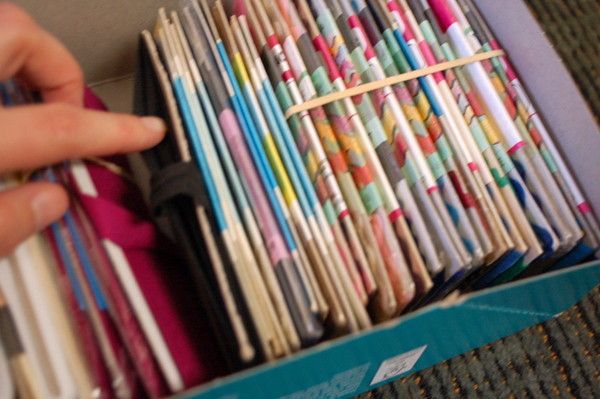 Probably if there hadn't been a timer going, I would have been pretty pleased with myself and moved on. But there was still time on the clock!
Wow, I had no idea I had so many zippers. It took a while to pull them all out of the box!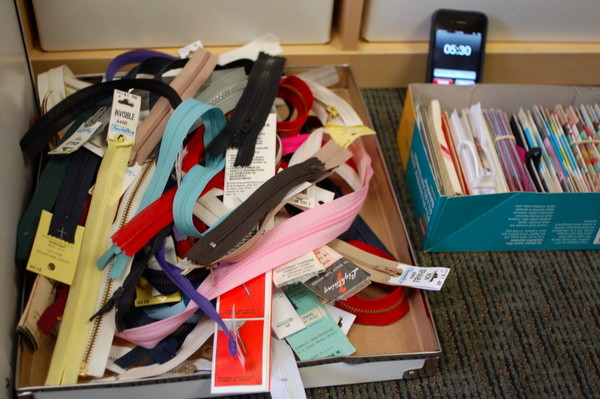 I found a few wayward packs of seam binding and knew exactly where to put them! (That teal lace is so pretty. I've been saving it for the inside of a special dress but I'll never remember to use it if it's buried in the box..)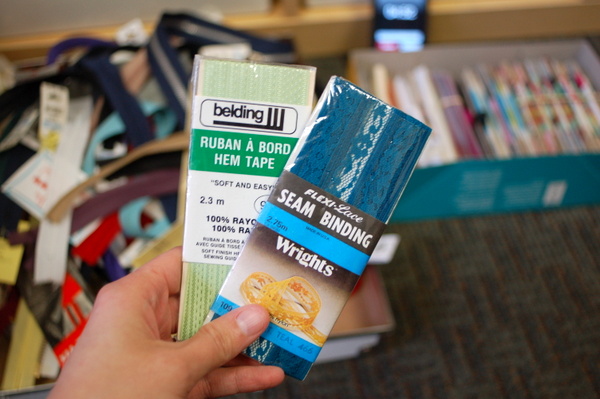 Finally. All the zippers are out, three minutes to start sorting them!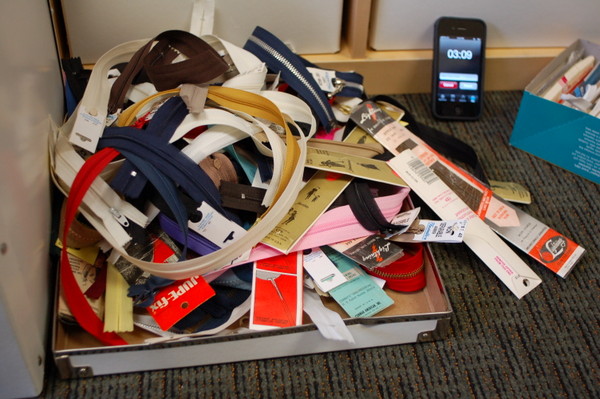 I did it simply, invisible zippers on one side, regular zippers on the other side.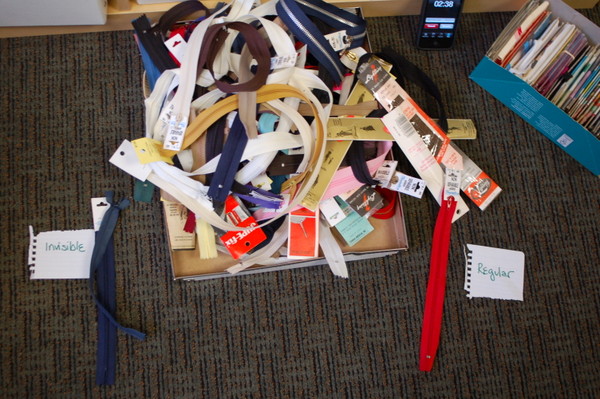 After fifteen minutes in the notions box, here's how it ended.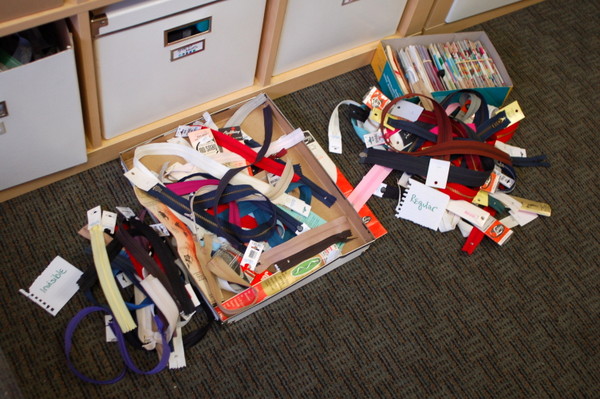 I now have a little box of all my packaged tapes: bias tape, twill tape, stay tape, seam binding, lace tape, rick rack. If I need any of those things, they'll be easy to locate!
I am halfway through – or perhaps a third of the way through – sorting my zippers. I have way more zippers than I imagined, plenty of multiples of the same length and colour, and a ton of randoms. (Electric purple 22″ invisible zip – what on earth was that intended for?) But even though they're not organized completely, I can still pick them out from the pile and use them if needed!
Best of all, that was actually kind of fun! I turned something I'd been dreading into a bit of a game. I like games. I like puzzles. I dislike sorting out a big mess that I've made. I turned the mess into a game and then it was fun! (I'm sure it wouldn't always be fun, but I like that there's a definite end in sight and not just when the entire thing is done.)
Why am I showing you this? Well, if your notions box has never gotten to this stage of disaster, you get to be pleased with yourself. You'll never be re-buying the same thing over and over as it gets lost in the black hole I call a notions box. Your method works! (And you might be having a laugh at how disorganized and messy my notions collection has become. I don't mind, it is a bit funny!)
However, if you're like me, and sewing and life takes priority over perfect organization – especially when it's neatly hidden out of sight – then try the fifteen minutes game! I'm going to devote fifteen minutes to sorting that box every week. It's never too arduous of a task broken down like this, and it's rarely impossible to spare fifteen minutes.
I thought I'd also show you my less-than-perfect notions box, in case you thought I was a beacon of organization. (I usually am, I do like to be organized in most cases. It's when you can slap a lid on it and tuck the box out of sight that it's possible to ignore such disorganization.)
What do you think? Do you think this is a good approach to tackling unpleasant tasks? If you do try it, I'd love to hear how it works for you!
Have a wonderful weekend, everyone!