Ever since I first heard of Spool of Thread, I was dying to check it out! For those of you who haven't heard of Spool of Thread, it's a brand-new sewing lounge in Vancouver.
You can rent machines, take a class, or buy fabric and supplies at this bright and friendly space!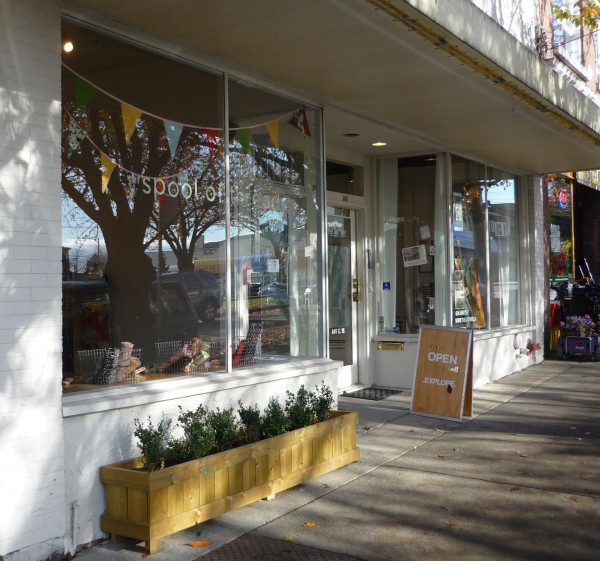 They just opened up this year and I think it's a brilliant idea. (I mentioned it way back in June, in fact! Can't believe it's taken me this long to drop by.) I was on my way downtown so it worked out perfectly.
I arrived right as the store opened, and already the phone was ringing with people signing up for classes, wanting to learn to sew. How exciting!
Borrow a machine, a table, a dress form – plus there's tons of space to work! You can rent space by the hour, if you already know how to sew and just need the space and machinery.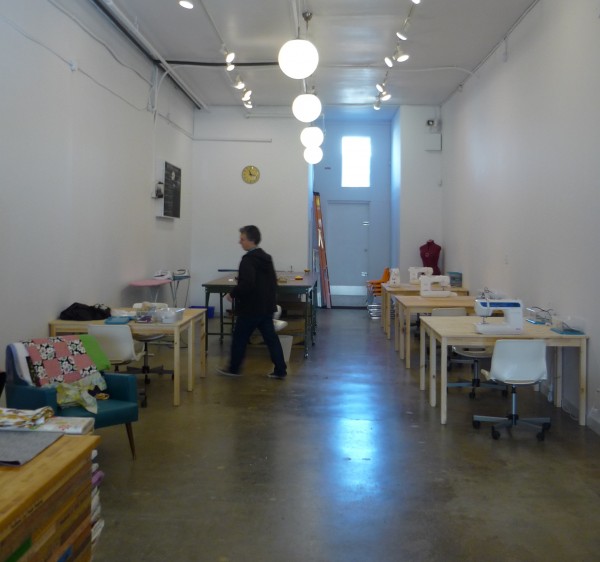 But if you don't know how to sew, Spool of Thread will teach you! There's even Sewing Machine 101 for the very beginner. Classes are listed on a chalkboard at the front of the store.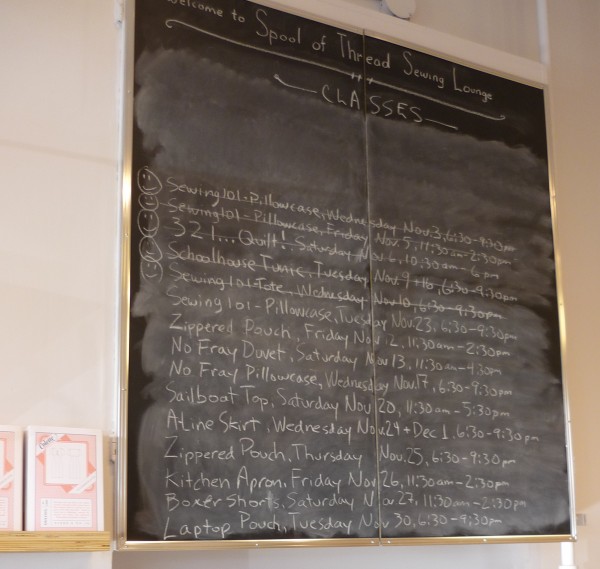 They sell fabric too! Cotton solids and prints, a variety of wonderful quilting cottons, all arranged by colour.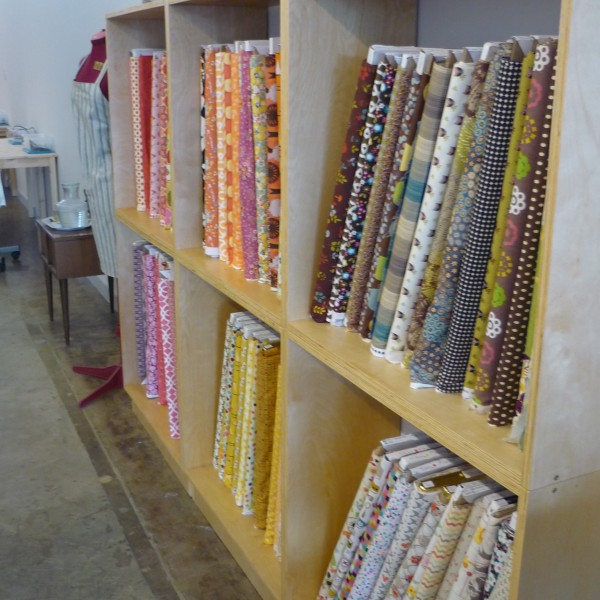 I know there's a lot of debate on whether quilting cotton is for clothing, but doesn't the rainbow of fun prints make you want to ignore the rules and make yourself a sundress? (I sure did, and then remembered it's freezing out. Guess the sundresses are on hold for a couple of months.)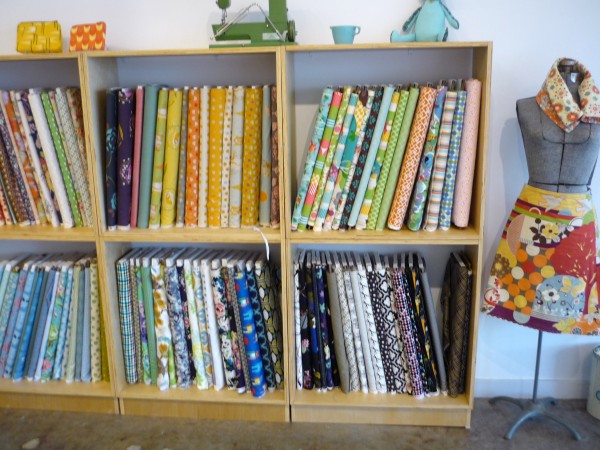 Patterns for sale! Colette Patterns and Oliver + S. One of the only places in Vancouver that sells Colette Patterns that I've seen! (Maybe one day Sewaholic Patterns will get a little spot on that wall…)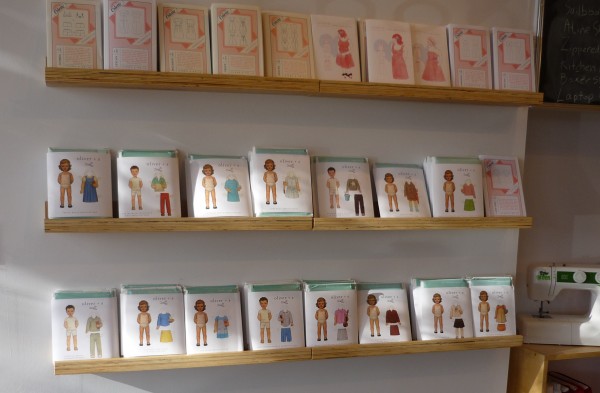 Besides fabric, they also stock essential supplies like thread, scissors, pins, and marking tools.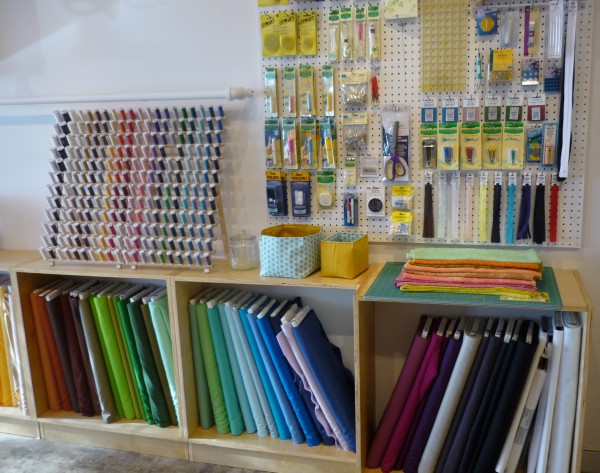 I bet you're wondering, what did I buy? I couldn't leave without something, so I picked up this adorable owl-print cotton! I'm going to make cloth napkins.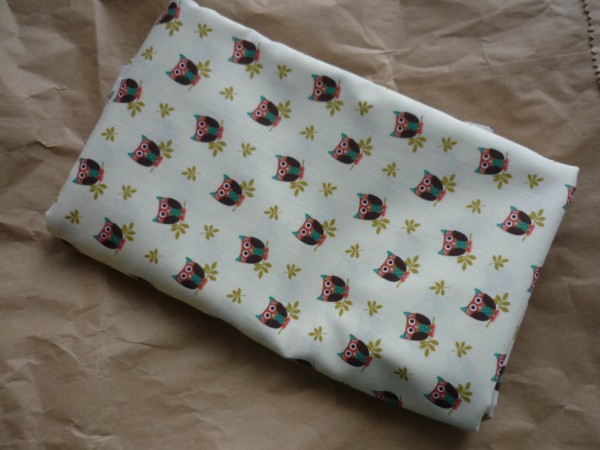 When I first moved out to my own place, I bought a ton of brightly-coloured paper napkins from IKEA. (Doesn't everyone buy napkins and candle-holders when they first move out?) Well, I've finally worked through my supply of paper napkins and I'm looking for a more eco-friendly solution.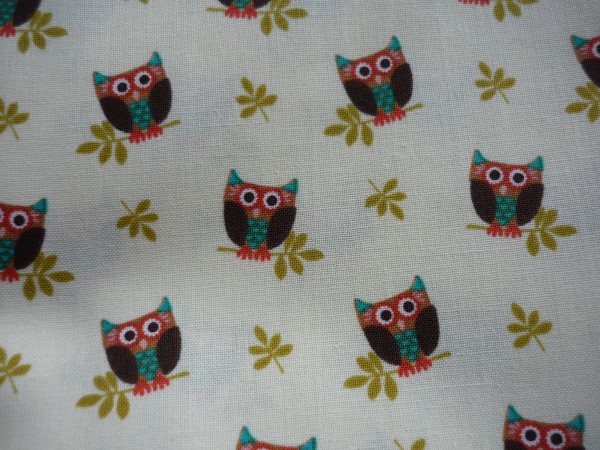 Aren't these little owls so cute? I'm going to cut napkin-sized pieces, serge the edges and whip up a ton of reusable napkins! (I'll write up the easiest tutorial in the world, so you can make your own napkins, very soon!)
I wanted to hang out longer in Spool of Thread, if you're in the Vancouver area, it's worth a visit. Especially if you've always wanted to learn to sew, why not take a class or two and try it out? Or if you sew in a very small apartment and need more space – don't we all need just a little more space?
Check out SpoolofThread.com for more info!