As always, whenever the seasons change I dream up a whole new list of things I want to make! My fall and winter plans usually focus on warmth, as it gets cold and wet here. The best way to get excited about damp and rainy weather is to make cute new things, right? I like to think of it as an opportunity rather than a negative thing. I counter "Hey, it rains a lot!" with  "But look, cute rainboots!"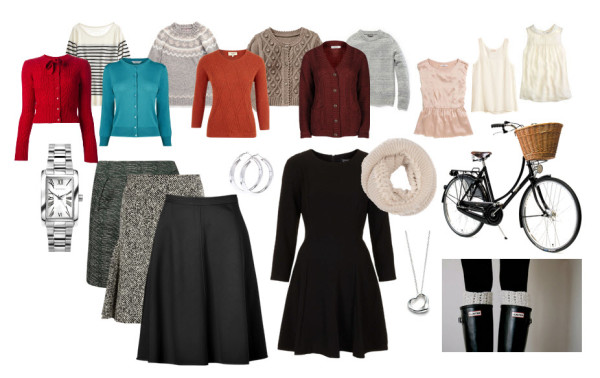 (What a beautifully simple winter wardrobe! It would be so easy to get dressed in the morning if my closet looked like this…)
Number one thing I want to make this cold season? A warm black flared skirt. You would think I would have this in my wardrobe already, given that skirts are easy to make, and black fabric is easy to find. I really need a cute, simple, comfortable black wool skirt to go with blouses and sweaters. Flared so it's easy to bike in, lined so it doesn't stick to tights.
Winter-style dresses. You may have notice I love summer dresses. What's not to love? Bright prints, floral prints, colour, these are all good things. It's easy to make a bold printed dress seem exciting to wear and sew. What's harder to get pumped about is that classic navy shift that will go with every sweater and scarf I own! I also find it hard to choose good prints for winter. The loud prints I love for sleeveless dresses become overkill once you add sleeves. Muted colours and subtle prints are not my forte. But I like wearing these things and I admire the simple, classic look on others. I can sew with subtlety, yes I can!
Another quilt! Oh yeah, I bet there are some of you who are groaning over that. And I get it, quilting is totally boring if you've never tried it and have no interest in it. So I'll spare you the details and just show off the finished result. I only have a few more surfaces in our apartment that I can cover with quilts anyways.
More Hollyburn Skirts. After making the must-have black skirt, I'd love to make some more Hollyburn skirts. They're quick to sew, the cut is so flattering and the fit is easy. Just the waistline to contend with! Plus, pockets. I have a nice selection of wools and wool blends that will be perfect for making warm Hollyburns.
All the sweaters. Over the summer I got busy, plus it was too warm for sweaters, so I took a bit of a break from obsessing about knitting. The obsession has returned! I want to knit all the sweaters – pullovers, cardigans, chunky knits, vintage styles, colourwork, basically, way more than I can actually finish!
Cream camisoles for under cardigans. It looks so much nicer when there's a pretty camisole peeking out of a cardigan, rather than an old tank top or tee shirt. I'd like to make a handful of cream or off-white camisoles so I always have one clean and ready for layering under camisoles. My favourite one that I used to have was stretch silk, with a very pretty and intricate lace trim along the top edge. If I can even get one or two made up that's an improvement on having none!
Boot toppers. They're like socks, but without the foot part. Like legwarmers, but meant to be worn peeking out of boots. This I can get behind. I cycle year-round, and I much prefer boots and tights and skirts to pants. You can fit more layers under skirts and over tights and still be able to bend your knees. These little knitted cuffs will fill in that gap where cold air and rain gets in between the boot and my leg. I'm not sure they'll fit under knee-high boots but they'll be perfect with shorter mid-calf boots. Yes, they may make my leg line look shorter, but when it's snowing and you're on a bicycle, elongating your legs is not nearly as important as keeping them warm!
Ok! That's my plans to keep warm and stylish this winter: basic solid Hollyburn skirts, winterized dresses, all the sweaters, warm boot toppers, and a quilt. I love making lists, even as I type I'm excited to get started!
What are you making this fall and winter? What's on the top of your list?