My first project of the fall sewing season is complete! It's the Gabby Jacket from Style Arc, sewn in a lovely wool tweed.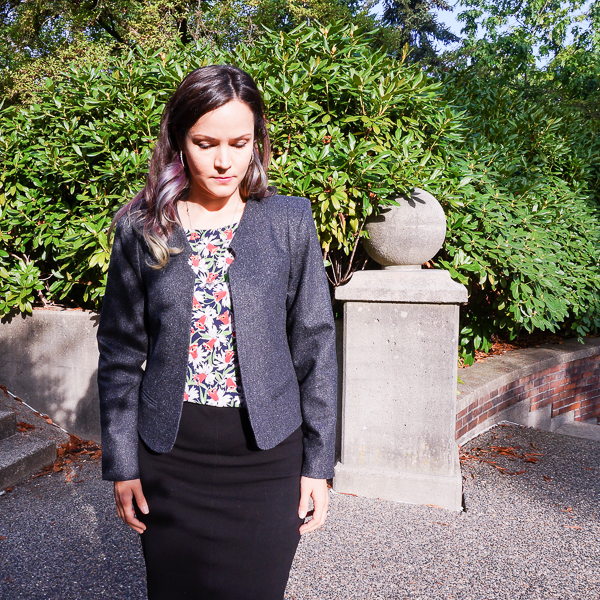 Short story, I love it, it's supercool, I enjoyed sewing it and I can't wait to wear it this fall.
Three most important things that I noted while working on this project:
I love sewing with wool. I've been working with a lot of synthetic fabrics recently and it's been nice to sew with wool. It presses, it eases, it smells good when you iron it. Sleeves ease in beautifully, curved hemlines are easy to shape. Wool is light and warm so even though the fabric isn't heavy, it'll be a great warm little jacket to throw on when I need it.
Simple doesn't have to mean boring. This jacket is relatively basic in design with a few special details – the neckline, the curved hem and the awesomely big shoulders.
You adapt to unusual things in sewing quickly. In this pattern, the seam allowances vary, from 1cm to 6mm, along different parts of the garment. At first it felt so small to work with such a narrow seam allowance, but by the end of the project it felt normal. (Also, narrow seam allowances mean less trimming!) The instructions are brief, but enough to tell you what part to work on next.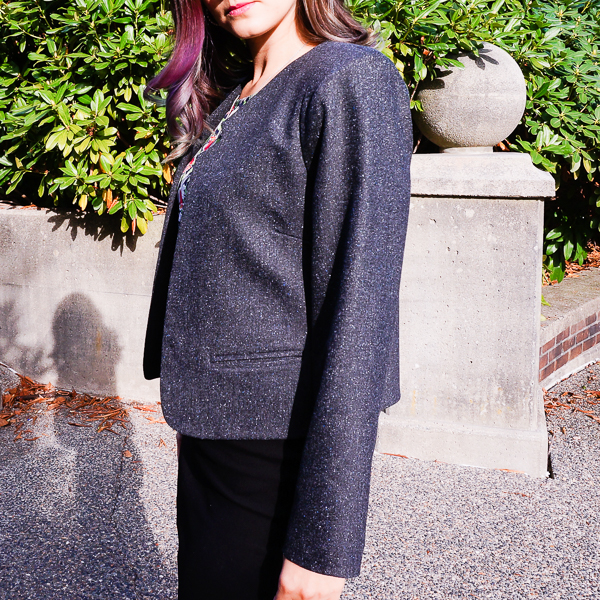 It looks shinier in these photos than it does in real life, making the sleeves look a bit loose and wrinkly. Because there's no closure and the front hangs open, it's easy for this jacket to slip around and not sit in the exact right spot all the time. Fine for general wearing, but it makes it hard to get a really accurate self-photo of the sleeves.
The fabric does have a soft drape like you'd imagine from the photos though, so it's very comfortable to wear. It doesn't feel stiff even though the entire front is interfaced and the shoulder pads are huge.
I feel cool in this jacket. It meets my criteria of being more modern and sophisticated than cute. It's got a nice shape and structure. I love the big shoulders.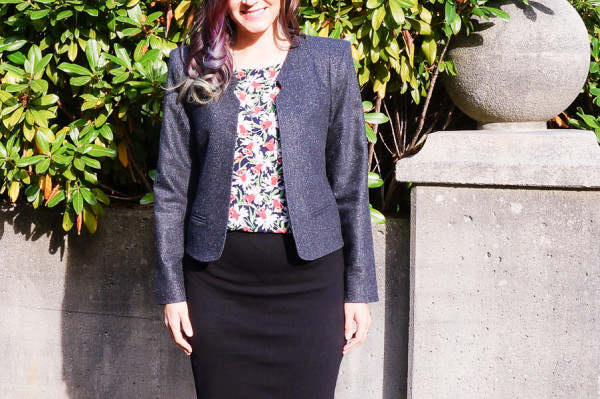 It's a good style for pear-shaped figures as the shoulders balance out wider hips. The straight line of the shoulders draws your eye upwards, the shorter jacket length hits at a nice place on the body. The pockets are too short to be useful, but they're pretty and enjoyable to make. I considered slipstitching them closed, so they'd stay perfectly flat, but haven't done that yet.
It is loose-fitting through the back. Lots of room for sweaters and layers underneath, but not the most shapely appearance from the rear view.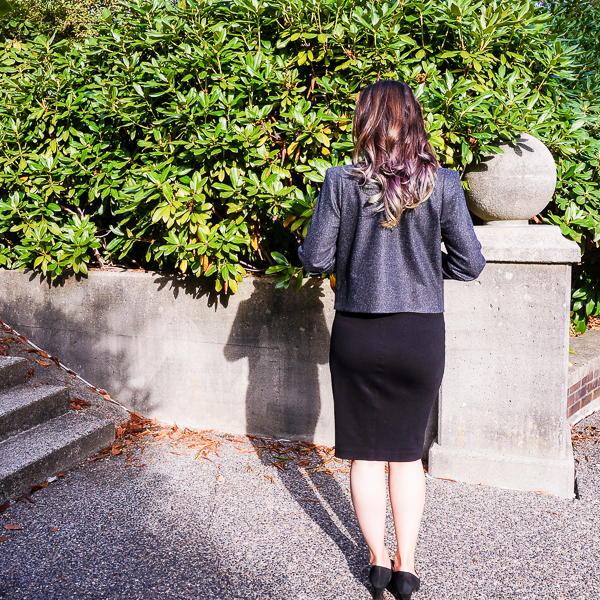 The fabric is a wool tweed, seen in this post here. It's lined with blue rayon bemberg lining, barely visible inside the sleeve cuffs here.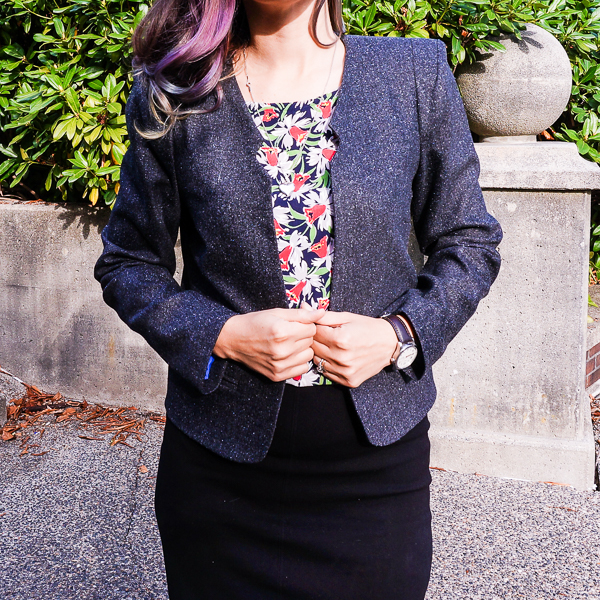 The blouse in these photos is our Pendrell Blouse in a rayon floral print, originally posted here and also seen in this post.
Jackets are fun to make. Collarless jackets, like this one or our Cordova Jacket, are faster to make than jackets with collars or lapels. I'd like to sew our Cordova Jacket again as I dream up more jacket sewing projects. I've always wanted to make another one after sewing the metallic sample and maybe this will be the year.
But first, sewing the rest of the projects on my fall list!