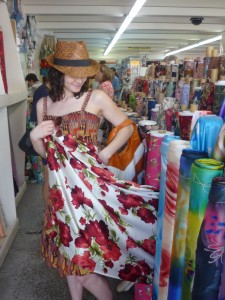 I squeezed in a visit to a fabric store while I was on vacation in Hawaii. We checked with the front desk, and sure enough, one of the places on my Google map was within walking distance.
After walking for an hour in 30-degree heat, we arrived at Fabric Mart, which did not disappoint. You want Hawaiian print? You got it, with two whole levels worth of printed cottons, rayons, and poly-cotton blends, in every colour combination imaginable. It was almost too overwhelming to pick anything to purchase! (Don't worry, I managed to make a decision…or two.)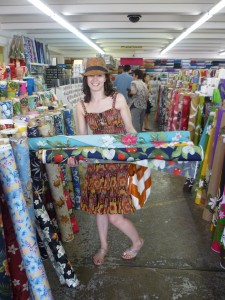 That's me, wrapped in hand-painted silk charmeuse. Doesn't it already look like a dress? Can you imagine it blowing in the warm summer breeze? Needless to say, that one came home with me, double-bagged in ABC-store plastic bags in case of accidental shampoo leakage. It was by far the priciest of my purchases (at $25.50 per yard) but I would have regretted passing it up.
Here's me, struggling to carry the rest of my picks – a turquoise rayon print, a navy cotton print, and a yellow floral cotton. Look behind me at the selection! It's sorted by fibre content, which I thought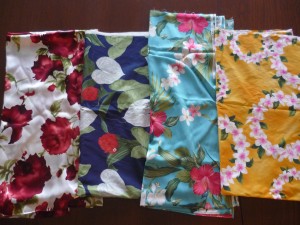 was brilliant as I could bypass the poly-cotton blends and go for the rayons, silks and 100% cottons. And besides the fancy silk, most of the cottons and rayons were reasonably priced between $4 and $6 per yard.
Not heading to Hawaii any time soon? Visit Fabric Mart online. The site is easy to navigate and I found almost everything I bought available to buy online.