It's a good thing I bought fabric in Boston, or this would be a picture-less post! After losing my photographs to a tragic 'Card Read Error,' one of my first thoughts was that I would have no pictures for my Fabric Shopping on Vacation posts. It was almost as sad as losing all of our actual vacation photos. No evidence of us visiting Harvard or riding Codzilla (driven by an American Idol contestant!) no Boston skyline by sunset as we did the Duck Tour, no photos of us at Cheers where everyone knows our name. No sunset pictures of the Washington Monument, no pictures from Washington, period!
But I'm not going to dwell on things I can't fix… at least I have the memories, right? (That's actually one of my biggest worries, is forgetting the wonderful times we had, if there are no photos to remember the trip. I feel like I'm constantly forgetting things, and it's nice to have photos to trigger the memories. Even when we were away, we'd look back through the photos and be amazed at how much we'd already seen and done…)
So – back to the Fabric Report!
I don't have a ton to say about Winmil Fabrics. I didn't buy anything, and while prices were good, there wasn't much that called to me. (Ever have that happen? You're all geared up to buy stuff and yet you walk out with nothing.) And since I don't have any photos to share, let's move on.
Sew-fisticated was fairly easy to find even though I didn't check the directions before venturing off on the Green Line to Lechmere. (Leech-meer if you're wondering how it's pronounced, that's how the subway voice said it!) The subway system in Boston is so easy. We bought 7-day passes so we could ride as much as we wanted, and I'm sure we got out $15 worth and then some. There's maps in every station, maps on every train, and even the walls are painted the colour of the line. Green wall = green line. So easy!
Anyhow, when you get off in Lechmere, just walk down the hill and eventually you'll find a shopping centre about 10-20 minutes down the road. Sew-fisticated is in the shopping centre next to T-mobile and Dunkin' Donuts (which I've figured is the US equivalent to Tim Hortons.)
At first, I wasn't too excited by the front-of-the-store selection of polyester prints.. but if you venture further in, the fabrics get better. Silks at excellent prices ($6 to $9 a yard!) and wools starting at $1.99/yard. Yay! I took probably 50 sneak-photos but sadly they're gone. My favourite was the sign telling you to cut your own trims. Help yourself!
Here's what I bought, all at awesome prices for good quality. Totally worth the trip!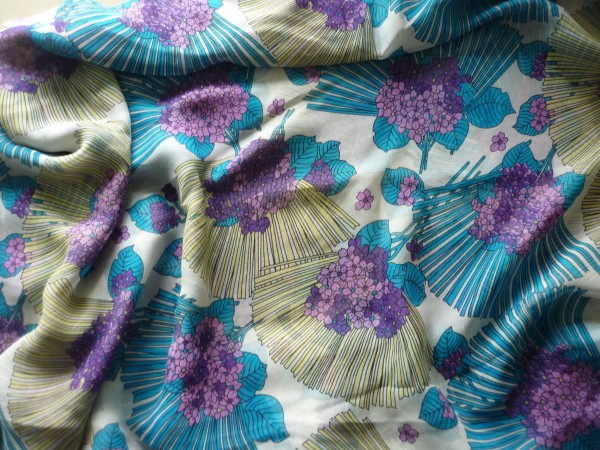 Sheer silk chiffon print, pretty and only $6/yard. Ok, I don't usually sew with sheers that often, but I LOVED the turquoise-ness of this one. I'll make it work.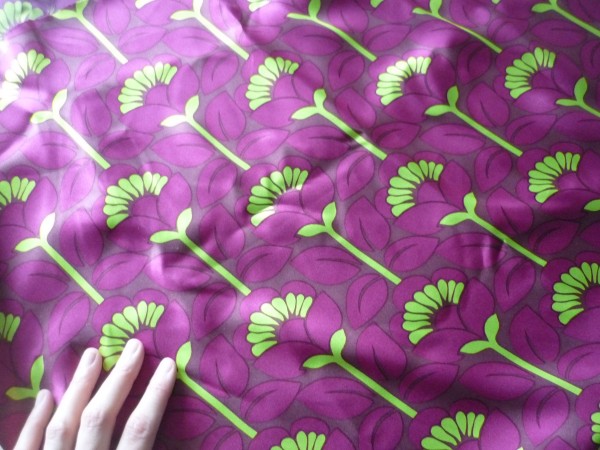 I was iffy about this purple and lime silk charmeuse print but I'm glad I bought it. It's a great fall-like print and yet so soft and pretty! If I remember correctly this was $6/yard too.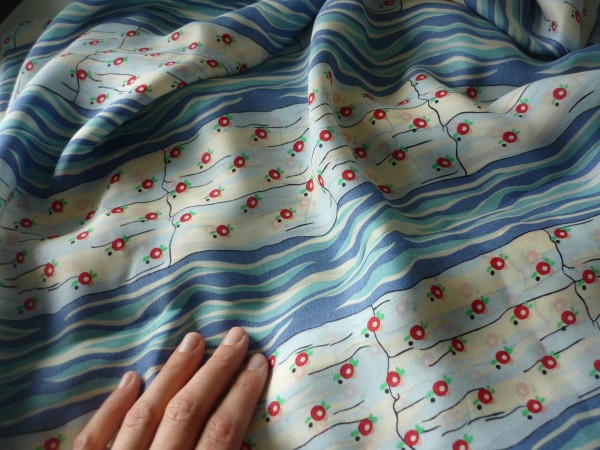 Oooohh..I love this silk print. I'm not totally sure what to do with it due to the wide stripes of print but I had to have it! Probably a dress. This one may have been $9/yard but maybe it was only $6 too. Either way, a total deal!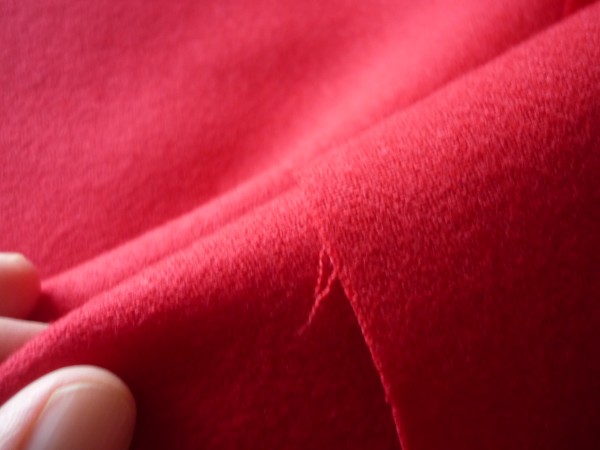 This luscious 100% wool in cherry red was only $5/yard! Can you believe it? It's slightly thicker and has a bit of a texture to it. There was a fantastic section of woolens, the blends were all $2.99/yard and the pure wools were $4.99. I was originally thinking Beignet but maybe a little fitted jacket would be nice, it's definitely thick enough for a jacket or coat.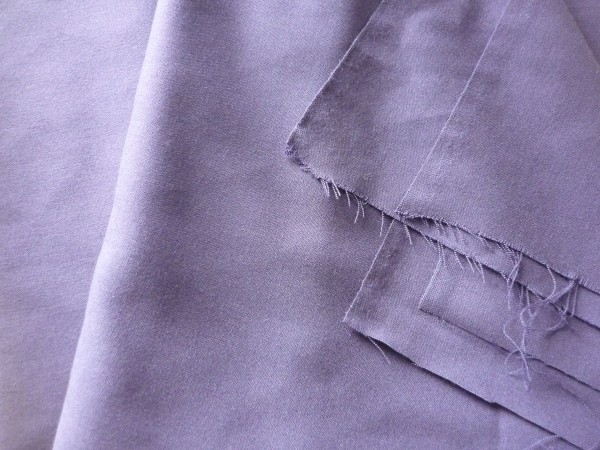 I also picked up this bluish purple wool as well, for a skirt or perhaps a dress.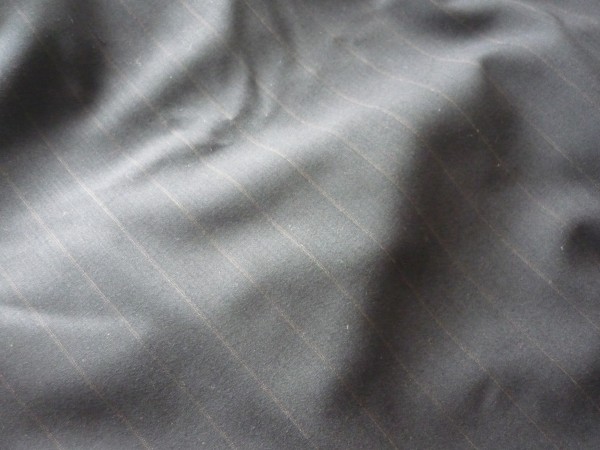 And this nice lightweight 100% wool pinstripe, I'm thinking pants. Even though I have yet to sew a successful pair of pants.. this fabric would be perfectly elegant! (I bought enough yardage to make a test pair first.)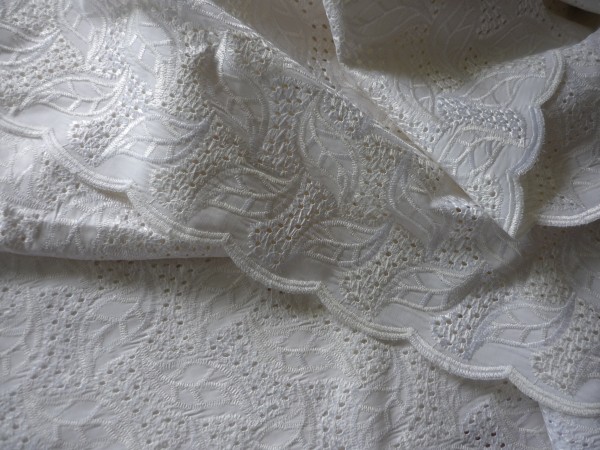 I know summer's nearly over, but this white cotton eyelet was so pretty! I thought the pattern was cool and a little different and the price was something around $3 per yard.
The best part of Sew-fisticated? The conversation I overheard between the manager (I'm guessing) and an employee. It went something like this: (Names are made up. I hope I've captured the spirit of the conversation properly!)
The manager is standing at the cutting table and cash register, working out the schedule for next week with the other fabric cutting girl.
Manager: What happened to Suzie?
Other employee: I think she quit.
Manager: What? Why didn't anyone tell me? Here, I'll call her.
(Manager picks up phone, dials.)
Manager: Is this Suzie?
(pause)
Manager: Why'd you quit? What, you don't like us?
(pause)
Manager: Well, we don't like you either!
(holds up the phone to the other girl cutting fabric)
Hey, Suzie says she doesn't like us!
Other girl: Well we don't like her either!
Manager: See, Jill doesn't like you either! And none of the customers do either.
(Customers are either looking confused (me) or laughing (everyone else).
Manager: What, you have an interview already? Well I hope they don't hire you. Does your mother know you quit? Aren't you going back to school soon anyways?
(She listens, then continues.)
Manager: Well, I hope you don't get the new job. And if you do, I hope they don't give you any hours.
(Conversation continues like this for another minute or two, then the manager ends the call and goes back to the schedule.)
Manager: Hey, we had Suzie on for tomorrow. Jill, can you work tomorrow?
Jill: No, I have to drive my sister to the airport.
Manager: Darn. Ok, I'll call Suzie.
(picks up phone, dials.)
Manager: Suzie? Hi, it's Sew-fisticated again. You need to work 10-4 tomorrow, ok? Yes, and then you can quit. Ok, bye!
Isn't that quite a funny conversation to overhear? It felt very laid-back, like I'd just dropped by my neighborhood fabric store and everyone knows everyone. (Probably they did and I was the only outsider.) I'd hang out in there just to see what happened next.
Prices were unbelievable, quality was good (lots of silks, wools and linen) and it was easy to find things. No mirrors, which is always a peeve of mine. I like to see what fabrics might look like wrapped around me like a dress. At these prices though, if purple isn't my colour when I get home, it's not a big loss.
Anyways, there they are, the latest additions to my fabric collection. I'll write about my trip to G Street Fabrics next – with photos!