Hello, everyone! I'm thrilled that you guys love the new pattern, the Robson Trench Coat. It's always exciting to see a positive response to each new pattern!
Now that the pattern has been released, I've finally allowed myself to start wearing the blue sample, and it certainly is a eye-catching garment. People aren't used to seeing such a bold-coloured trench coat, it stands out in a crowd of black and grey!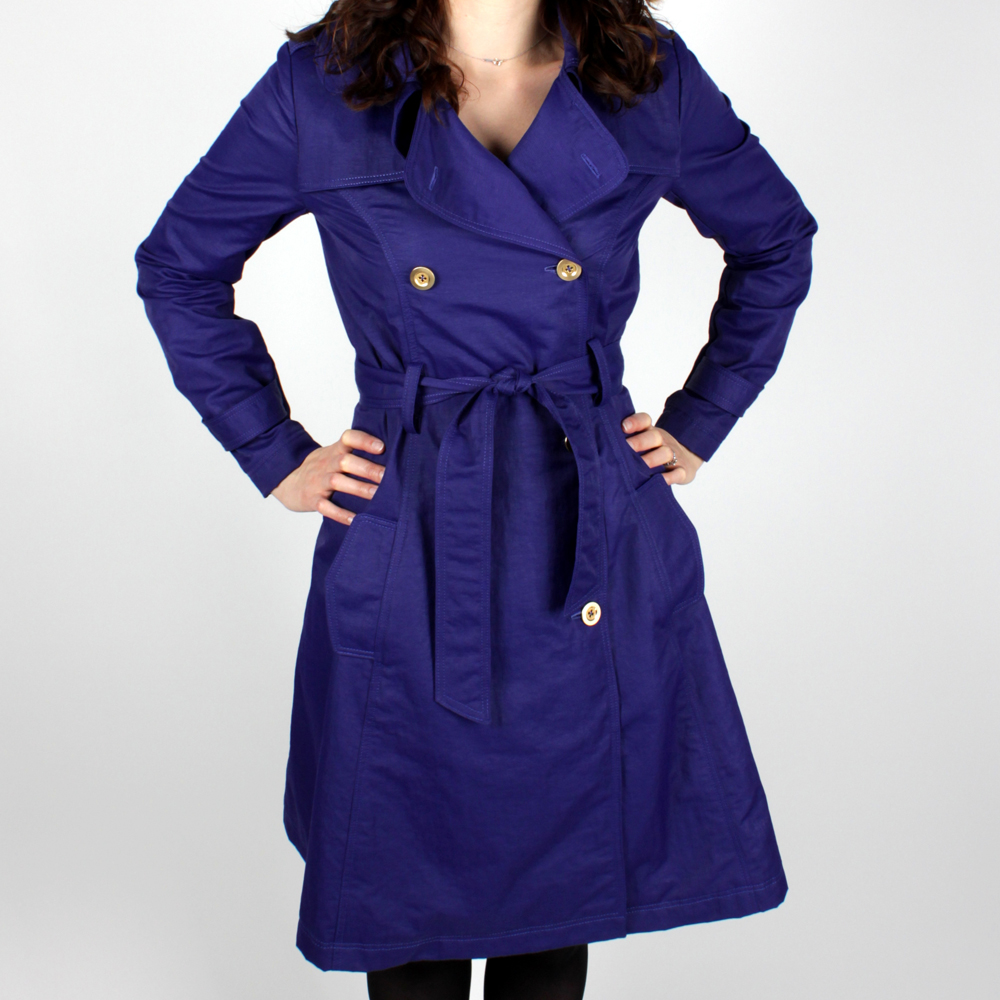 Several people asked about fabric recommendations for the Robson Coat, and rather than have the answers buried in the comments, I thought I'd address fabric ideas in a separate post.
So, what kind of fabrics can you use? I'll give you some ideas and examples, and hopefully that helps you get started with choosing a fabric!
The key is to find the right weight. Too stiff and thick will be uncomfortable, tight and won't belt nicely. Too light and the collar will be floppy and limp. Also, I prefer if my coats aren't too prone to wrinkles. I want to be able to throw it on and go, not worry that I've sat on it too long last time I wore it and left creases in the back. Your wrinkle-tolerance may vary!
Cotton twill
You can't go wrong with cotton twill. It's just the right weight (as long as you don't pick one that's too stiff) and it breathes, which is great in warmer weather. It washes well, it feels soft and it's crisp enough to hold its shape. It also topstitches well, which is great as there's a lot of topstitching on this coat!
Pros: breathable, soft, easy to care for, easy to press
Cons: requires pressing, can be on the heavy side, may wrinkle, may fade over time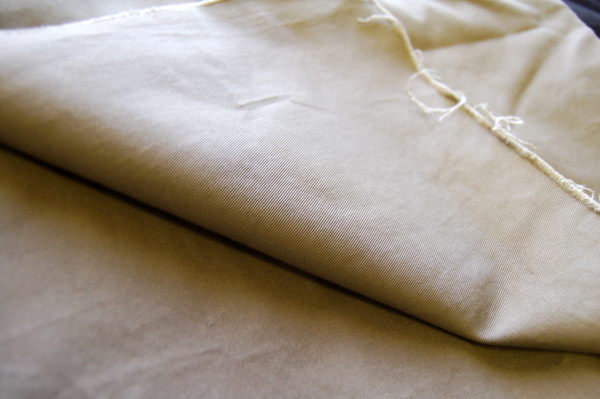 (you can recognize cotton twill from the diagonal lines on the surface)
Cotton-nylon blends
The blue sample is a cotton nylon blend, called Monsoon from Telio. Cotton-nylons are more water-resistant than pure cotton, while not completely water-repellent it does help in the rain. Raindrops will bead on the surface rather than soaking right into the fabric.
It's not very wrinkly, except for the intentional wrinkled texture. (Does that make sense?) The surface of the fabric isn't completely smooth, it is shiny and picks up the light on the right side, but dimples quite a bit along the topstitched edges.
The only thing to consider is that with that water-resistancy comes a lack of breathability. If water can't get it, then perspiration can't get out!
Pros: lightweight, water-resistant. Less likely to fade than 100% cotton.
Cons: can be hot to wear as the fabric doesn't breathe.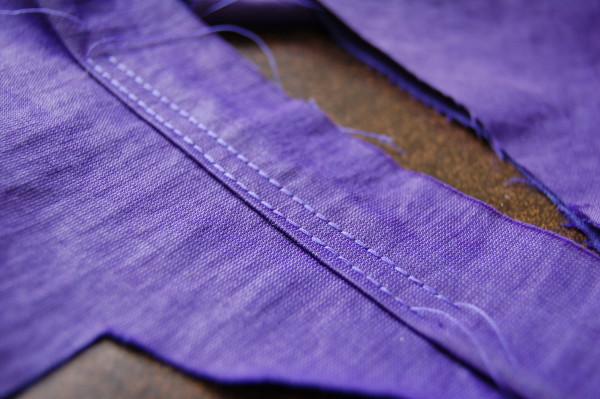 (cotton-nylon blends are a little bit shiny, with a more slick feel than plain cotton)
Nylon and other sporty fabrics
Nylon would be very lightweight and sporty. You'd have no problem with bulk if you chose nylon. It's water-resistant and may even be waterproof! However, nylon is not very breathable so you may find it too hot to wear. Some nylons will leave hole-marks if you have to unpick your stitching, so be sure to test on scrap so you know what you're dealing with.
Along the same lines as nylon are microfibers, Gore-tex, and non-technical, fashion fabrics that have the look of technical fabrics but have no special properties. (Think of those shiny, faux-sporty jackets in runway fashion shows. They have a sporty appeal but wouldn't be practical for outdoor use!)
Laminated and coated fabrics fall in this technical and semi-technical category, too. Check to see if they will be too stiff to wear belted. If there is a rubbery feel on the inside of the fabric, think about whether you'd want that next to your skin as the Robson Coat is unlined.
Pros: can be waterproof or water-resistant, will resist wrinkling, lightweight, compact (you could fold a nylon jacket into a very small packet for traveling!), bright colours that aren't likely to fade.
Cons: can be sweaty, some fabrics will leave hole-marks if you have to remove your stitching, some like Gore-tex can be very expensive.
Linen
For me, I don't want my trench to get too wrinkly. I don't mind a linen for a short jacket, but for a longer coat that will be sat on, I like a little less wrinkles. A linen-look that's not 100% linen might be a good substitute, to get the look of linen without the maintenance. Cotton-linens would also be a better bet.
Pros: breathable, natural texture and look, easy to press
Cons: wrinkles galore!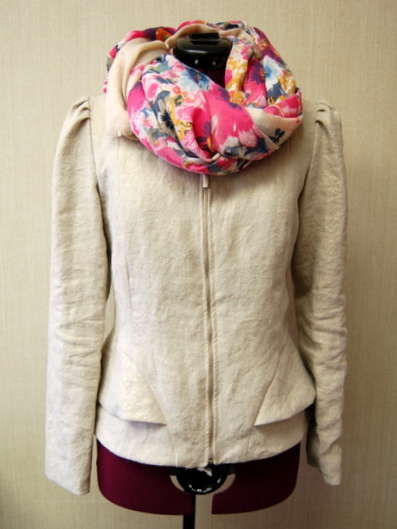 (Here's a linen version of the Cordova Jacket – you can see how much it wrinkles and it hasn't even been worn!)
Cotton sateen
Cotton sateen will have similar features and benefits as cotton twill, but with a smooth, satiny surface. Because it's cotton, it breathes, which is great in warmer weather. It washes well, it feels soft and it's crisp enough to hold its shape. The smooth surface does make it a little more obvious when it wrinkles, as the light reflects off the slightly shiny surface and highlights the peaks and valleys. Cotton sateen comes in solids and prints. A printed trench coat would make a bold statements!
Pros: breathable, soft, easy to care for, easy to press
Cons: requires pressing, can be on the heavy side, may wrinkle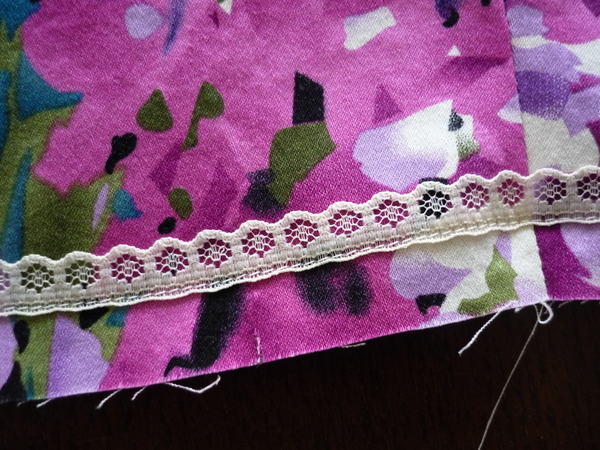 (an example of a printed cotton sateen – you can see that the surface does not have a distinct twill line, but is smooth)
Denim
Denim is going to have the same features and benefits of cotton twill. Denim comes in a variety of weights, from shirt-weight to stiff, unwashed denim that could stand up on its own! Pick one that's not too stiff for best results, lighter weight than what you might want for jeans. Because it's cotton, it breathes, which is great in warmer weather. It washes well, it feels soft and it's crisp enough to hold its shape. It also topstitches well and it's a great choice for contrast topstitching – traditional gold or yellow, white or tan, or a surprising bright colour!
Pros: breathable, soft, easy to care for, easy to press
Cons: requires pressing, can be on the heavy side, may wrinkle, fades over time.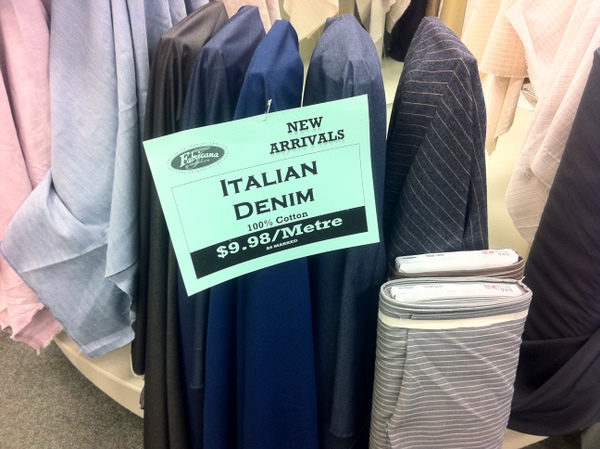 (denim doesn't have to be blue, or solid! You might find striped denim, colourful denim, or even smooth, slightly-shiny denim)
Silk dupioni?
Why not! Wouldn't it be so elegant to make a gold silk dupioni trench coat, with gold metal buttons, as a lightweight evening coat?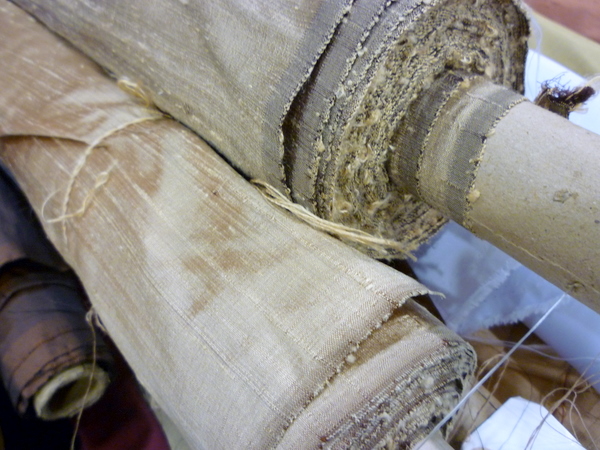 (Silk dupioni is the most crisp silk fabric, but it's quite lightweight as well! It catches the light with a dull sheen.)
Stripes and Plaids
So much matching! If I were to make this trench in a plaid, I'd turn some of the pieces on the bias so they didn't have to match, for example, the flaps and maybe the pocket welts. A plaid trench would look amazing if you were to put in the effort though! How about plaid with solid-coloured piping around the collar and lapels? Plaid with a solid, coordinating belt, sleeve tabs and epaulets?
Pros: depending on the fibre content, cottons are easy to care for, easy to press, synthetics will resist wrinkling. It would be an impressive feat to sew a plaid trench coat and match all of those seams!
Cons: matching plaids and stripes, which in turn requires extra fabric and extra time. Here's a link to a post on matching plaids and stripes if you're feeling brave!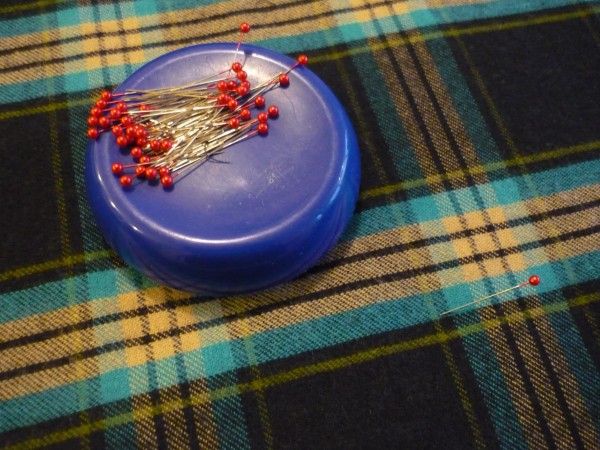 What about wool?
Could you make the Robson Trench Coat in wool? I would say it's best for a lightweight wool, along the lines of a suiting weight fabric. Any thicker, and it's going to be bulky and stiff. I would not say it would be good for a winter coat, unless you took off the storm flaps and changed the silhouette to be more form-fitting without a belt. Also, you may want to go up a size or two if you're using a thick fabric. The armholes will be too tight, you won't be able to put your arms down!
How about stretch fabrics?
Personally, I find that stretch fabrics are a little springier and stiffer than the same weight of fabric without spandex or Lycra. However, if you like the idea of stretch, the coat is unlined so the fabric will be able to stretch properly. It may be more comfortable to wear if you're bending, stretching and moving around a lot in your clothes – like most people do!
For stiffer, thicker fabrics
You may want to line the flaps and other external pieces with a lining fabric. In the pattern it calls for them to be self-lined, which is why this pattern uses so much fabric! Again, you may want to go up a size or two if you're using a thick fabric. You want to be careful to avoid tight armholes and restrictive sleeves.
Still unsure? Seek inspiration from real, finished coats.
Sometimes it's hard to imagine what the perfect coat fabric will feel like while it's still on the bolt. It may seem too light, but once you cut and sew 6 yards of it, it's just right for mild weather. Or the opposite, it feels like just the right amount of crispness and structure, but once it's covering you from neck to knee it's way too much. Time to window-shop! Check out the mall, nicer boutique shops and look for trench coats. Touch them, make notes on which colours and textures you're drawn to, and see if you can find similar fabrics at the fabric store. It's the right time for trench coats to be in-store too!
I hope this helps! There's a lot to consider when it comes to fabric selection, so here are some ideas to think about and suggestions to help you get started. What kind of fabric are you planning to use for your Robson Coat?