I was really inspired by this post on the Coletterie blog on sashiko embroidery. Especially the blouse example. So simple! So pretty! So of course, I want to try sashiko, too. What a gorgeous way to make a project even more unique, personalized and special.
But the sashiko starter kits sold out, so I went searching. In my searches, the internet tells me it's pronounced SASH-i-ko. Not sash-EE-ko like I originally thought. (I like to know how to say things correctly so I thought I'd post that bit.) Updated: Shannon has advised me it's actually sa-SHEE-ko, here's a link to a recording of the pronounciation. Thanks Shannon!
Luckily, I found a local Canadian (BC even!) source for sashiko supplies, A Threaded Needle. From their site, I made my own starter kit. And then very quickly afterwards (got to love ordering from within the province), the kit arrived!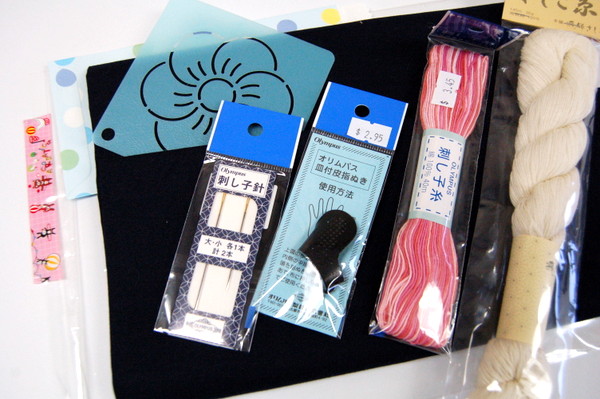 I bought a stencil, needles, thread, thimble, and some special sashiko fabric. It feels like a plain cotton so I'm guessing cottons or cotton-linen will work just as well. (But I wanted the real thing to find out what it felt like!)
I traced the stencil…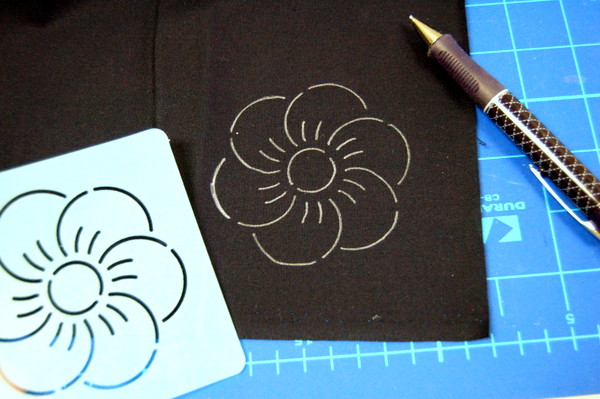 and prepared the thread, following this useful tutorial on how to manage the thread. I forgot the 'braid loosely' part, which is so you can get the thread out to sew with. Good news, you can still get a single thread out if you braid tightly, but it's a bit more work to wiggle it out.
For the actual stitching, this is a good tutorial.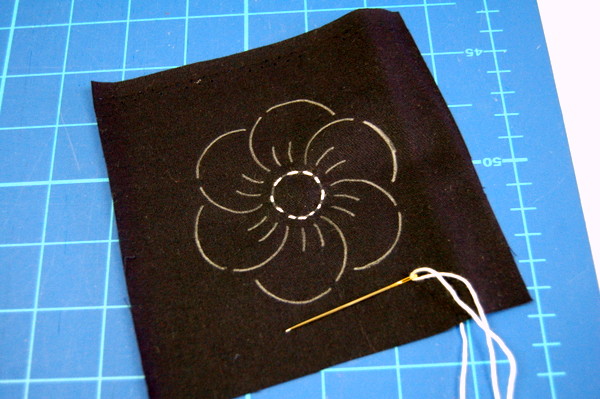 Things I found a bit challenging:
Keeping my stitches the same length. You'd think it's easy, but when they're this obvious, bright white on navy, even a little crookedness or unenveness shows!
Not pulling tight. Pull tight and you create gathers!
Knowing where to go next once I got to the end of the petal, or the circle. I just guessed.
Also, I hold my breath when I'm concentrating. I only realize when I have to take in a really big breath to compensate! It's like I need to remind myself, breathe! while doing handwork and concentrating.It's quite relaxing when I do remember to breathe.
But! Check it out, I embroidered a flower: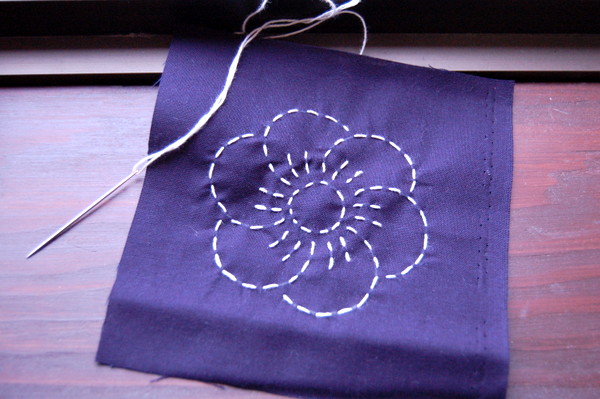 Pretty neat, eh? Plaid navy fabric, plain white thread, simple flower design, yet it looks really good. To me, anyways! The stitches aren't perfectly even but I think that adds to the handmade feel of it. I haven't washed it or pressed it or anything, so I hope the bumps flatten out. (That's why we are supposed to not pull tightly, otherwise it gets bumpy…)
Pros of sashiko embroidery:
Simple. In and out, it doesn't get much simpler than basic running stitch. Intricate embroidery seems like a lot of work to me. I love the idea, I know I'll never actually do it. This is one colour, one type of stitch. This I can do!
Classic. With something this simple I think it will always look good.
Inexpensive materials. A couple of needles, some thread, and a design are all you need. No fancy machine, no hoops, nothing overly complicated.
To sew this one flower, I used less than one string of thread from the braided loop. So I'll have thread for a long time, or enough for larger projects. The stencil was awesome, I'd prefer to use stencils for everything rather than transferring a design from paper. More stencils! The ones in the Gifts for Crafters kit looked really good.
I like this, it's so very simple and easy to do. I could see myself using this technique on a blouse, or along the hem of a garment, or on feature sections like a yoke or pocket.
Here are some more links I found once I started looking around:
What do you think? Have you tried sashiko embroidery? (Anyone get a starter kit from the Gifts for Crafters shop before they sold out, and did you try it yet?)