I just noticed that my beautiful teal and brown coating has flaws! There are long gold strings, white lumps and even blue bumps on my coating fabric. I didn't notice it at first, but it's not the end of the world. We can work around them and still have a beautiful coat at the end of it all.
I wanted to share some tips and suggestions for working with flawed fabric, in case this happens to you too!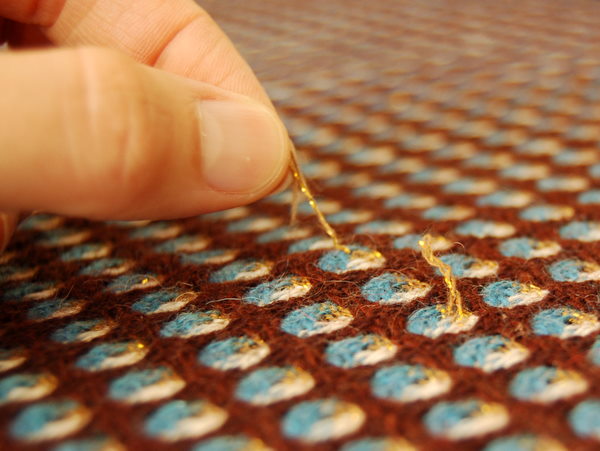 Here are some thoughts on working with flawed fabric:
Check if flaws are on the right side or the wrong side. My fabric looks basically the same on both sides, but all of the flaws are on one side. That'll be my wrong side then! If you're lucky, all of your flaws will be on one side and will be covered by the lining!
Cut around the flaws. If you're just buying the fabric when you notice the flaws, see if the salesperson will throw in a bit of extra yardage for free. (Hey, it never hurts to ask!) If they won't, decide whether it's worth your time and extra cost to buy more fabric and work around the damaged areas. And remember to buy extra fabric!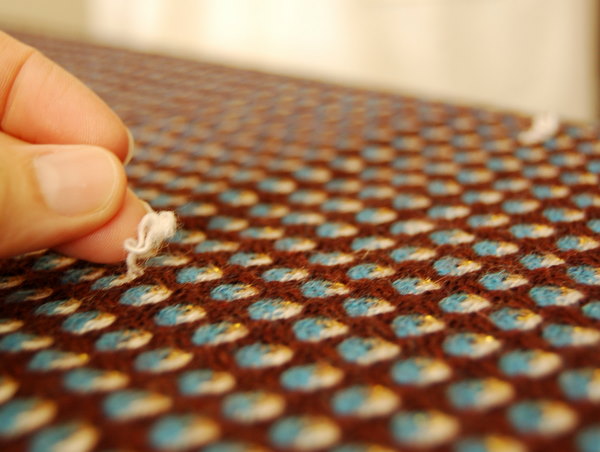 Place the flaws in hidden areas. If you have limited fabric and can't work around the flaws, try to keep them off your coat's centre front, or centre back, or the collar. Try to hide flaws under the arm, in the hem allowance, in seam allowances, inside pleats – anywhere that won't be super obvious.
Don't snip the threads or lumps! If there's a loop or long thread, snipping it might cause further damage, even holes! You don't want that. Leave it alone. If you have any long strings on the right side, take a needle with a large eye and thread the end of the loose fabric-flaw through the needle. Poke the needle through the fabric close to where the flaw originates, pulling the thread tail to the back to hide it.
Know that flaws will probably happen again. If the fabric has snagged once, it will probably snag again! That's all right. We'll simply repair the snags if they happen on the right side of the fabric. I plan on fixing them by stitching over and over by hand using matching thread. Like embroidery, but meant to blend in. Handle your fabric with care while you're sewing – take off your rings and jewelry, and be careful when pinning and removing pins!
How do you work around flawed fabric? Any tips to add to this list?