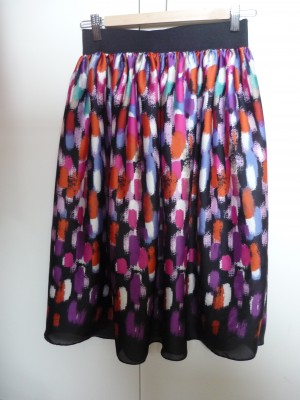 I loved Alli's recent tutorial on how to make an elastic waist skirt. After reading it, I knew I'd have to whip up my own soon!
Besides being cute and comfortable, there's nothing like a little instant gratification. Who doesn't like a quickie project to make and wear the same day! Well maybe not the same day, but you get the idea..
I had this pretty brushstroke print in my stash for a while now and always thought it would be a great skirt. I loved the almost-border-print look at the edge where it fades to black!
I followed along but changed a few things from Alli's tutorial. Her tutorial is for shortening a dress so there's no hemming involved. When you're using fabric instead, hemming's required. In this case, I did a rolled hem using the rolled hem foot on my machine.
I did this the real quick-and-easy way:
Did the rolled hem first
Sewed the one sideseam (back seam?) together
Gathered the waist with basting threads
Sewed the waistband seam
Joined the skirt to the waistband
Done!
Also, I removed my gathering threads after the elastic was attached. For it to stretch over my hips, I needed the elastic to stretch freely without the basting threads. Just unpick the basting threads carefully after the waistband is attached.
TIP: if you baste in a different colour thread, it will be easier to remove the basting later!
So, here's the finished skirt. I wore it to work with a tank top and blazer and it was incredibly comfortable! (You could totally eat a big meal in it, since that's my usual point of reference..)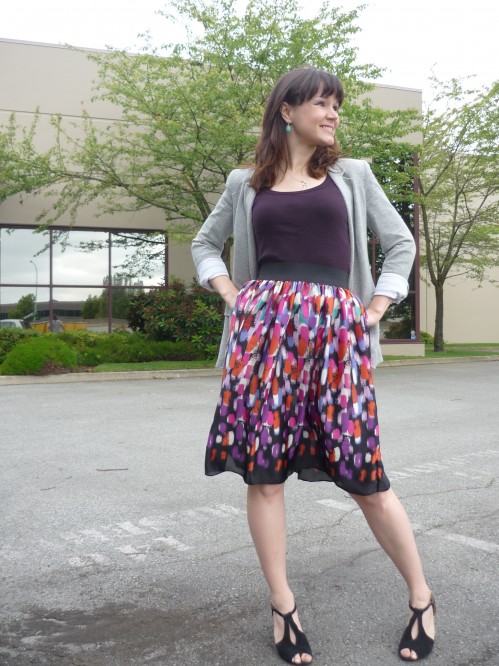 After wearing it all day, I did feel it was a little long. I wanted to show the border as much as possible but it was hitting at a somewhat unflattering length. At first, I thought it was fine, but once I got it in my head it was too long, I couldn't stop thinking about it.
So, I made it again! I had enough fabric leftover to make up another skirt.
The first skirt was 24″ long, so I made the second one a lot shorter, with a finished length of 18″. Much better! I'm not super tall, and the shorter length is more flattering on short legs.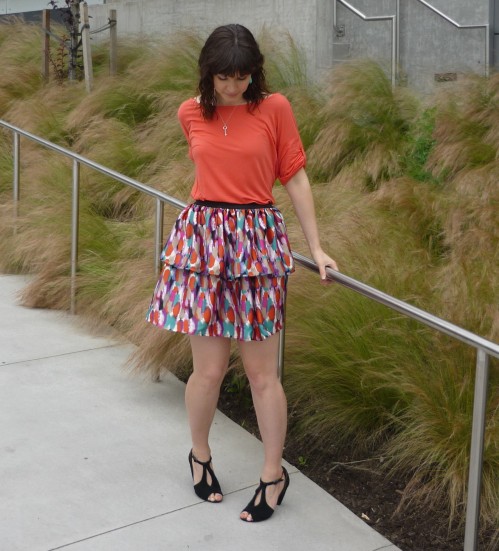 And voila! Shorter, cuter skirt. That's the beauty of the elastic waist skirt, it's a easy and fast project. I also used the remaining fabric to add an extra tier, for something different and a little extra coverage.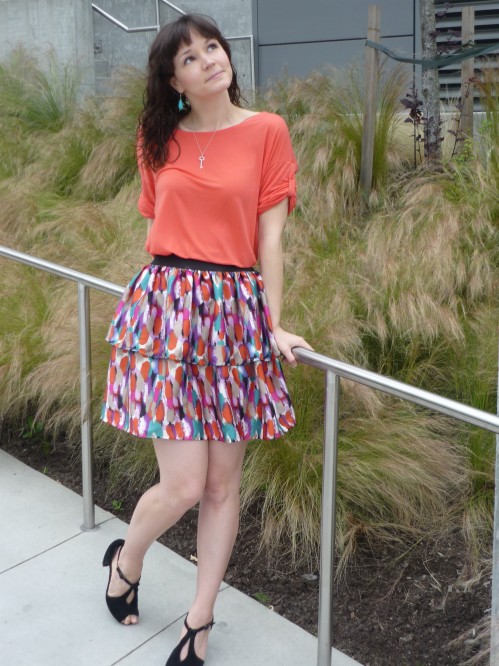 This is a project I could make over and over, improving it each time with little changes. So fast! So easy! Even when you're capable of complex projects, it's still satisfying to turn out a couple of quick ones now and then.
Have a great weekend everyone!