This is what it looked like on my bike ride home last night: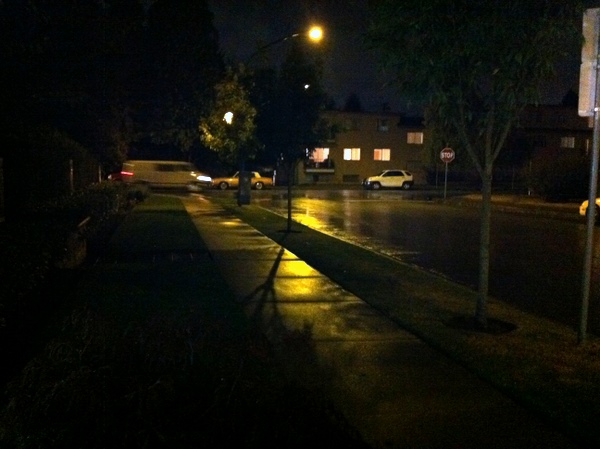 Really dark. Really wet. It was close to 9 o'clock when I got home, without a tidy blog post written for today. I'd spent the last couple of hours doing 'just one last thing' before packing it up. And even when I left, I felt bad leaving where there was just so much to do!
Then I got out on my bike and it was dark. Really dark. All afternoon it had been pouring rain and since I'm near a busy intersection, I'd heard tires screeching all day as people tried to stop their cars. I like to think I'm confident but I was feeling a little afraid! The first couple minutes of my ride were kind of scary. (Have you ever rode a bike in the dark? Seems fine until you try it!)
As I pulled into the driveway, I instantly knew what to write for today's post, and this is it. Don't be so hard on yourself! (It's what I have to tell myself or I'll end up biking home late in the dark over and over again.)
What I mean is: don't compare your sewing productivity to other sewing bloggers. Don't be overly critical of sewing mistakes, and don't dwell on failed projects. We all make mistakes. (Even me.) It's all a learning experience! Sewing is about making awesome things, but it's also about the process. Try and enjoy the sewing process, rather than rush to get it done! Don't stress over whether you've picked the exact right pattern for your perfect fabric. (I'm so guilty of this one! Plenty of 'too pretty to use' fabrics in my collection.) If you only have a little bit of time to sew, then make a little bit of progress on your project. Just think – you're leaving yourself wanting more, chances are you won't get bored of it! What I'm trying to say is – don't stress yourself out over sewing. Don't turn it into a chore or a competition. (Unless it is in fact a chore or a competition.) From reading the comments on the How Do You Make Time to Sew? post, a lot of you struggle to find time to sew. And many of you wonder how everyone else does it, and feel guilty when you're not as productive as you want to be. Let's all try not to be so hard on ourselves!
I hope this isn't too touchy-feely for a blog post – it's what I felt like saying! It seemed right after talking about sewing seasons ahead so we're not behind, then wondering how everyone manages to fit sewing into their busy lives, and then not having time to write a proper post for yesterday. Thanks for listening and have an awesome weekend!