How do you manage your list of things to sew? Do you keep a list in a notebook, a corkboard full of sketches or a computer spreadsheet? Is it all in your head, or does the pile of fabric remind you of what's next to sew? And how do you keep it from becoming such a long list it's completely unmanageable – or downright terrifying?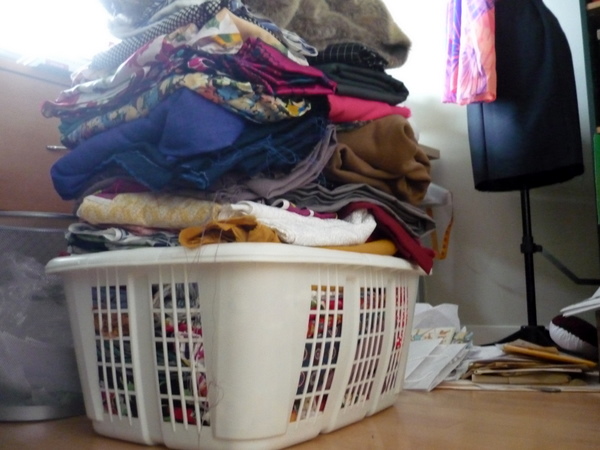 I think I have a very ambitious (and slightly skewed) view of how much time I have to sew. And even though I've been blogging about sewing for two years, and have a record of how many projects I made in the past year, I still seem to think I can take on more than normal!
Even at the start of the Minoru Sew-Along, I told you that I'll be sewing three jackets. Ha! I am barely keeping up with just sewing one jacket.
And you know, I still wish I was sewing three Minoru jackets because I'd really like to wear them! And I could sure use a couple of skirts. And I'd love to be finishing the Wrap Coat. Perhaps getting a jump on sewing for spring with sundresses and light blouses. And sewing the fabric I got for my birthday back in September. I'd really like to sew myself a new dress for my birthday next week, but know that I'm probably too late. Already that seems like a lot of time to log in front of the machine! Some of these I own fabric for, some of these I don't. How do you stop yourself from piling too much on your to-sew list? Do you stop yourself from buying new fabric until you've finished a project at a time? (But what if it's on sale?)
If I took out all of the fabric it would take to sew everything on my imaginary list, and piled it up in a pile, it would look extremely daunting and nearly impossible. Which sort of takes the joy out of sewing, right? It's no fun if it feels like homework! (And that's exactly why it's stored in boxes, out of sight!)
It's a bit like your Ravelry queue, if you knit and use Ravelry. If you don't, you can keep an online list for all the knitting projects you'd like to make. (Easily, with the click of a button.) See a pretty pair of mittens? Click 'Add to queue!' Found a lovely cardigan pattern? Click 'Add to queue!' Admiring a gorgeous lace shawl pattern that's probably too hard for you right now, but figure one day, you'll be able to tackle it? Add to the bottom of the queue, which is probably pretty long by now!
I try and control my knitting project list by not buying any yarn I don't plan to use right away. And it mostly works, partially because I don't have a lot of space to store yarn, and partially because I don't have a massive yarn-buying budget. So that queue doesn't bog me down, because it's all theoretical anyways. (Especially the really hard projects.)
So how do you keep your sewing wishlist from spiralling out of control? Or does having a big long sewing list not bother you at all, because you know you'll make it work somehow? How do you make your planned projects seem manageable, realistic, and still keep it fun? (Am I the only one who thinks they can pump out more sewing projects than humanly possible?) I'd love to hear your thoughts!