Today's question: do you enjoy or dread getting your photo taken for your blog? We live in the age of selfies, videotaped proposals and public sharing of everything, including our coffees and breakfasts. It's never been easier to take photos and share them online. Some people share their photos freely without a second thought, others lock down their social media profiles and limit who can view their images.
I read a post on the Grainline blog about unblogged projects recently, where a couple of people commented that they sew plenty of things, but dislike or avoid taking their finished project photos. Which got me thinking – in this world of constant selfies and sharing, how do you feel about taking photos of sewing projects?
I agree it's weird to edit a series of photos of yourself. It's awkward to pose in the street or yard where people might see you. If you use a self-timer, like me, then it's extra uncomfortable when you run and reset the camera over and over and someone offers to help or stands by and watches. (How about the guy I mentioned in this blog post – "Hey, it's a selfie!" So awkward.)
It's easy to get caught up examining your weird facial expressions, and less-than-perfect hair days, and forget the whole purpose of these photos is to show off your sewing project!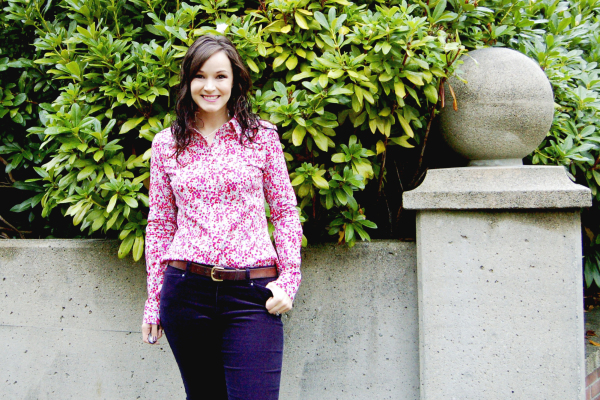 (Let's not even talk about weather as a factor.. it is actually raining in the photo above.)
So even though I don't love taking my own photo, I prop up my camera or phone on the tailgate and snap away. It would be weird these days to blog about sewing without sharing images at all. It's way more fun to look at clothing on the person it was sewn for and it helps to show off the garment in a three-dimensional way. The only exception is bras and underwear – not going to happen!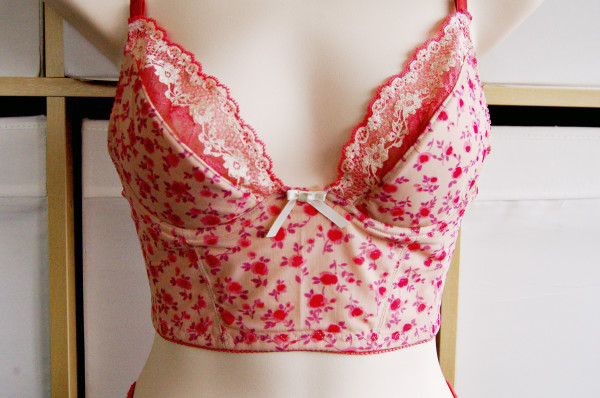 (Ms. Plastic does all my lingerie modelling for me.) 
Occasionally people will ask me about taking blog photos or how to start a sewing blog, does it require a lot of equipment and a fancy camera. It can, but it doesn't have to!
Photo-taking tips that make it easier to blog:
Keep it low-tech. I use my phone for most of my photos, because it means it'll actually get done without an elaborate setup. An okay photo is better than no photo. It's easy to set up my teeny tripod and phone on the top of a fence or car and take a few photos. If it gets windy or someone comes by, or if it starts to rain, it's easy to slip it into my purse and get on with my day.
Take ten times as many photos as you need. Sometimes you don't notice something until it's on your computer screen – a top that's come untucked on one side, wayward hairs, strange shadows. Take photos in a variety of places, from different angles, into the sun and away from the sun, in shade and in sunlight. If you think you might want to post 3-5 images in a blog post, then aim to take 30-50. Excessive? Maybe, but at least you'll have plenty to choose from! (Don't forget back views. I often do and wish I'd remembered to turn around at least once!)
Include in-progress photos and flat shots for variety. I like to do this to make blog posts more interesting and add variety.  It makes the blog post about the sewing process, as well as the finished garment. These I'll often take with a proper camera, when I want to capture more detail than the phone camera allows.
Apart from the blog, we hire professional photographers for our pattern photos. I have confidence that our product images will be bright and clear and show off the garments. There's a clear distinction: the shop is for professional images, the blog is for casual on-the-go photos. I do want to improve my own photography skills, but I know when to call in the experts.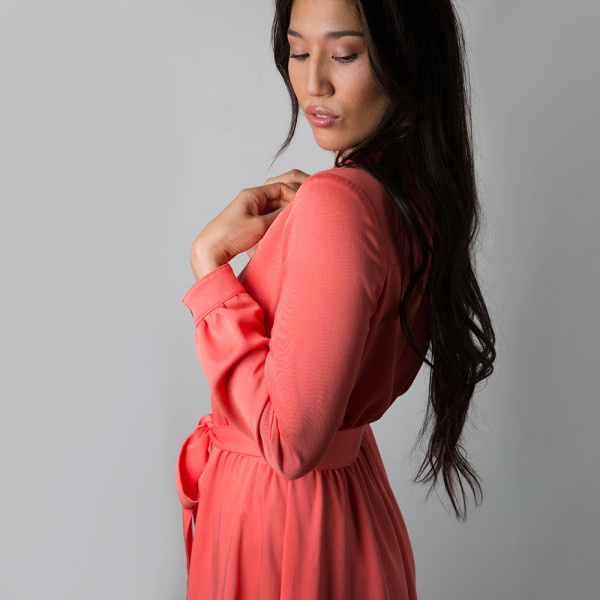 (our Nicola Dress, beautifully photographed and modeled.)
Does anyone enjoy taking blog photos of their finished projects, or do we all generally feel pretty awkward about it? There's got to be some of you that feel natural in front of the camera and think taking self-photos for a blog is no big deal. Any tips to share for making it easier to get great shots for a sewing blog?