Here's a funny question: have you sewn anything that your significant other hates?
Mr. Sewaholic stopped by the office on a Sunday, while I was working on some personal sewing projects. I lured him upstairs with small candy bars and then proceeded to show him the muslins I was working on.
One he loved – a little off-the-shoulder top with a side zip. It's cute and fitted and slightly retro, so he was all about this one.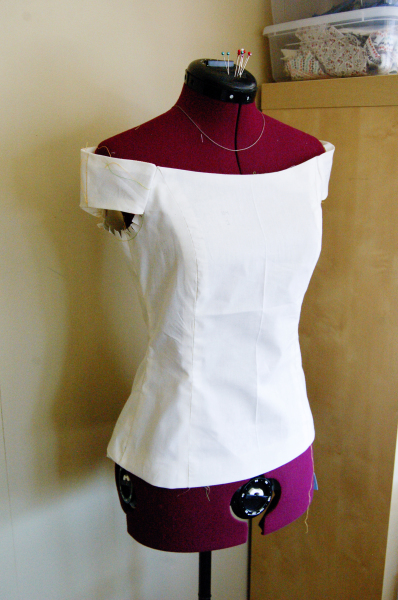 The other he really hated. It was a boxy, cropped woven top with ruffled sleeves. It's definitely more 'fashion' and not typical of the styles I usually wear. He says something along these lines – you have a nice shape, why on earth would you cover it up with a big fabric box?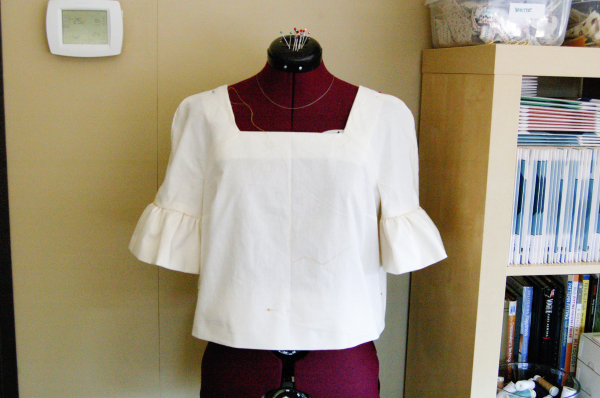 (the offending shirt!)
Before he said that, I was iffy on whether I was going to sew it in real fabric or not. I thought it was super cool and modern, but not my usual style. It's the sort of top that looks great with slim pants, so pretty much the opposite of my ideal silhouette.
But I sort of love it for that reason – it's so different! And cool! And I could layer it over a white button-front shirt and black pants and ballet flats, and look very cool and fashion-y. With a top that wide, my hips will look super slim, right? The sleeves are the coolest part – that ruffle is fantastic!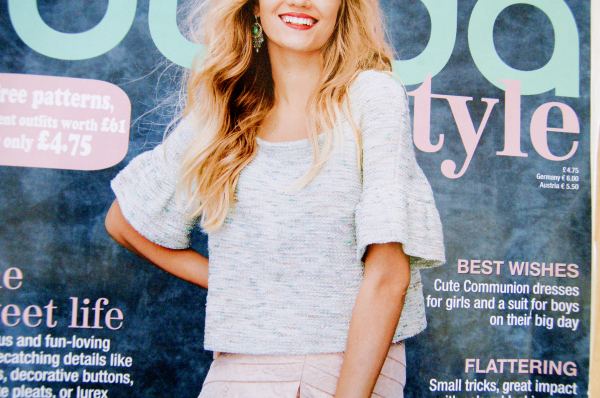 what it looks like sewn up – gorgeous, right? Or am I blinded by the beautiful model and pretty fabric?
Part of me wants to prove him wrong, and make the most beautiful cropped boxy boucle top ever! (And wear it every day, because I'm strong-willed like that.) The other part is acknowledging that it's not the most flattering look but that I don't have to choose 'flattering' as the most important choice all the time. And another part knows that if it's not a good look on me, I might not wear the finished garment. It'll be one of those things that I put time into making but doesn't suit my style. (And didn't I learn from the last boxy, shapeless thing I sewed?)
So I'm wondering: have you ever sewn anything that your partner truly hated? How much influence do other people's opinions have over your sewing projects? If you'd made it to the muslin stage and got a big thumbs-down, would that stop you?
See also: How Does Your Partner Feel About Your Love of Sewing?