A question for you today: do you quilt? Are you a serious quilter, or do you just quilt to use up fabric scraps? What do you do with all the quilts you make?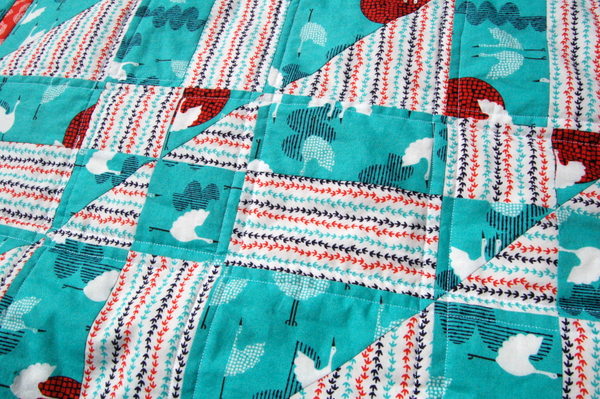 I was packing up fabric scraps this week, doing a bit of house-cleaning, and small scraps of fabric often make me think of quilting. I'm thinking of trying quilting at some point. Why not, right? I end up with a lot of fabric scraps, and I end up with worn-out garments that are no longer wearable. (This dress, for one. It's just about past the point of being wearable, with the fabric fading and the neckline stitching coming apart. I'm sad about it wearing out, but it's had a good run!)
After reading Overdressed, and thinking about ways to reduce fabric waste, quilting seemed like a good way to make fabric scraps useful and beautiful. I found a tutorial for making a quilt with 2″ squares of fabric. And I bet I could figure out something like the heart quilt here – it's lovely!
Doesn't that seem like a good idea? I could make a lot of two-inch squares out of my scrap bin and hardly any of it would go to waste.
And if the quilt doesn't turn out that well, I'm sure there are places to donate it. (Although that's sort of the same problem unless it's an organization specifically looking for quilts.) I loved the idea someone suggested of re-making their daughter's childhood clothes into a quilt for her. What a beautiful idea!
My experience with quilting? I made a baby blanket for a friend when I was in college. (Ten years ago now, so the baby is now ten. Wow.) It was one of those quilt-printed fabrics with a dinosaur on it, where the idea is that you pad it, and sew around the dinosaur to make it a quilt. (I hope that makes sense!) I added a folded fabric ruffle, and that was the extent of my quilting. (I remember it took much longer than expected and I was up very late the night before, sewing the thing together so it would be done in time!)
So I'm curious: Do you quilt? Is it a good way to use small pieces or do you end up buying more fabric anyways, because the scraps aren't exactly what you want? What do you like best about quilting? I'd love to hear from people who quilt, or who have tried quilting!