Here's an interesting question for people who sew. Especially people who sew most or all of their own clothing, as opposed to people who shop for their clothing. Do you care about fashion trends? Do you listen when the media says certain styles are in and out? Do you plan your sewing projects and fabric choices around current trends or could you not care less?
I had a conversation in the lunch room the other day at the office with a woman here, and she was asking me what the new fashion trends were and how did I stay current. I got the impression that she felt trends were a thing to stay on top of, to make sure she wasn't wearing things that were no longer in fashion. Which if you pick up any fashion magazine at the grocery store, it seems like the 'ins' and 'outs' are constantly changing! Fringe is out. Fringe is in! Polka dots are out. Stripes are in! Leopard print is out.. but zebra stripes are in! (I am just making these up. Don't take any of these as real fashion tips!) So I get that it can feel like a challenge to stay current and not look out of date, especially if you aren't totally set in your personal style.
As people who sew, we have unlimited options when it comes to colour, patterns, silhouettes, even choosing modern versus vintage styles! So do you care about fashion trends, or do you go your own way?
Here's what I think:
I refuse to be told what to wear! Probably, you can tell from my blog that I'm determined on a good day and stubborn on a bad one. I have strong opinions, especially when it comes to clothing, and refuse to listen to anyone telling me that something I love is 'out!' Floral prints forever!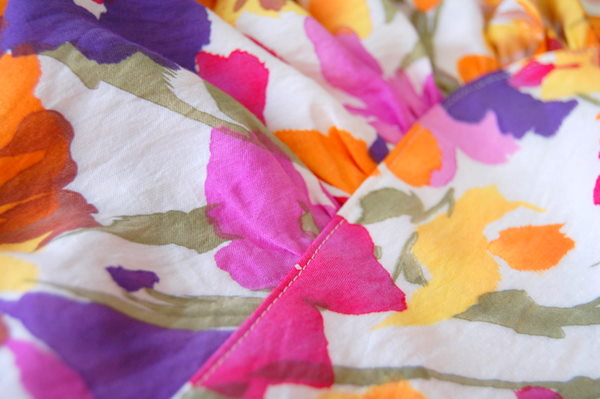 (the brighter, the better! original project here.)
We live in an age where anything goes. I'd imagine that as the fifties turned into the sixties, once girdles and shirtwaist dresses went out and looser silhouettes came in, you would stand out way more if you refused to update your look. Imagine if you were wearing twenties drop-waist dresses in the hourglass fifties! But now, you'll see everything from simple jeans and tee shirts, full-on retro looks, eighties flashbacks, and 90's flannel. There is no look of 'now' which is quite liberating, in terms of "wear whatever you want and whatever suits you!" That freedom can also be confusing – are you limited to one style, one theme, one personal style or look? With so many options how do you express yourself through clothing?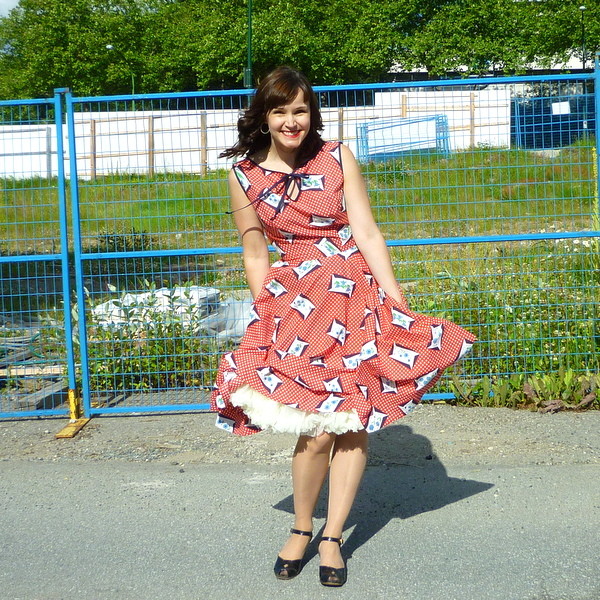 (and even in 2013 we can wear a petticoat if we feel like it! decisions, decisions…)
Trends are basically the same thing over and over again, in one shape or form. Animal print is in! Does it ever really go out permanently? Earth tones for autumn? While I can totally get behind that idea, I love earth tones, is it really a trend?
I also have learned a lot about what works on my body shape and what looks terrible. Or rather, when it looks like certain styles or silhouettes are wearing me, rather than the other way around. Not only do some trends do nothing for my shape, but I don't feel good in them. I'm self-conscious and probably readjust my outfit several times or check that everything is still in place, when I'm wearing something outside my comfort zone. Wearing silhouettes you feel great in makes your clothing one less thing to worry about – when you already know you look great, you're free to worry about more important things!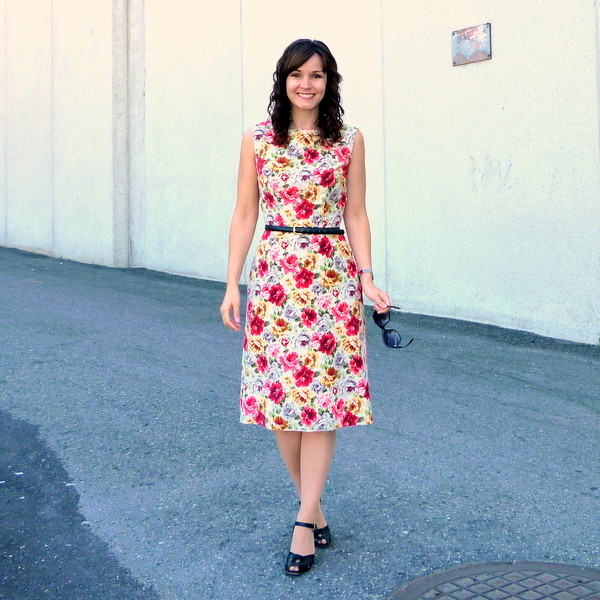 (this has so many of the things I like – fitted waist, A-line silhouette, slight boat neck.)
I think that sometimes trends get into our subconscious and come out without even thinking about it. As I go on all about how much I don't think about trends, I remember that I have the Cordova Jacket, with a trendy peplum! Did I purposely seek out what was trendy and work it into the pattern design? No, but there it is – a 'trend' that made its way into a pattern, whether I went looking for what was popular or not.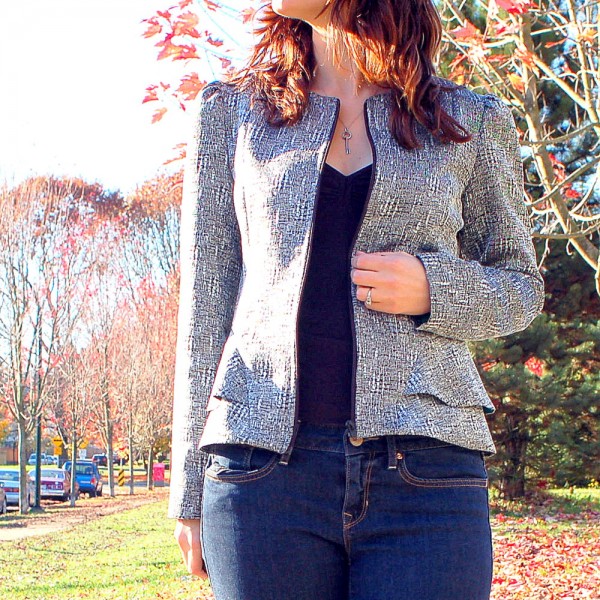 (peplum – kind of a trend)
Colour is so intensely personal and we all have colours that look great on us! I wear colours i like rather than color 'trends' – of course, I may try something new when a colour is popular, but I won't restructure my buying and wearing decisions around what's hot now. What I think happens as well is that when something is popular, say coral or mint green, we see it everywhere and so it becomes familiar. It's easy to like a colour you keep seeing around you, it feels natural to think 'hey, I like that coral on her, and I'll like it on me as well!' Or notice that a trendy colour (again, let's say coral) looks great with another colour we love, say navy. This makes it easy to work into our wardrobes, rather than starting from scratch.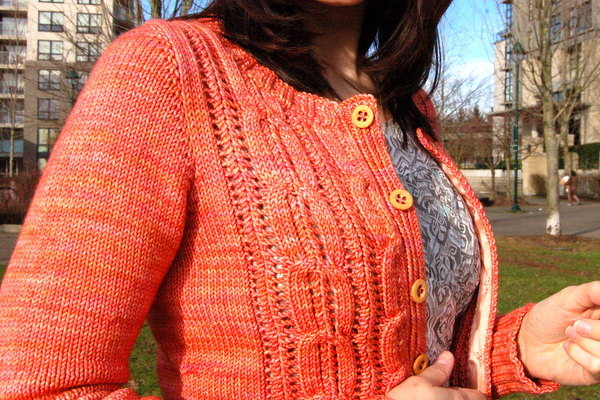 (love coral. it practically glows! project here.)
And last of all, what's available in the fabric market is affected by fashion trends. Same with sewing patterns. So even if we choose our own fabric and pattern, the fabric and pattern offerings are based on what's trendy, or what the market is looking for. Sure, it may not be the exact same market as the fashion industry, but fabric colour, print design, and pattern silhouettes are still based on what is fashionable and what people in 2013 are wanting to make and wear.
So that's me. I think I don't care about what is trendy, but fashion trends end up inevitably affecting what I wear and what I make. Even if I don't intentionally seek them out. (And what did I tell the woman in the lunch room? This, pretty much, with the suggestion to wear what you love, what you feel good in, and only pay attention to what's trendy if it appeals to you and suits your lifestyle.)
What do you think? Do you care about and pay attention to fashion trends or do you sew and wear what you love, regardless of what's current?