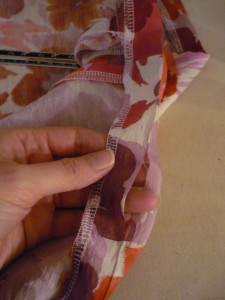 Disaster struck last night while I was working on my floral skirt! While happily ironing the hem and watching Sex and the City, I left the iron face-down for too long and the fabric shredded in my hands.
Look – it's so upsetting! I melted a 6-8 inch section of my hem, and it pulled apart along the hem line.
What to do? I thought about shortening the skirt but that would ruin the look of it especially since it's so full. I also considered adding a hem band but didn't like the look of it.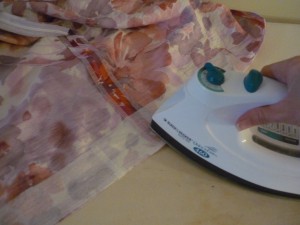 I put it aside and watched the rest of the episode. After Aiden proposed to Carrie, I decided I couldn't put it off forever.
I decided the best way to solve the shredded-hem disaster was to fuse it back together with interfacing. By cutting strips slightly larger than the hem, I covered the fold line and essentially glued my skirt hem back together.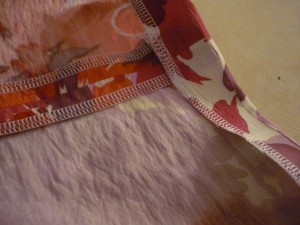 Then, I re-folded the hem, taking it up just a little higher than before. To be honest, the fused section ended up slightly stiffer than I would have liked. Most importantly though, I was able to save the skirt from the trash bin, or from ending up indecently short.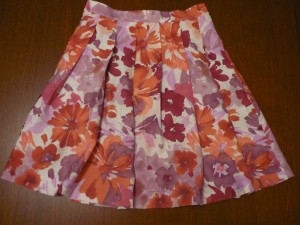 And it's finished! All I need is to add the hook and bar to the waistband.
I'll try and post some pictures of me wearing the finished skirt. From what I've seen on other blogs, the best pictures are the ones with people wearing their creations. Much more exciting than flat on my dining table…
What would you have done to solve the melted/shredded hem dilemma? I'd love to hear any suggestions, or your own experiences with sewing disasters in the comments below!