Here's something I need in my wardrobe – more skirts! I saw the Anemone skirt from Deer + Doe and thought it would be an excellent opportunity to try out a Deer + Doe pattern as well as sew a new skirt.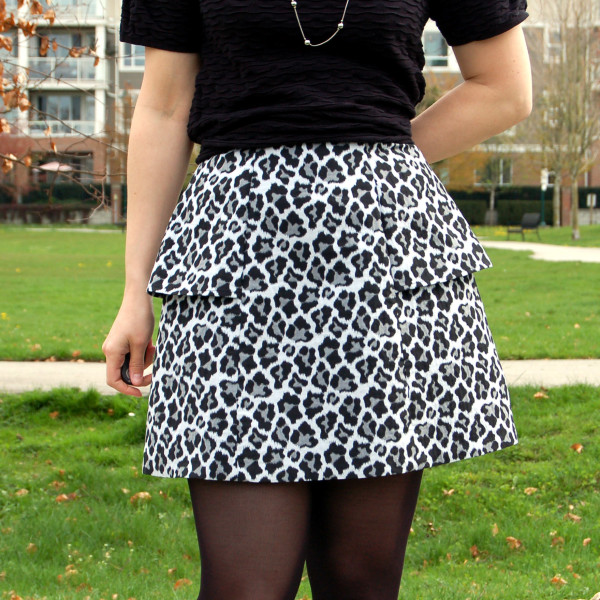 I made a few notes as I sewed so I'm noting them here, in case you make this skirt too!
I traced the pattern as it's printed on thick white paper. Normally I cut right into my patterns, but I had some Pattern Ease tracing material (it's sort of a cross between fabric and paper, like the non-woven type of fusible interfacing) left over from the bra making course and thought I'd treat this pattern carefully.
Note: there are no sizes labeled on the pattern pieces. So you have to count how far up the size chart you are – I chose 38 waist and 40 hip – and count up from the smallest.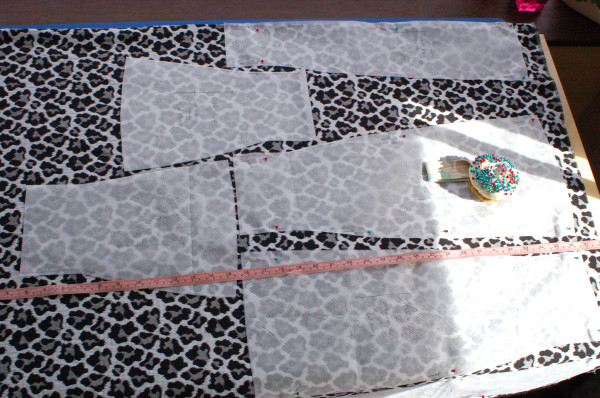 I could cut size 40 out of less than a metre of fabric. (Excellent for using expensive fabrics!) For the lining I only needed 0.7 metres. I'm noting this here so I remember for next time, as I would love to make more of these skirts.
I finished all seam allowances as the fabric was very prone to fraying. If I'd read the instructions thoroughly before starting I might not have, as the lining encloses the raw edges of the skirt, but I'm still glad I did.
The fabric I used is a synthetic leopard print. It has a nice dry feel to it, not slippery at all, with just a little bit of a crinkled surface texture. (From Fabricana Coquitlam, bought this Spring.)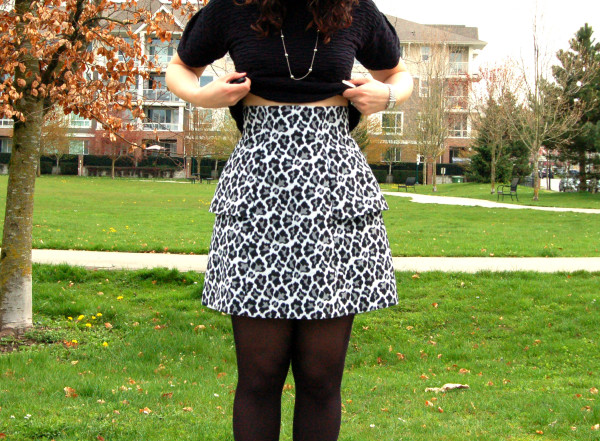 Fits very well! Look at that super high waistline. I didn't make a muslin. I did sew the entire body of the skirt first, before cutting the lining, so I could check the fit. Once I knew I was happy with the fit, then I cut the lining pieces, constructed the lining, and attached it to the skirt.
I see what Anna from paunnet meant about the length being too short on the short version and too long on the long. It doesn't look short when you're making it, but because it sits so high on the waist – nearly 6" above the bellybutton – it's quite a short skirt. There's a lot of above-knee exposed. (Not a bad thing, just something to consider when planning your project.) This makes it great in cool weather with tights, but perhaps a little short for bare legs, for my preference anyways. Then again, the skirt design is so cute as it is. Would it be just as cute if it were 3" longer?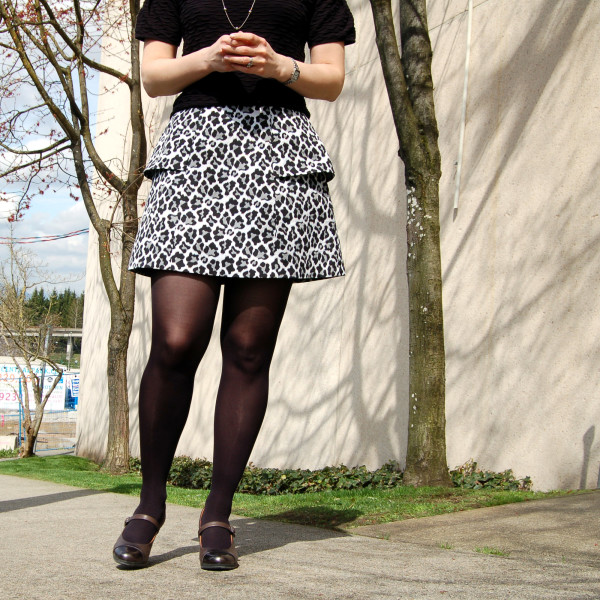 Would you look at that, the leopard print matches across the centre back zipper. I swear I didn't plan that, it just happened. The middle seam in the photo below is the zipper seam.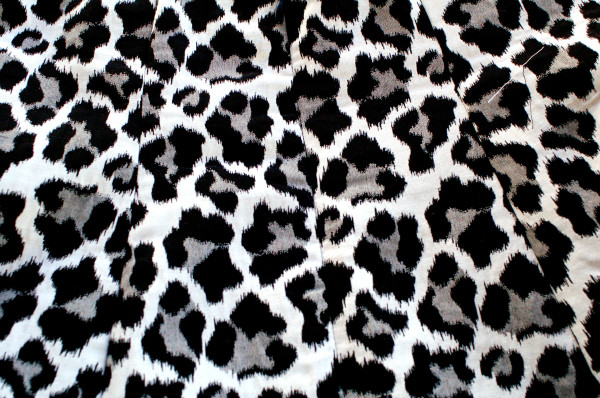 I considered adding twill tape or stay tape to the top edge, like the Crescent Skirt. So I did!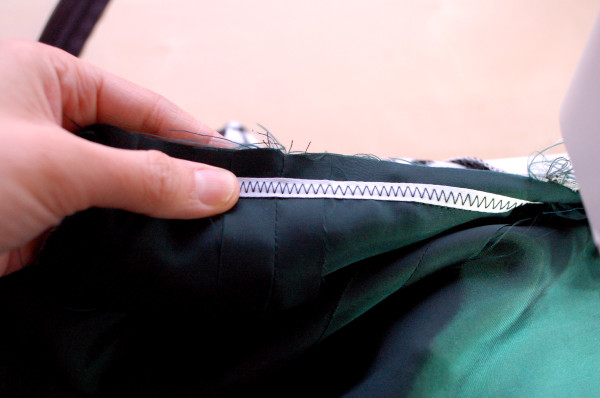 I zigzagged it on so it would be secured on both edges and trimmed close to the edge of the twill tape. It's easy to trim when there's a guide like this.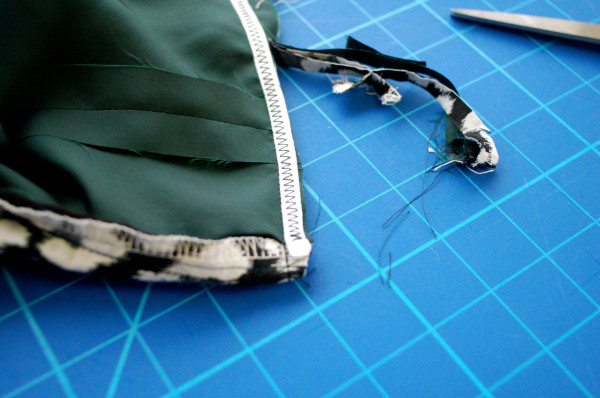 Since the waistline is so high, hitting at the ribcage rather than the natural waist, this wasn't totally necessary. Overall it does create a nice strong edge, but it's less important when the waistline hits above or below the actual waist, I think.
I sewed the lining to the zipper first, like the way the Cambie Dress lining is inserted, which worked all right but not perfectly. If you do this, you'll need to trim the lining or overlap it more over the zipper so it matches the top edge. I have a little tuck to make it fit, it's not perfect, but it saved time instead of handsewing the lining around the zipper.
I didn't have black lining on hand, so I used this forest green. It's leftover from my Autumn Cambie Dress, and I like it even though no one will see it.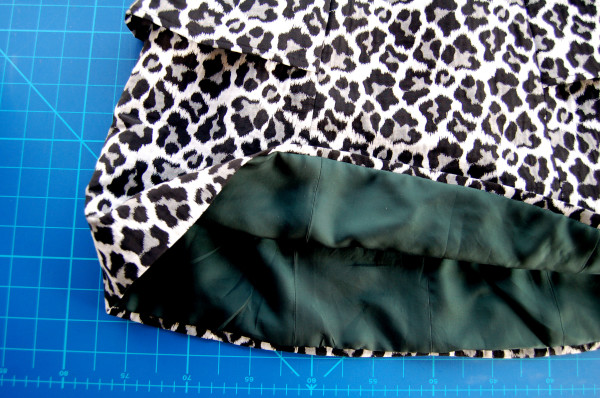 For the hem, I decided to hem the skirt first, then sew the lining to the skirt hem. I didn't want them to separate like this corduroy dress, which worked well at first but changed as the garment was worn. Hemming the skirt first gives you a chance to re-press the lining to match the hemmed garment, in case it's shifted. I hemmed the lining to the skirt hem, normally I would prefer to keep the layers free but I thought I'd keep to the original directions. A 5/8" (1.5cm) hem isn't very deep, which means the lining can only be a little bit shorter than the garment, which means it's more likely to show. I can see why the instructions are written this way.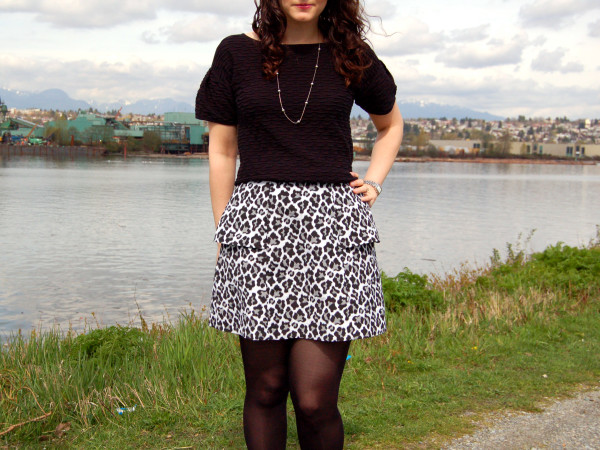 This would be a good skirt for wearing with a bodysuit. I've been looking at lingerie patterns (a lot) and think, would I wear a bodysuit? It would be great with a high-waisted skirt as it keeps everything smooth, your 'shirt' never comes untucked and there's no bunching around the waistline.  After making this skirt I want to make a black bodysuit to masquerade as a shirt!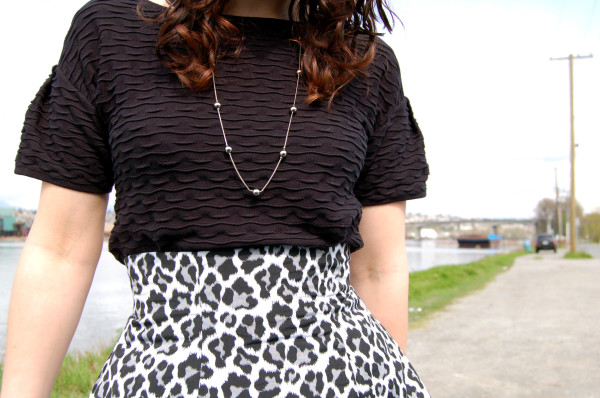 I tried tucking in the sweater, but it was kind of lumpy. And a bit extreme. Although this wasn't the best top to do this with! A thin silk blouse would be better.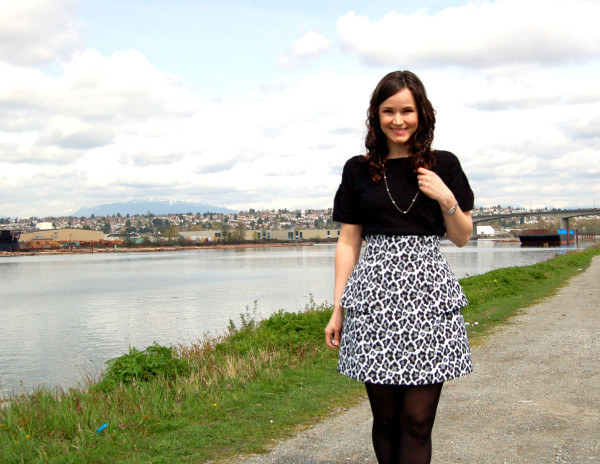 I think I prefer a top that ends at the natural waist, just below the top of the skirt's waistline. I'll try it with a few different tops and see. I also think a lighter top might look better than black on top with black tights.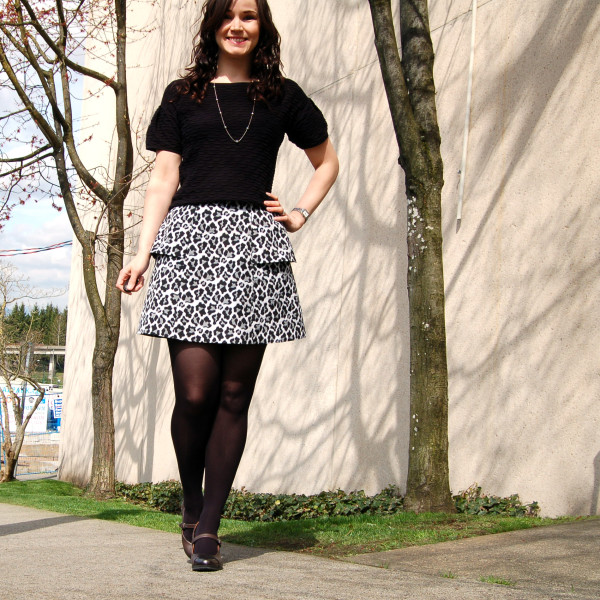 You can tell this skirt was designed by someone with a curvy body. The zipper is long enough to undo even over a large rear end! That's the biggest frustration with purchased skirts. If I were to alter the waist to fit, or buy a full skirt in a small size to fit my waist, the zipper is still too short to undo the garment properly and pull it over my hips.
Back view: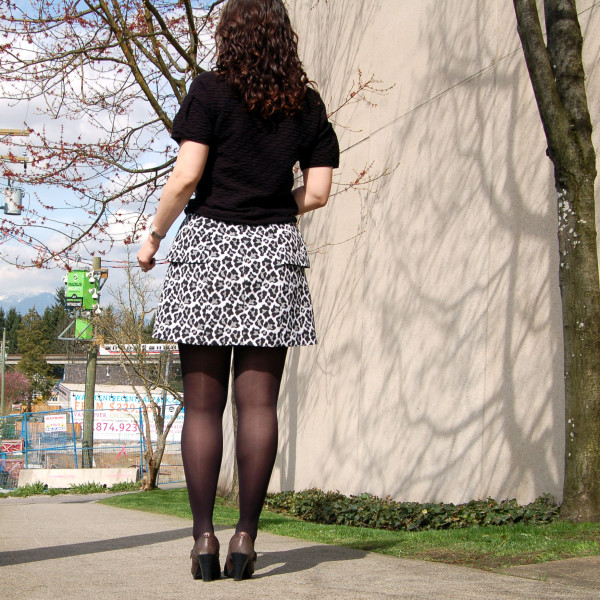 Flat view: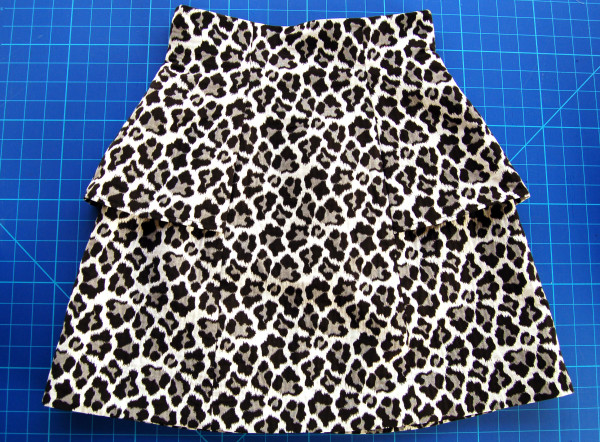 Basically, this skirt pattern checks all my boxes and it's very flattering. And easy to sew. It's a little tricky to style, I thought it would be easy but tops really do need to hit at the right part of the waistline. I'm thinking it would look better with a light-coloured top rather than black tights and a black top.
Looks great with a bright blue Robson trench coat, too!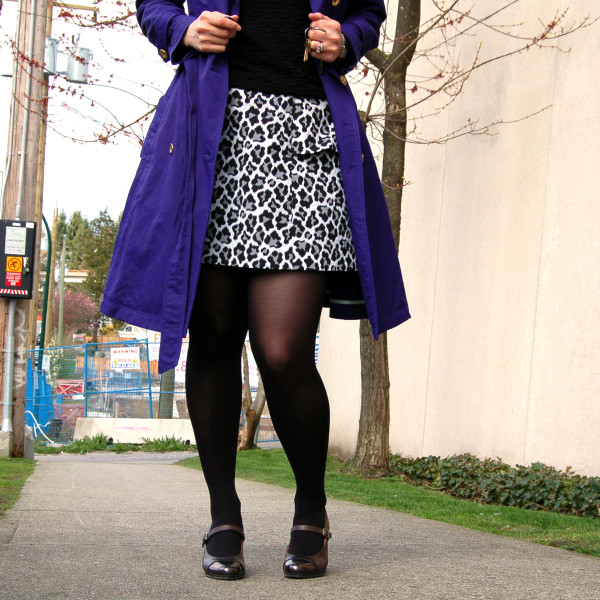 Ps. Canada Geese! They were lounging at the side of the road when I stopped to take these photos.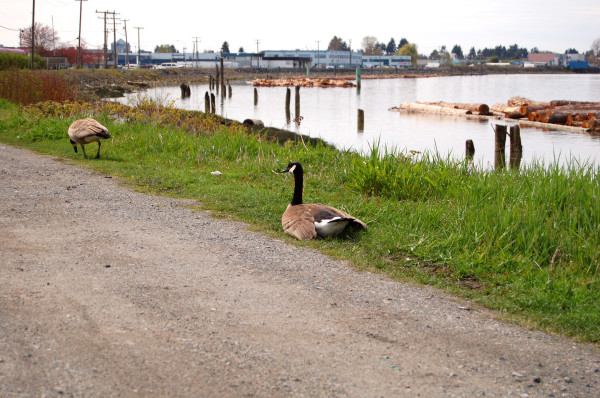 Here's how close they were – look to the right of the car.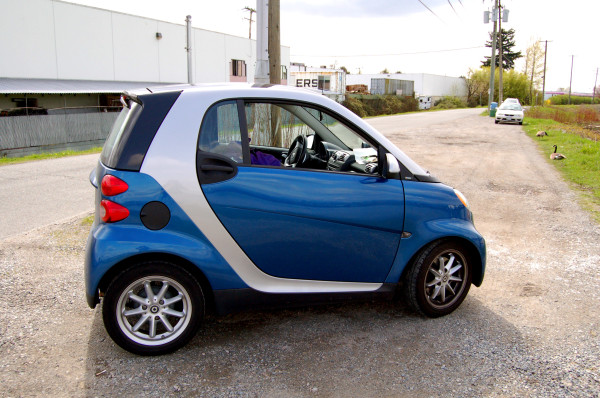 Have you made the Anemone skirt? How would you style it: with tucked-in blouses, waist length tops, a bodysuit?