Happy Fourth of July! I know it's the month of July and Me-Made-June is over, but I thought I'd post a few more outfits and a round-up of thoughts after the month. This has been the most challenging round of all three Me-Made challenges I participated, as you probably can see from the late-ness of the outfit posts and a few missing days in between! I've been busy, busy, busy – and it definitely had an impact on how thorough I documented my Me-Made month!
(Looking for more Me-Made-June photos? Click here for my posts, or check out the official Flickr group here for more handmade goodness!)
I felt rather ladylike in this outfit from June 22nd. Little floral dress, classy sandals and pearls. I'm channeling Charlotte York today!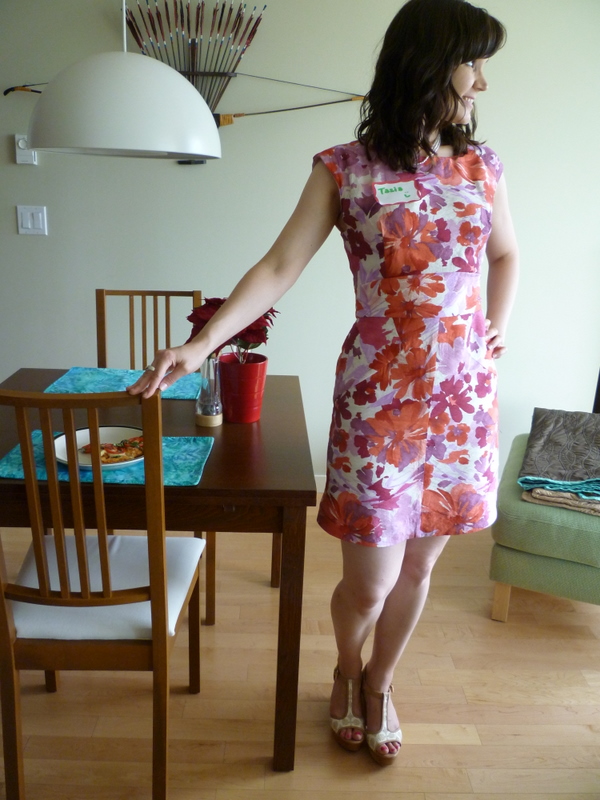 On the street I got compliments from strangers – good compliments, not the gross kind. Ones like 'What a lovely dress!' not whistles and catcalls. Classy compliments are so nice to receive!
This dress – one of the first things I blogged about – is great for standing, walking and sunny afternoons. Not so great for sitting and definitely no good for biking! I drove to the office, and went to a bunch of meetings, then attending an evening event so it was perfect for a day like today. I took these photos when I got home, totally exhausted and hungry! Which is why you can see my dinner in the background – oops! I knew if I stopped to eat I'd forget about taking photos, and I'd been running around all day with no time to take them in between.
Oh yes. And I'm wearing a nametag from the evening event. I thought it would be faster and more fun to pose with it, rather than stop and take it off. And I was hungry!
This dress looks best from the back – the keyhole and knot details are so great!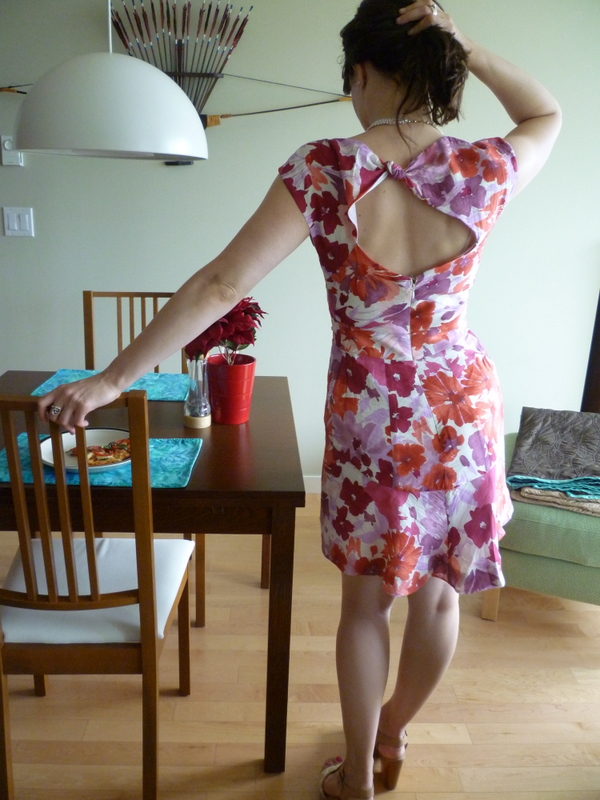 I've found it helps to be wearing something you've made, if you're talking to lots of people about what you do.
And if you're going to run around all day, wear a dress and heels! Or flats if you prefer, but I've found the one-easy-piece look lasts throughout car rides and sitting and wrinkling. Something with a little texture is great too, if the back wrinkles it looks like it's part of the dress perhaps! And a busy print hides the creases and wrinkles. (So perhaps my love of prints has some logic and reason behind it, too!)
Know what's funny? I talk about multiples and making dresses again in solid colours – I actually have this dress cut out in black already. I keep forgetting about it, and there's so much else I want to work on, plus the things I have to work on, that I haven't even started sewing this one yet. It's been cut out for over a year! Oops. When things calm down, I'll try to remember this one and finish it up. It would be a great little black dress!