Yay, something new today! Check out my new, sleeveless Pendrell blouse. This gorgeous vintage rayon had a few flaws, mostly blurred sections of the print. Making a sleeveless top was a good choice to show off the fabric while working around the flawed areas!
The Details:
Blouse: Pendrell Blouse, View C
Cropped Pants: Superstore – it's a massive grocery store that also sells toys, furniture, appliances and very affordable clothing! They launched the 'Joe Fresh' line sometime in the last 5-6 years, and it's been so popular they opened a store just for the clothes! I believe these pants were less than $10.
Shoes: Bought at DSW in San Francisco three years ago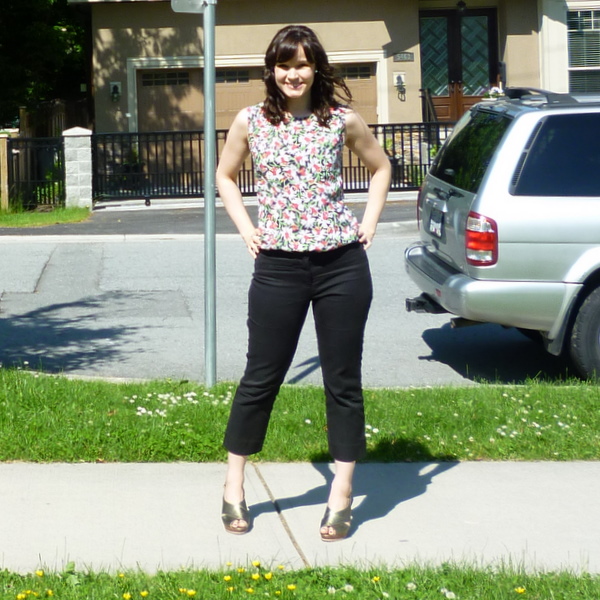 Of the three Pendrell Blouse options, this is the one that's easy to overlook. Sleeveless blouses are such a great layering piece! It's a wonderful way to show off a busy print. It's also the perfect blank canvas for embellishments! (Something I plan on doing in the future – with tutorials if they turn out well!)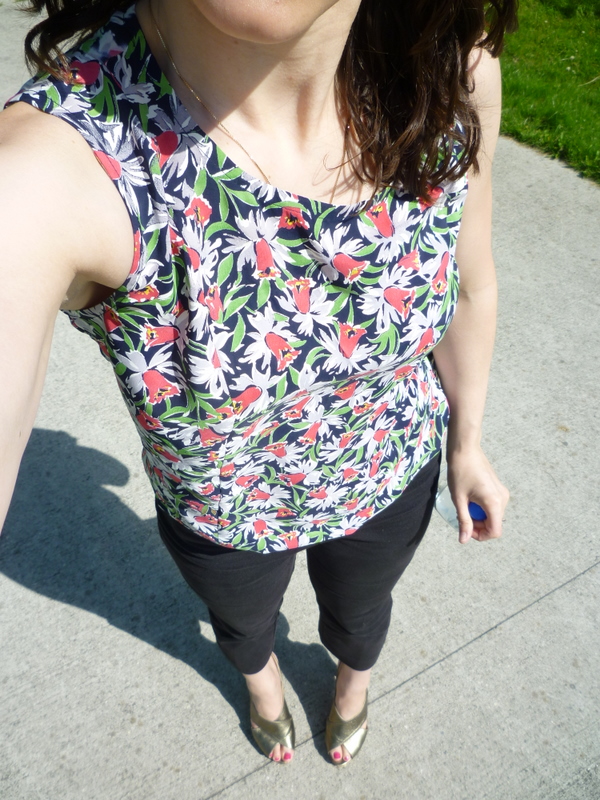 One of the things I'd like to do one day is replace my old ribbed tank tops with sleeveless blouses. They're dressier and more elegant than the ribbed knit, and the seaming gives them a flattering shape. Wouldn't this be an elegant black silk shell? Or a cream rayon sleeveless blouse with beading or embroidery.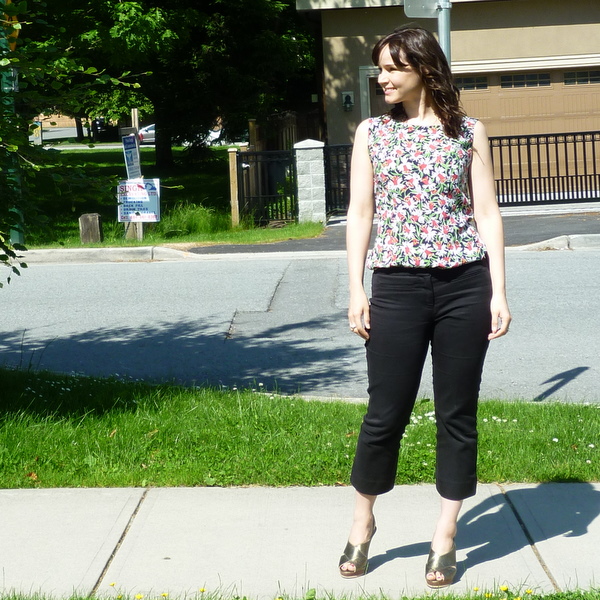 Overall, I really liked this outfit! I wore it to drive across the border and mail out orders while the postal strike was on, so I wanted to be comfortable sitting in a car. It's not easy to keep your cool and look classy when you've been sitting in a car for four hours. It was time-consuming, but I crossed the border with minimal hassles and expense. I was lucky to have a wonderful contact from my previous job, who helped me fill out the proper paperwork. (Thank you Mary! You're awesome!)

This is how I felt about being able to ship out orders that day – very happy!