Thursday's weather was nothing like Wednesday's. It was an absolute downpour, non-stop rain. I'm getting ready in the morning and Mr Sewaholic says to me 'You're biking today??' in a voice that makes me feel like I'm a crazy person for even considering such an idea.
Well, if you know me, that kind of comment only makes me want to prove him wrong. And so I ventured out in the torrential rain!
Here's a quick photo from my office window, to give you an idea what we're dealing with: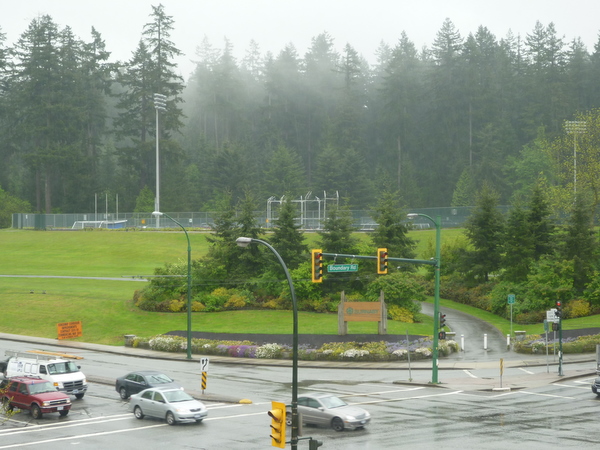 Look at the top of the trees, over the stadium. That grey-looking cloud is actually rain! So wet. (Although, it could be worse – there's a track meet happening over there! Poor little track-and-fielders. At least I'm not trying to win a blue ribbon in this weather.)
So naturally, I packed an outfit. I knew that whatever I wore would be drenched by the time I arrived, and it's no fun spending a day soaking wet. Plus, I had a meeting with my business advisor from the program, and needed to look professional!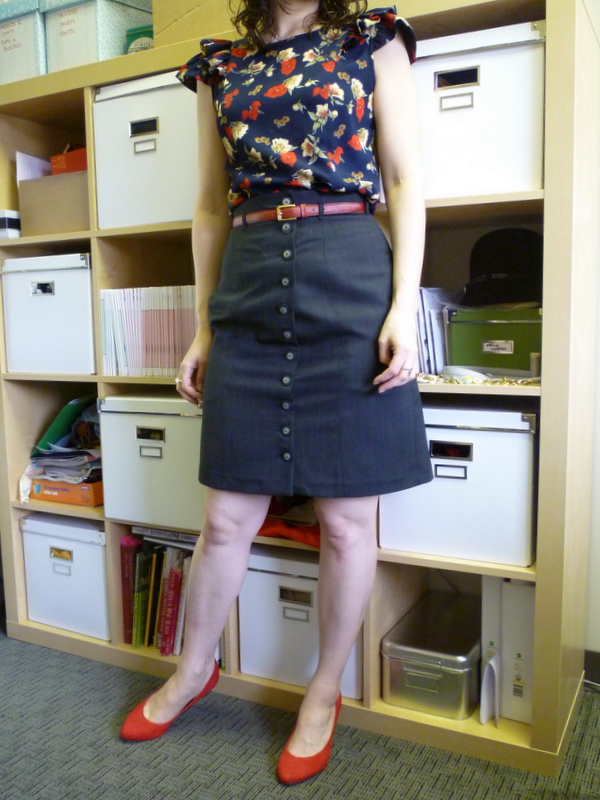 The Details:
Blouse: Rose-Print Pendrell Blouse
Skirt: Beignet
Shoes: H&M (best $29 I ever spent!)
Belt: thrifted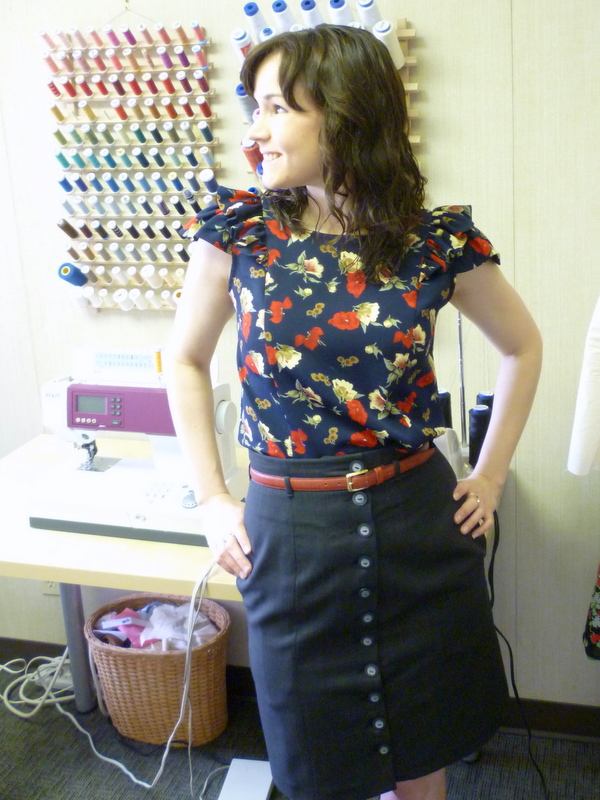 That is some rained-on hair! It'll puff back up in a couple hours. I took these photos right away when it was still wet.
Where'd you go today?
To the office, then home to hang out with Mr Sewaholic. Rainy days like this are perfect for relaxing at home!
Good things about this outfit:
It's an instantly professional look. Tailored skirt, pretty blouse – it's office-appropriate without looking stuffy.
It packs well! I literally tossed both pieces in a garbage bag, strapped it to the back of my bike, and rode to the office. I have an iron here, but didn't even have to use it!
I love how you can swap the self-belt for a skinny belt on this skirt for a fresh look.
It's comfortable. This blouse is designed for a loose fit, so you can pull it on, but it's still streamlined and flattering.
Things that weren't so good:
Nothing! I'm glad I didn't wear this outfit for the ride in. It would have been soaked and dirty!
Would you wear this outfit again?
Absolutely! This is one of my favourite Pendrell blouses (click here to get your own!). Usually I avoid polyester, but this blouse packs well, doesn't wrinkle and never needs pressing. I've always loved this skirt and find it super-flattering on a curvy body. It's more forgiving than a pencil skirt, but still gives that slim silhouette on the bottom. I keep meaning to make more of these!
Anything to add?
I'm torn between packing an outfit and commuting in cyclist gear, and wearing something pretty on my bike. On my ride in today, I was splashed with a tidal wave when a truck went through a deep puddle – I swear they do that on purpose! If I'd worn the cute outfit, it would have been wet all day. Even though looking cute usually wins, sometimes you just have to put practicality first.
Beignet and Pendrell make a lovely team. Fitted skirt, ruffled blouse – it's a great combination! All you need is a killer pair of  heels and you're ready to go.
My meeting with my business advisor went really well! Since graduating from the program back in April, it was nice to have a chat, and update her on how things are going so far. (She also got to see the new pattern designs, very exciting!)
It's Friday, everyone! Hope you all have a wonderful weekend!