Hello, everyone! I'm all caught up on order shipping now that the postal service is working again, yay! Time to catch up on a few Me-Made-June posts next.
This dress is so pretty, but doesn't get the exposure it deserves! Every time I put it on, I love it! It's comfortable, flattering, adjustable! It's floral but not too bright (as compared with most of my floral dresses) and it's got little cap sleeves. I even have a basic navy tank that I hang up with the dress, so it's always ready to wear. And it's shiny! Pretty.
Yet, I don't wear it very often. I think the last time I wore it was in the fall, for Self-Stitched September! Granted, it's been wintery for months, but it would be cute with tights and boots too. (Maybe a little knitted hat?)
The Details
Dress: McCalls 5314, out of print sadly! It's a great pattern if you do manage to find it. I made this dress over three years ago out of a stretch polyester print – but it doesn't require the stretch to be comfortable.
See the dress in more photos here!
Shoes: Urban Outfitters, another awesome purchase! These are comfortable with a sensible heel, but still look super-cute and have a retro flair.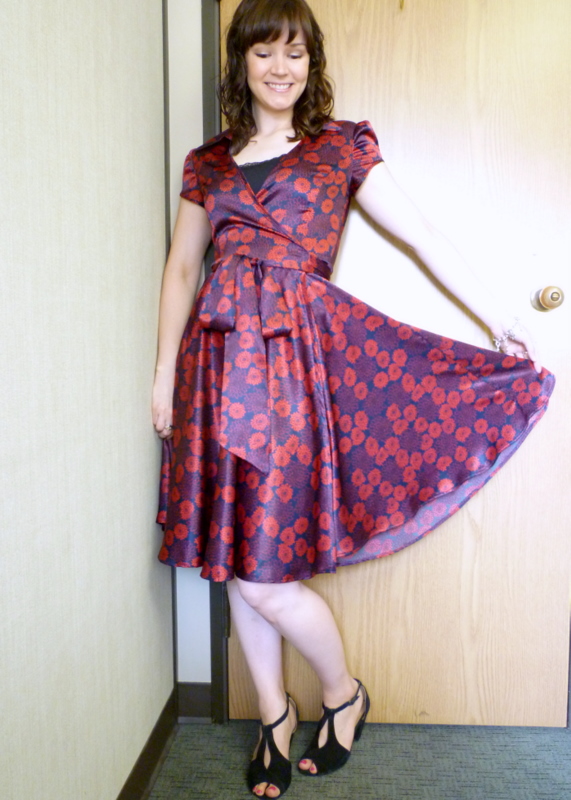 I drove to work this day, which is why these photos are taken inside in the office! Which is a mass disaster right now, I pushed all of the mess to one side so I could take photos.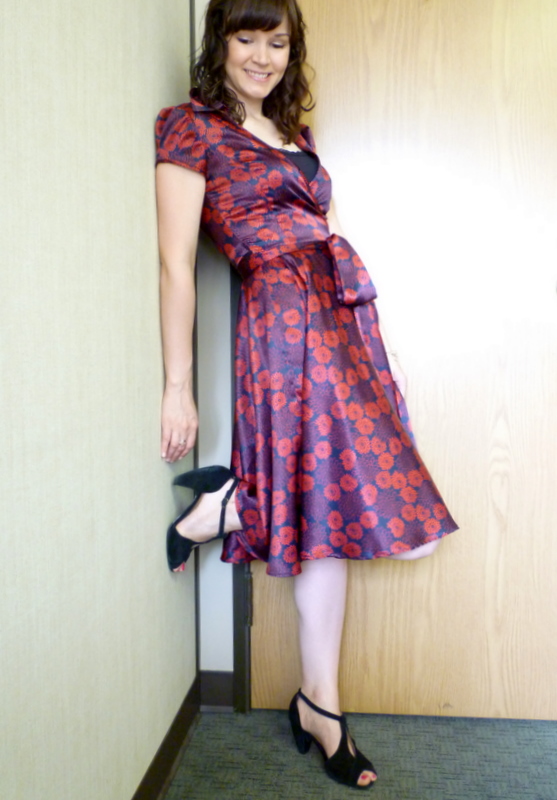 I should wear this dress more often! It is polyester, but I'm willing to overlook that part because it's such a fun dress. There's nothing wrong with it, there aren't even any sewing flaws that make me dislike it. It was a pain to cut because of the slippery fabric, but the sewing was fairly easy too. And it's so forgiving! There's plenty of room in the skirt, the wrap allows me to loosen it if I ate a big meal, the bodice is comfortable, it's neither too short or too long of a skirt.
Or, I should make it again – in solid colours! Wouldn't it be fun in hot pink? I'm on a hot-pink kick right now, it must be the fact that summer's on its way. I love the energy it brings!
More Me-Made-June posts coming this week, as well as a closer look at the Lonsdale Dress!