After spending last Monday in a sweatshirt and workout pants, I felt I should make a better effort on Tuesday. And I wanted to get your opinion on this dress, too. I bring it out every Me-Made challenge, but rarely wear it any other time!
Posing with my bike makes way better pictures than just standing in a park. I look like I'm standing there with a purpose! I can get up the hill quickly, snap a few photos, and coast back down to the road with hardly anyone noticing.
The Details:
Dress: Resort Dress, Vogue 8185 (discontinued)
Sweater: Gap
Shoes: Keds, my go-to shoes for cycling!
Belt: thrifted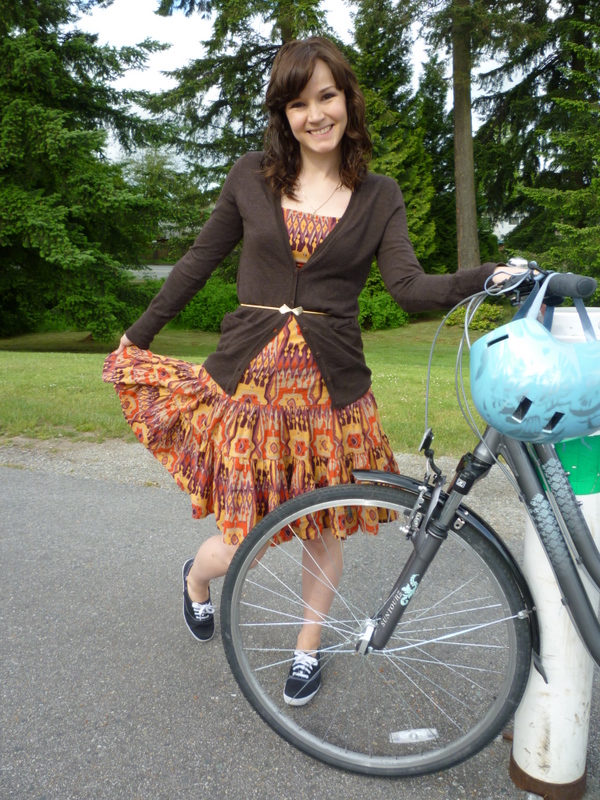 What I like:
The swishy skirt! I like the volume of the tiers for twirling and biking. The print of the fabric and the tiered skirt hides any wrinkles, and the cotton is lightweight and comfortable.
What I don't like:
I don't feel like it's totally me. I think the print is a bit crazy, even when I first made the dress, I had a hard time coming up with something to use the fabric for!
It doesn't exactly project the image I want to project. Classic yet pretty? Professional? Sexy? Nooo.. Casual and comfortable, yes. Fun and playful, yes. And it may be a bit too young. I'd like to look more like a woman, and I fear this dress borders on 'little girl.'
You can't see the sewing flaws, but the zipper doesn't reach the top of centre back. It's a less-than-invisible invisible zipper, sewn way before I learned the magic of hand-picked zippers!
There's no waist definition – it hangs straight down from the bustline to the hem. If I belt it, the belt bunches in the dress and it doesn't sit right. Wearing a cardigan over it helps, with a belt, which leads to the next thing I don't like…
I wear the exact same things with this dress. Unless it's really warm, and I can wear just the dress, I usually wear either a brown sweater or a denim jacket on top.
Here's how I've worn it before – basically the same look every time!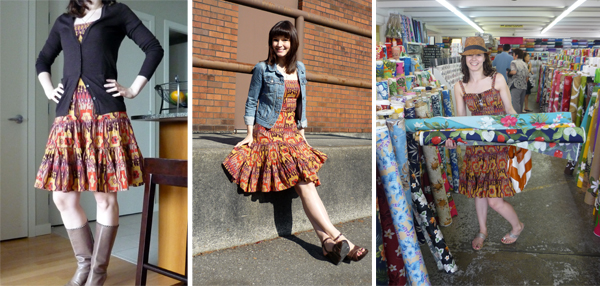 I didn't even bring it out for Self-Stitched September! And how un-original, I'm wearing the exact same sweater, and in my bike basket is a denim jacket I took off when it got warm.
That's the revelation I've had about sewing printed garments versus sewing solids. If this dress were say, hot pink silk, I could wear it with all kinds of tops and jackets! Changing a grey blazer and black pumps for a brown leather jacket and flat sandals makes it a different look altogether.
If it were a neutral colour, like navy, I could wear it with patterned jackets, add colourful scarves or bold jewelry for fresh new looks. With this dress, it looks the same, every time – so it's easy to get tired of the same look!
I've been very slow at responding to comments and emails but I really do like getting feedback on my sewing projects, outfits, and overall looks. It's like having a stylist, except I get ten opinions instead of just one! So thank you all, and never feel like you'll insult me if you don't like something I wear. It's a continual process, definining one's style and figuring out if we like the image we're presenting to the world.
What do you think? Like it? Should it stay, or should it go?