Total slacker that I am, this is the only outfit picture I took during our mini-break last weekend! Since I don't have a lot of photos of this outfit to share, and I'm behind on the Me-Made posts, I thought I'd squeeze this one in during the weekend.
The Details:
Dress: Twin Spruce Dress, made from a vintage Simplicity Pattern (3965)
Shoes: Target sandals, you can't see them which is probably a good thing, they're worn to bits!
Jacket: Talula, originally from Aritzia, thrifted for a fantastic $7!
Hat: Bought in Hawaii on vacation – a totally necessary purchase when curly hair meets humidity!
These little red men are sculptures in a park in downtown Vancouver. Mr Sewaholic and I came across them two years ago when walking along the water, and took photos with them. Now every time we see them, we take our photos with them! It's become a tradition of sorts. I really want to post the photos of Mr Sewaholic and the red men, but I didn't ask him first.
So I'll show you more photos of me and the red men, instead.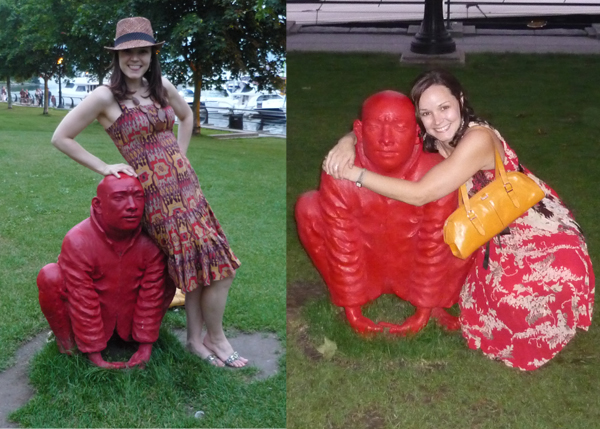 That's 2010 on the left, 2009 on the right. It looks like I have a printed-dress theme happening here too!
Not much to say about this dress, as we've seen it already! I wore it last Saturday to spend the day with Mr Sewaholic. We had a lovely weekend together, resting, relaxing and walking around the city. It's so important to press pause on life now and then, and get away from it all. It sure makes you appreciate everything when you do get back into the routine!
The weather was gorgeous, too! Here's a shot from the seawall. If you are lucky enough to come to Vancouver on a sunny day like this, take a walk around the seawall! Or rent a bike! I'd love to come back and bike the seawall together before summer's over.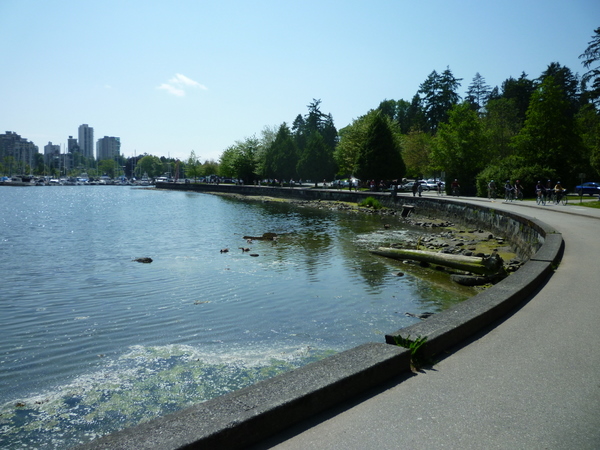 Have a great weekend, everyone!