Are you sick of seeing the same park in the background? Don't worry, we'll have a change of scenery soon. I'm healthy enough to be back on my bike and I'm catching up on the Me-Made outfit posts. I really missed my daily ride! Plus, they're doing construction on the main road to my office, and I have to park far away, so biking is just as fast as driving, and a lot more fun!
What am I wearing? I've got two Me-Made items today! This is one of my first Crescent Skirt test garments. It's a wee bit short, but the fabric is lovely! It's a rayon and wool blend – something you don't see very often! It's wonderfully drapey and soft, and machine-washable since I pre-washed the fabric. I used sew-in interfacing so the waistband is softer and comfortable.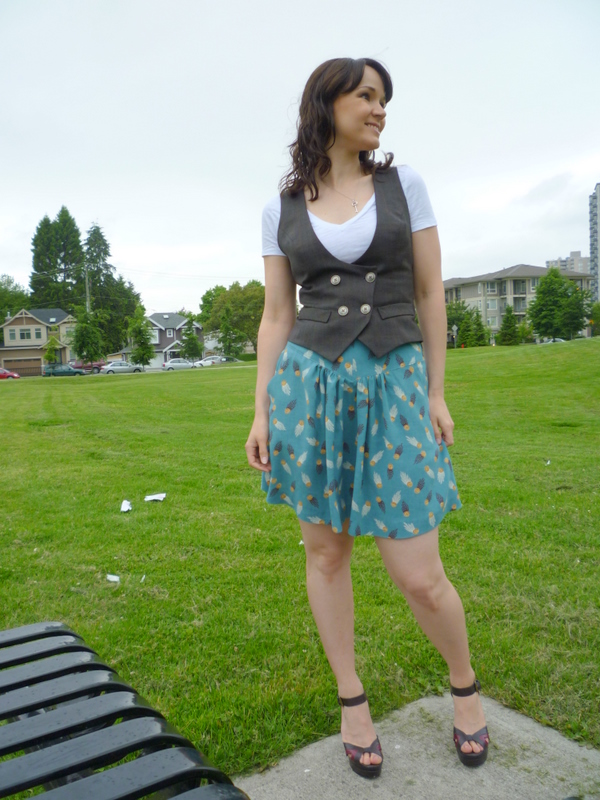 I'm paired it with the Simplicity vest again and a white tee shirt. And these shoes are just for you guys – super high platform sandals, also Nine West and most definitely purchased on sale. If I remember correctly, they were regular priced at over $150, and I got them for under $50. I'm embarrassed to admit I have more pairs of shoes than I have skirts and pants. Shoes are your friend – they always fit, they only make good outfits better, and they can make or break your look. If only I could make shoes. Although, I'm perfectly content to shop for them!
This was last Friday (June 10th), when I was still sick, which is why I've cropped my sick face out of most of the photos. And also why I've perhaps worn a too-short skirt with high heels, and forgot a coat. You're just not yourself when you're sick!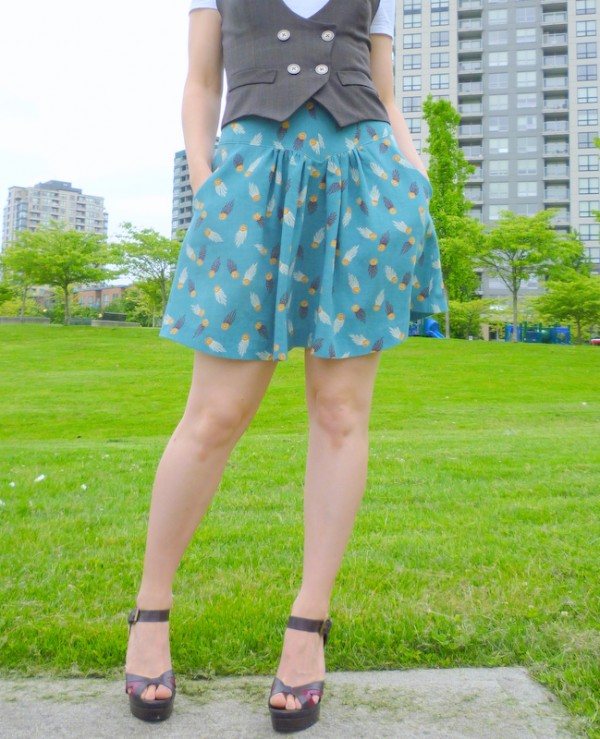 I'm a bit behind on the outfit posts, although I did miss quite a few days of photos! Last weekend I only took a few shots, and Monday started off as such a rainy day, I wore a sweatshirt and stretchy pants to bike to work. (And then left them on, all day. Not my finest fashion moment but I sure was comfy!)
More Me-Made posts here! Have an awesome weekend everyone!
PS. Thanks to everyone who asked whether I was OK following the riots in Vancouver. I'm safe and so are my friends and family that were downtown during the craziness. Thanks for thinking of me!

PPS. Are you on the mailing list? If so, check your email inbox for a new pattern update that I sent out this week! I'm super excited about this one!