Hey everyone! It's been an exciting, fun, and super busy week so far. Phase two of school has been awesome to start, I'm really enjoying it! The daily seminars have been packed full of information. I'm learning lots and really excited to start making even more things happen!
I wanted to thank you guys for an awesome pre-sale on the Crescent Skirt. We beat the numbers from the Pendrell Pre-Sale, with over twice the number of patterns sold! And I'm excited to announce that the first round of Crescent Skirt Patterns are on their way to you right now. (Yay, a fun reason to check the mail!) I swear, I have never licked so many envelopes in one day before!
I was going to wait on the metric conversion PDF files to be done before posting them to the site, but I know that some of you want to get out there and buy fabric for the Sew-Along! So to get you started, here is the Envelope Back in PDF for your reference.
Click here to view the Envelope Back in PDF format. (Or, click the image below!)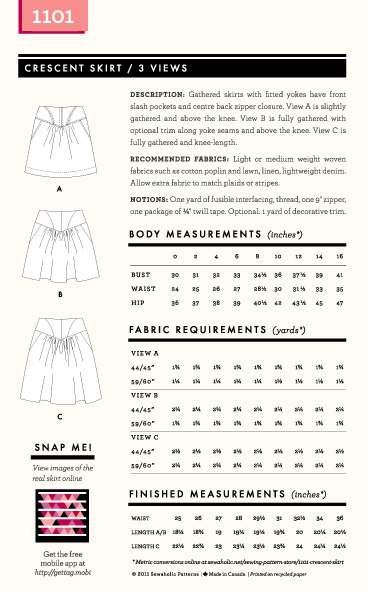 Several Sew-Along-related questions that came up on Monday, which I plan to answer this week!
Also, plenty of comments and ideas in response to yesterday's post about fabric scraps. I'd love to summarize the suggestions so whenever you find yourself facing a scary overload of scraps, you know where to turn. (The Sewtionary, of course!)
I wanted to thank you for your understanding as well! While I'm in school, I'll be just a teeny bit behind on things. Don't worry! Things will be back to normal by the time the Sew-Along starts. (Maybe even better than normal? Stick around to find out more!)
Have a great day and happy sewing!