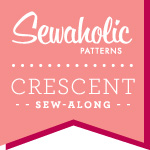 Happy Monday, everyone! Hope you had a wonderful Easter weekend. Today's Sew-Along step is courtesy of the lovely Patty in Minnesota, who blogs at The Snug Bug!
Patty's put together a very detailed explanation of how she graded up the Crescent Skirt. In the case that your measurements are not on the size chart, and you'd like to scale up the skirt, this is the post for you!
She shows how and where to add to the pattern pieces, and even shows her fabric cutting layout – as once the pieces are adjusted, you need to get creative with laying out the pattern pieces on the fabric.
Click here to check out Patty's post.
I'll be back with Fitting the Muslin shortly!
Just catching up? Here are links to the previous Sew-Along posts: