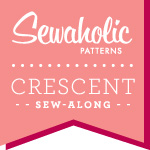 Hi Everyone! I'm super excited to be sewing along with you again. It's going to be a lot of fun! I'll be moving right in the middle of it – to my new office! – but for the most part, you'll have my undivided attention through all of the sewing steps.
Today I wanted to answer some of your Sew-Along questions, and put together a quick schedule so you get an idea of timing.
As always, if you have more questions, ask away!
Sew-Along Q & A:
Q. Will you post the Crescent Skirt Envelope Back online?
A. Yes! This was an older question, as both envelope backs are posted in the Pattern Store now! Here are quick PDF links to the envelope back, for your easy reference.
Q. Is the sizing for all of your patterns the same?
A. Yes! Wouldn't it be massively confusing if it wasn't? All of the patterns will use the same size chart. So if you were a 8 in the Pendrell Blouse, you'll likely be an 8 in the Crescent Skirt. Check the measurement chart to be sure!
Q. Will you write a lining tutorial?
A. I certainly can! Or, I was thinking of doing a slip tutorial! Do you have a preference? I thought a slip would be more fun, as you can make one slip for all of your skirts. Plus, the skirt finishing looks nicer when it's left unlined.
Q. Tasia, can you make YOUR Sew-Along skirt out of a solid fabric, with a distinguishable right and wrong side?
A. I can! What a good suggestion. It will make it much easier for you, if you can tell the right and wrong side of my fabric in the demonstrations. So I'll keep this in mind when picking a fabric!
Q. Can I make the Crescent Skirt if I'm not a pear shape? Will it still look cute?
A. For sure! Just like I always cut two different top and bottom sizes in regular patterns, you'll be able to cut two different sizes for your top and bottom. (Or in the case of the skirt, your hips and waist.) Or, make a muslin, and fine-tune the fit that way. If you like the style, then definitely give it a try! It's designed to fit and be flattering on pear-shapes, but it's easily modified for all bodies.
Q. Speaking of which, are we going to make a muslin during the Sew-Along?
A. I've decided Yes. Several of you are interested in making a muslin, at least for the yoke part of the skirt. So I'll play along and make a muslin for the skirt, for demonstration purposes and to fine-tune the fit on me as well.
Q. Can the skirt be lengthened easily?
A. You bet! You can certainly add to the length at the hemline, and continue the sideseam straight down. Easy to do!
Sew-Along Schedule
Here's what I'm thinking – this might change as we think of new things to add to the line-up!
From now to April 18th: Preparation including Fabric Recommendations, Links to Pre-washing, Measuring, and Cutting
Week of April 18th: Making the Muslin, Fitting, Adjusting the Pattern
Week of April 25th: Interfacing, Sewing the Pockets, Gathering
Week of May 2nd: Sewing the Waistband, Trim Ideas, and Pre-Zipper Sewing Steps
Week of May 9th: Sewing the Zipper, Hemming Ideas, Slip/Lining Tutorial, Finishing the Skirt
Week of May 16th: Finished Skirts!
I've added the Crescent Sew-Along details to the 'Sew-Alongs' page, so it's easy to find all of the posts.
Thoughts on the schedule? Any more questions? Leave a comment below!
PS. Want your own Crescent Skirt pattern? There's still time to order your pattern for the Sew-Along. Click here to visit the store!