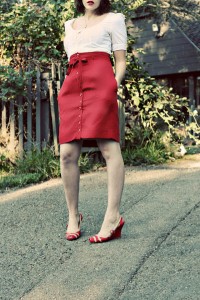 I was delighted to find Colette Patterns during my search for patterns and fabric online. Everything about this site is appealing, from the fantastic vintage-yet-classic line of patterns, to the Gallery of finished creations shared by other people.
And I think I found the perfect pattern for my red straight skirt – Beignet. The description is exactly what I am looking for, fitted around the waist with room in the hips. Just the way I'm built! Of course the photo is in red so it's easy to visualize. I'm imagining it with wooden wedges and a floaty lace-trimmed summer top.
And good news for us Canucks – shipping to Canada is available! It's always so exciting to find things you love that will cross the border. I've placed the order and I can't wait for this pattern to arrive.
It does have a lot of buttonholes though which is my only hesitation. I might change my mind but I'm planning to do buttonholes by hand. Intense, I know. At least I will have control though, as my machine likes to eat my projects as soon as I get to the buttonhole stage. The whole project is done and THEN my machine decides to misbehave. I'm taking it in for servicing soon so maybe my buttonhole woes will be gone…
Imagine this style in a cute tweed with leather-look buttons, or in a floral print with bright buttons in one of the print colours. Or chambray-blue denim with white contrast topstitching? What would you make using this skirt pattern?