I was thrilled to be asked by Sarai of Colette Patterns to be part of the blog tour for the Colette Sewing Handbook. Have you seen the book yet? It's beautiful! It's the sort of book you buy for the information and the fact that it looks pretty on your shelf.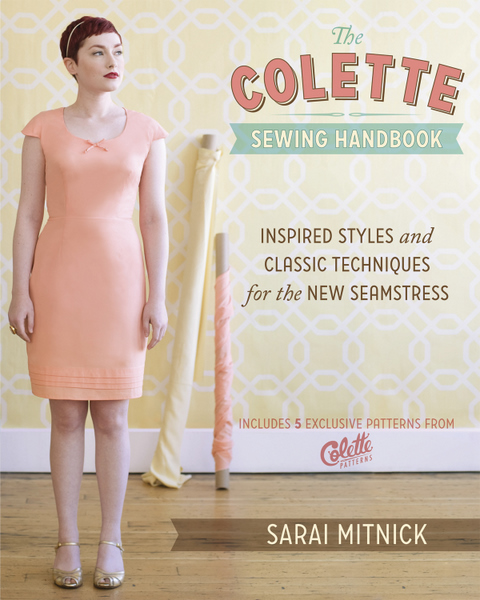 Another great thing about this book is the writing style. I love when books (and blogs!) speak to you like a friend, not like a bossy instructor. It's like someone is there with you, sharing their sewing knowledge and stories over a cup of tea. Does that sound too flowery? Well, it's true. As someone who appreciates a personal touch, the friendly writing style stands out and makes it even better than just a book of technique.
I thought I'd share an excerpt from my favourite section: A Thoughtful Plan. Because when deciding on your next sewing project, it's a good idea to approach it with a thoughtful plan. Sure, I get distracted by the bright and shiny all the time – but in the past, that's how I've ended up with clothing that doesn't suit my my lifestyle or doesn't match the rest of my wardrobe. I'll be honest, I don't plan every project thoughtfully! There's plenty of 'oooh, shiny' and 'must buy this bright bold print, even if I don't know what to sew with it!' So it's nice to be reminded to press pause before jumping into each new sewing project, and make sure we're making choices that will make us happy in the end!
Enough from me. Let's read a little bit of the Colette Sewing Handbook, from the chapter A Thoughtful Plan!
Note: This excerpt begins after talking about finding and keeping inspiration, which is why it starts with 'once you have plenty of inspiration!' But I bet you already have tons of ideas – this helps you figure out what to do next with all of them!

Editing For Your Style

Once you have plenty of inspiration, the second step is to make some editing decisions based on what you will actually wear, and what fits your life. For me, this is usually a mental process of asking myself a few questions as I go through my inspiration sources. You might also choose to jot down notes or even start sketching more concrete ideas.
It's important to think critically about your own style and tastes before you start sewing. Sewing gives you an opportunity to express who you are in your daily life like almost nothing else can. Rather than assembling a wardrobe from the clothing you find, you can design your own style based only on the things you love, that say something about who you are. I find this to be one of the greatest gifts sewing has to offer: the chance to bring artistry into your everyday life and to express yourself creatively with the things you make. Not only can you make something beautiful, but you can make something beautiful that says something about who you are, and you can use it in your real life. In that sense, sewing is truly a practical art.

Dressing For Yourself

Some styles of clothing just feel right when you put them on. They're comfortable, they fit your personality, and they match your taste in just the right way. They work with who you are and reflect your favorite qualities out into the world. At the same time, there are other styles that you might like, but never feel quite right when you put them on. Distinguishing between the things that feel like you and the things that don't is the only real secret to developing a strong sense of style, one that means something to you.

Consider the people you believe to have the best personal style, whether they're famous style icons or people from your own life. You've probably noticed that they have pretty specific tastes. They know what they like, and they're true to themselves as individuals. They cherrypick the colors, textures and shapes that speak to them and work with who they are.

I believe in a personal approach to style. To me, that means wearing the things that make you happy. This takes a bit of reflection and a dash of restraint. It means recognizing the things you like on others, but that may not work for you. It means probing yourself a little, asking yourself why certain kinds of clothes make you feel good.

Try going into your closet and picking out five things that you love to wear. It might include a ring given to you by your grandmother, your coziest sweater, your simplest black dress or bright turquoise shoes. Why do you feel so strongly about these things? What is it that makes them special to you? What feelings do they provoke? By understanding what you value in the things you love, you can begin to imagine a whole wardrobe of personal clothing, built around the qualities that are important to you.

It may help to describe the qualities that appeal to you the most. Make a list of words that describe the aesthetics of your favorite things. You might also include the fabrics you love, the colors that work for you or the kinds of shapes you like to wear. You don't need to put yourself in a box, but can still be helpful to recognize that you are drawn to things that are "dark, mysterious, romantic, feminine" or "minimalist, practical, androgynous, sleek." You might even take a photo of the things you have that best express your own style. Remembering that you love neutrals may make it easier to put down that enticing tropical print at the fabric store.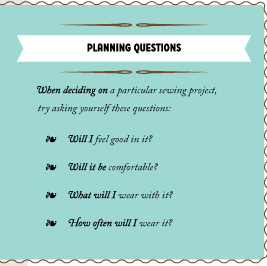 What do you think? You want to keep reading, right?
I found this particular part of the book really spoke to me. I often get distracted by all the things I could possibly make and forget to think about where I would wear them, or what I would wear them with. Often, I'm attracted to styles that look amazing in photographs but don't fit into my lifestyle. I like to sew and plan sewing projects for my fantasy life, but then I end up with little clothing for my actual life. When the possibilities are endless, sometimes it's easy to lose focus.
I also like how Sarai talks about a personal approach to style, rather than style rules. And encourages us to wear what makes us happy, rather than saying 'You are preppy, therefore you belong in stripes, and you over there are glamorous, so you need to stock up on little black dresses.' There's no 'must-haves' – it's about you. And there's no wrong answer, either!
I want to try her advice and go into my closet to pick out five things I love to wear – and then look at them, see if I can put together a description of my style. I have a feeling that the five things I love most and the five things I wear most are different too.
The book goes on to discuss Dressing for your Life and Dressing for your Shape, and then how to apply these ideas to your sewing projects.
I liked this little sidebar checklist on planning your projects (in the blue image above.) Number one: will you feel good in it? If you feel self-conscious in every pencil skirt you've ever tried on, maybe that's not the best use of your fabric. Do you feel fabulous in sunshine yellow? That's a good sign you'll smile every time you put on that yellow dress! Are you making something way outside your comfort zone, say, a jumpsuit? Leggings? Short shorts? Will you feel good in it? Excellent question.
Check out the other blogs participating in the tour and a full tour schedule below!
Nov. 1: The Coletterie – Intro and giveaway
Nov 2: Craft Buds – Interview and giveaway
Nov. 3: Gertie's New Blog for Better Sewing – Lace insertion tutorial for the Licorice dress
Nov. 4: Sewaholic – Book excerpt
Nov. 7: COLOURlovers – Sarai's favorite prints and patterns
Nov. 8: Flossie Teacakes – Interview with Sarai and book review
Nov. 8: A Fashionable Stitch – Book excerpt and review
Nov. 9: Pink Chalk Studio – Book review
Nov. 10: Craft Gossip – Interview with Sarai and giveaway
Nov. 11: Bolt Fabric – Book review
Nov. 14: True Up – Fabric Fives with Sarai
Nov. 15: Frolic! – On styling the book's photos
Nov. 16: Whipstitch – Book review
Nov. 16: Honeykennedy – Styling ideas
Nov. 17: A Dress a Day – Interview with Sarai
Nov. 18: Not Martha – Book review
(break for Thanksgiving week)
Nov. 28: Casey's Elegant Musings – Project Planning, book excerpt and Casey's thoughts
Nov. 29: MADE – Giveaway
Nov. 30: Sew Weekly – Book review
Nov. 30: Oh! Fransson – Elizabeth's version of the Taffy pattern
Dec. 1: Sew Mama Sew – Guest post from Sarai on grainlines
Plus don't forget to visit the first post on the list and enter to win an amazing giveaway from Colette Patterns – a signed copy of the book plus FIVE patterns! Go, read, enter!
Have a wonderful weekend, everyone!