Hi friends! Thanks for your encouragement and suggestions on my tailored coat project! This week I went shopping for fabric and picked up some of my books from the library, including a little gem that I just had to share with you today.
When I was looking for books on the public library website, I came across a book titled "Coat Making at Home". I saw that it was published in 1956, and only 27 pages long. Interesting, right? I was surprised it was something I could check out of the library.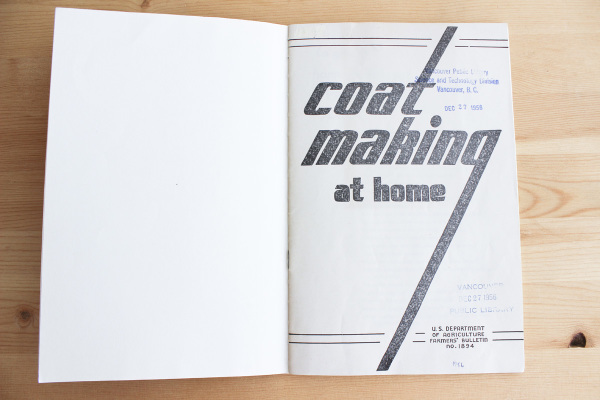 It seems to be excerpt from the U.S. Department of Agriculture Farmers' Bulletin. Actually, I can't tell if it's an excerpt or if it's the bulletin in it's entirety. It's written by Margaret Smith – who is referred to as a "Clothing Specialist".
From what I can put together, Margaret Smith wrote several bulletins for the U.S. department of agriculture, including "Fitting Dresses", "Pattern Alteration" and "Stain Removing from Fabric, Home Methods" – all of which you can take out from the Vancouver public library! I also found this PDF copy of Simplified Clothing Construction, which she wrote in 1959 for the Home and Garden Bulletin. I think she also had a line of floral handbags and a clothing line, founded in Maine in the 1940s.
Can you tell I'm fascinated by all of this? I would love to learn more, about the author and the bulletin, if you have any information to share!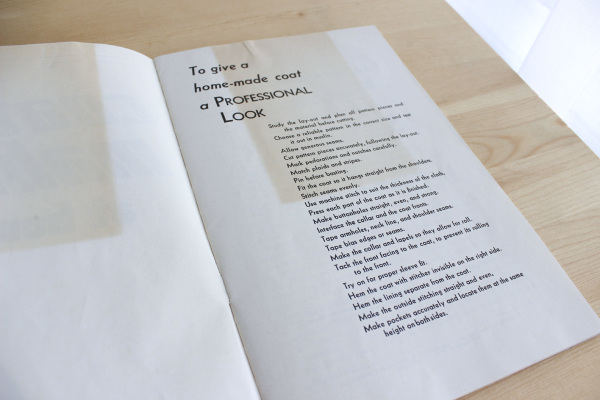 It starts off with a summary of ways you can "give a home-made coat a professional look". Things like matching plaids and stripes, pressing each part of the coat as it is finished, and taping armholes, neckline, and shoulder seams.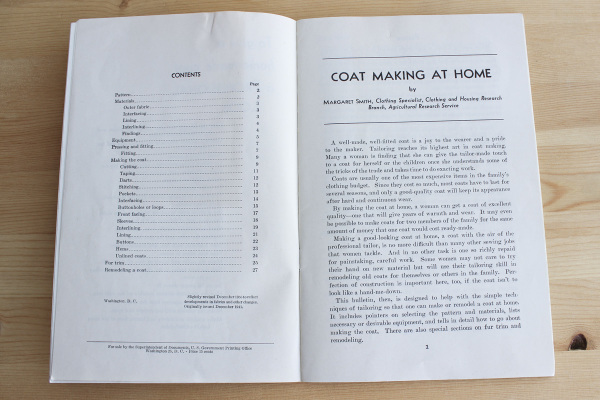 The short bulletin talks about pattern, materials, equipment, pressing and fitting, making the coat, and even adding fur trim or "remodeling a coat" which is kind of like refitting or refashioning.
The whole thing starts off like this:
A well-made, well-fitted coat is a joy to the wearer and a pride to the maker. Tailoring reaches its highest art in coat making.
What a powerful opening line.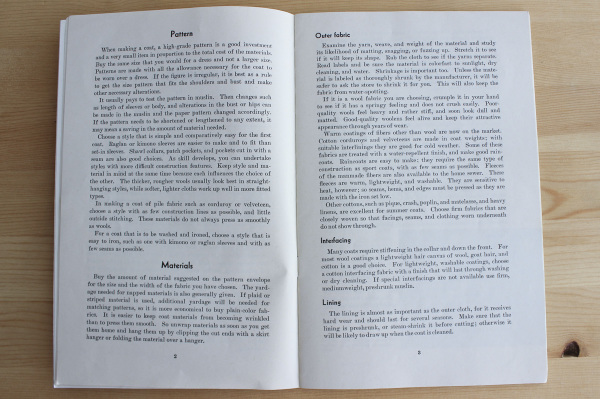 Here are some of my favorite excerpts:
Making a good-looking coat at home, a coat with the air of the professional tailor, is no more difficult than many other sewing jobs that women tackle. And in no other task is one so richly repaid for painstaking, careful work.
On fabric…
If it is a wool fabric you are choosing, crumple it in your hand to see if it has a springy feeling and does not crush easily. Poor-quality wools feel heavy and rather stiff, and soon look dull and matted. Good quality woolens feel alive and keep their attractive appearance through years of wear.
Advice about mirrors!
A full-length mirror pays for itself many times, for best results require a full-length view as construction progresses.
She recommends pressing with two press cloths, one of linen or cotton, and one of woolen fabric.
To press wool coatings with an ordinary iron, place the woolen cloth over the open seams, and on top put the linen or cotton cloth. Dampen the second cloth with a sponge, and press. Always press with the grain of the fabric, and lift the iron and set it down squarely. If the iron is pushed along as in ordinary ironing, the seam may be wrinkled or pushed out of place. After pressing, lift the press cloths and beat the open seam with the clapper.
On pockets…
If special pockets are used such as welts, slot, or flap types, follow the pattern instructions carefully. The secret of making these pockets well is in having the applied pieces cut accurately and stitched evenly and straight to the coat. Corners should be precise and accurate. Flaps may be square or rounded, but they should always be perfectly made. Inaccuracies in details such as pockets can spoil the whole appearance of a coat and label it as home-made.
There is so much good stuff in here. The language, font, photos, instructions, it all fascinates me, and it really is informative! Back in the 1940s and 50s, you couldn't just google tailoring techniques. Margaret does an excellent job of covering the process from start to finish in a clear and approachable manner.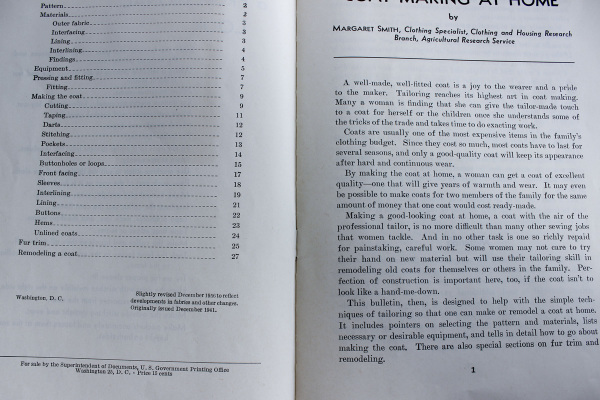 This little bulletin is marked with a Vancouver Public Library stamp from 1958. Apparently the bulletin was "originally issued in December 1941", and "slightly revised December 1956 to reflect developments in fabrics and other changes". I can't help but feel like I've happened upon a little slice of history here. Have you ever discovered any interesting sewing literature like this? I'd love to hear about it!