These socks were the reason I bought this book!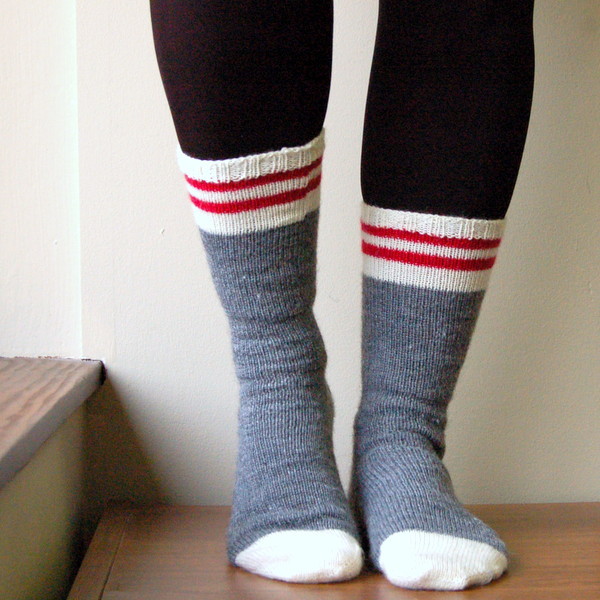 The book I'm referring to is Journey, by Jane Richmond and Shannon Cook, two local knitwear designers. I've had the pleasure of meeting both of them in real life at Knit City! The cool part about buying a book of patterns is all of the colour photos, especially this specific book. The photos make you want to get outdoors, preferably in head-to-toe knitwear. It's the kind of imagery that makes you want to be the woman in the book, wearing her striped work socks and cool lace-up boots and cosy sweater. (Check out more sock images on Jane's blog here.)
Ravelry notes here. I've been wanting a classic pair of work socks, with the red stripe, but couldn't find them. Or rather I could find them, but not in a small enough size. Even store-bought socks in my correct size tend to be square across the toe. Knitting your own socks allows you to customize the fit of the toe for a snug fit, no lumps!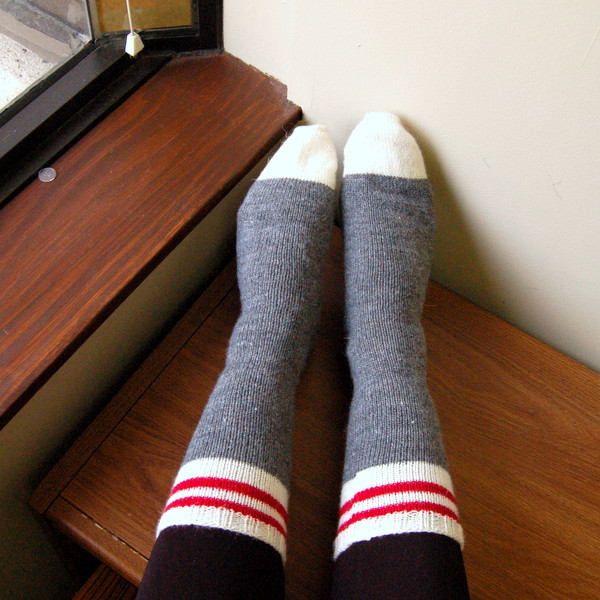 I'm wearing them over fleece-lined tights that you guys recommended in the winter cycling post – thank you! They're so soft and warm, I love them.
Learned new techniques: the Turkish cast-on. It's illustrated in the book with drawings for each step, which I found really helpful.
I like the stripes because you could use up leftover bits of sock yarn, they don't have to be red. In fact you could even do the toes in a different colour, or do the left and right foot in different colours. Although now I have a new reason to hang on to every leftover bit of yarn!
The only drawback of knitting stripes is that there are more ends to work in. Usually there's just the toe and the heel, two ends per sock, but knitting with three colours gives you more ends to work in at the end.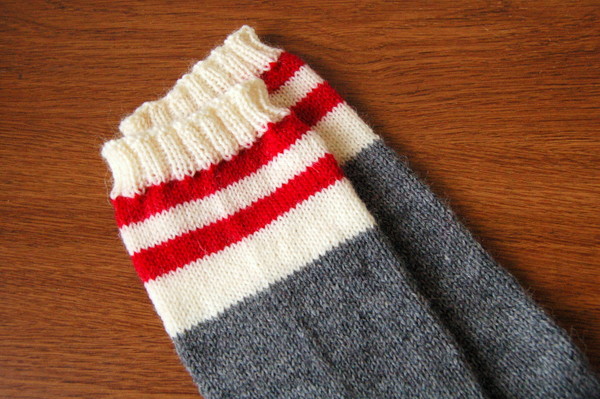 Modifications:
I made the stripe jog, the little mis-matching section where the stripe colour changes, at the inside of each leg. I switched position for the second sock, so if I think about it when I put them on, I can always put the jogged section in the inside and the nicer-looking section on the outside.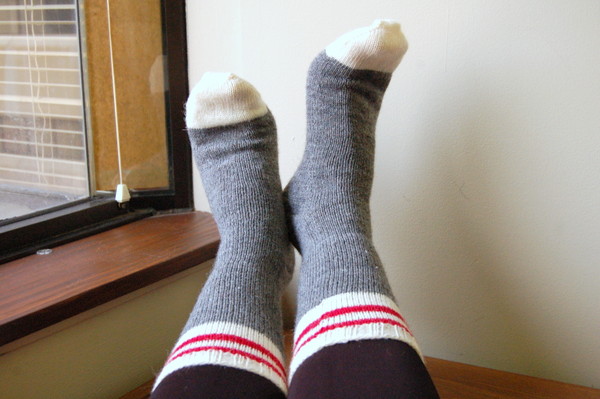 I knit them at a tighter gauge. In the pattern, Jane specifies that these socks are supposed to be knit at a loose gauge, but that it will make less hard-wearing socks. Well I prefer my socks to be hard-wearing, that's sort of my purpose for knitting my own socks! I want them to be long lasting. So I changed the pattern to be knit at my usual sock gauge. I did this by using sock-size needles (2.25mm) and increasing to the usual number of stitches for the foot, instead of the loose-gauge number of stitches. It worked!
I really love these, and I can see myself using the pattern many times in other colour combinations. I like the classic look of these. Don't get me wrong, I love crazy rainbow socks too, especially when they're hidden away inside boots as my little secret, but these are going to look awesome in shorter boots to show off the stripes.