Ever since I joined Sew Retro I've been excited to get started and post my first project using a vintage pattern. Finally, I have something to share!
Here's the original pattern, fabric and button choices: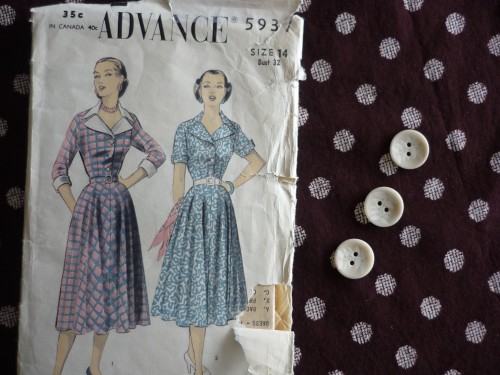 Fabric is a cotton-rayon blend (it feels mostly like cotton though) from Dressew, buttons are from Button Button. My first thought was to make this in a plaid, but I never found a perfect plaid fabric with enough drape and softness for a bias skirt. I loved this cotton-rayon dotted print – the dots have a cool textured look and the rayon adds a nice drape and soft handfeel.
I tried to stay true to the pattern by following the original instructions: bias tape on the facing edges, bound buttonholes, and making a self fabric belt. Though, the instructions that come with a fabric belt kit are so vague…it's like they took out some of the directions so it would fit on the back of the package better. I'm thinking of doing a step-by-step guide with photos for reference.
The funny thing about this pattern is the zipper instructions: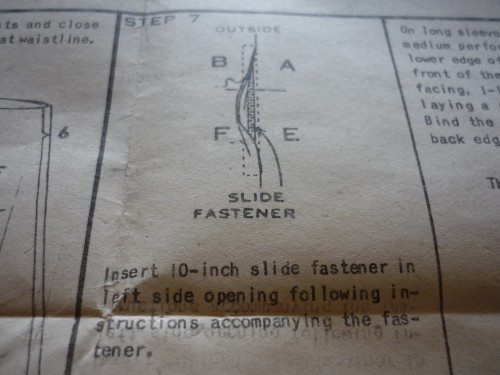 Strange, my zipper didn't come with instructions on how to insert it? I remembered Gertie's awesome tutorial here, and followed it for a fairly successful hand-picked lapped zipper.
And voila, here's the finished dress!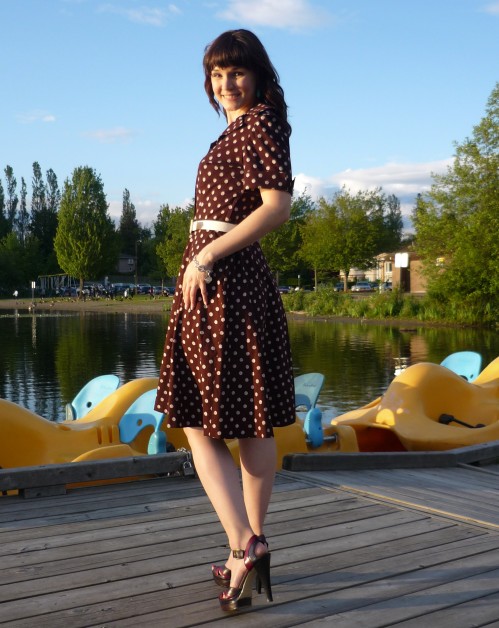 Another view… I was originally going to make a self-belt but it blended in too much, the cream is much better. Highlights the waist!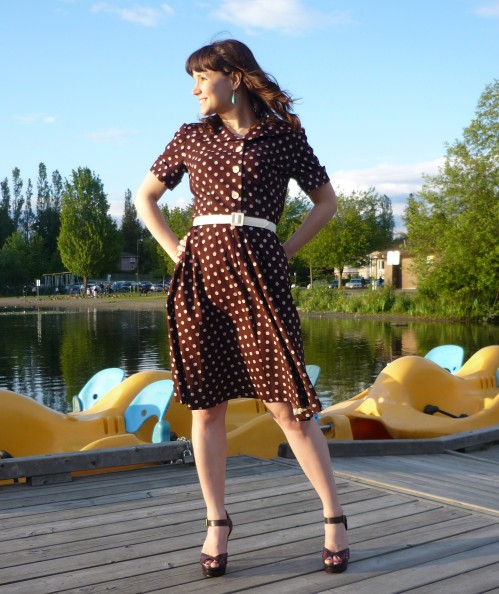 View from the back – the skirt is cut on the bias for a soft flare, not enough to add a lot of volume but just enough for a little swing when you walk.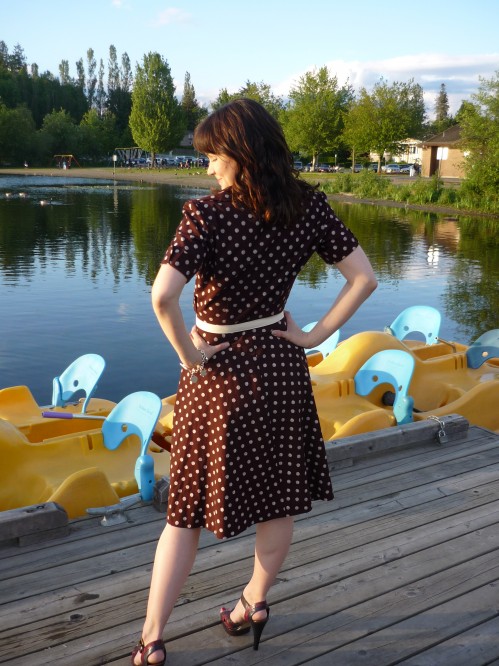 Another back view – look at the cute turnback cuffs!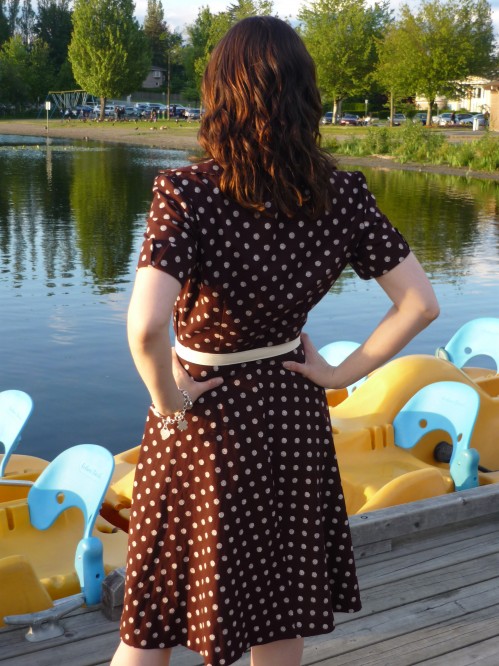 I did shorten the skirt quite a bit, as the original length would have been close to my ankles. Other than that I didn't make any changes to the pattern.
This dress is super comfortable, though it may be a size too large. There's so much extra space in the bust (sadly!) and it's not even snug at the waist. I made a size 14 (bust 32) which is the right size according to my measurements… there seems to be a lot more ease in vintage patterns.
Though it's quite refreshing to be comfortable and relaxed in this dress, it's pretty in a subdued way. Wholesome-pretty, not in-your-face pretty. I like it a lot, I wasn't too sure of it before it was finished (and especially when it was near-ankle-length!) but it's quite wearable. Vintage without being too costumey.
And just as we left the park, I snapped the most amazing picture of the sunset. So beautiful – can you believe it's not retouched or edited?