Finally, I've made something that counts as cake! (Remember this post? This has got to be one of my most linked-to posts ever! Cake and frosting, you guys liked this description, and why not, it sounds delicious…)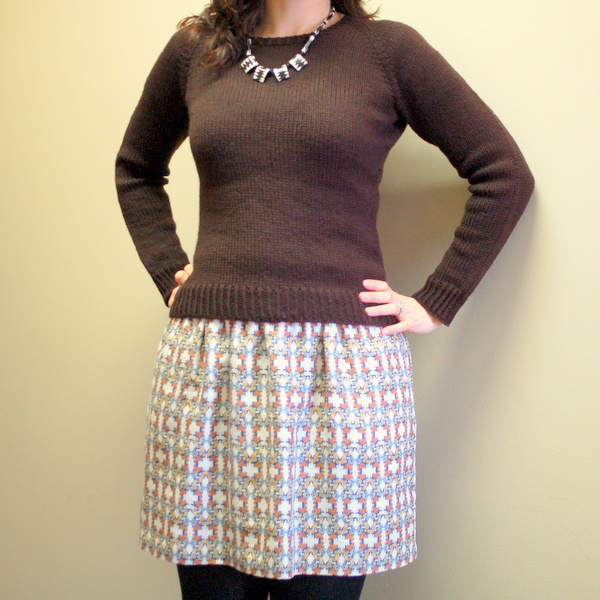 Today we have the Chocolate Cake Sweater. Because this piece is Cake in its best form. Practical, wearable, comfortable. Goes with all of my favourite colours: teal, golden yellow, coral, leopard print. Warm. Super classic style that will never go out of fashion.
Ravelry notes here. The pattern is aptly named, the Ladies Classic Raglan by Jane Richmond, my favourite designer for simple, wearable knitwear. The entire pattern fits on one page and is very easy to follow.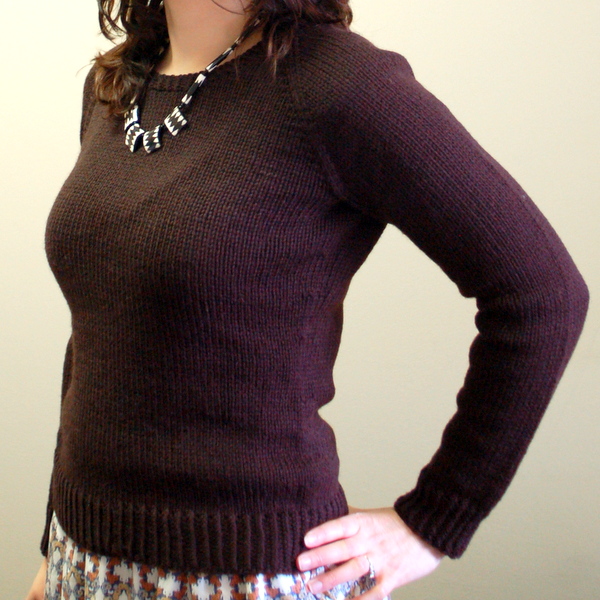 I think it's a great first sweater, even simpler than the St. James sweater I started with. Easy, simple, stockinette in the round, but the crew neck is nicely shaped, and the long sleeves make it more wearable for cold weather than the short cap sleeves.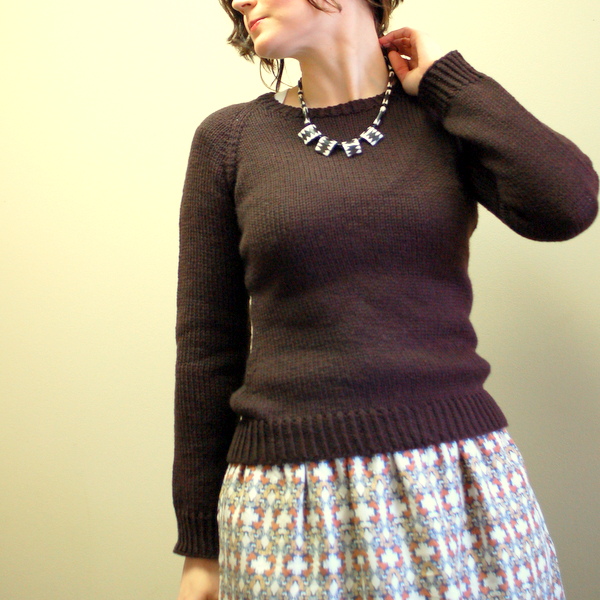 The yarn is basic Cascade 220 in the non-heathered solid dark brown. I like the price of this yarn – approximately $8-9 per ball, which makes a full sweater in my size under $40. Where else can you get a brand new, custom fit 100% wool sweater for $40?
After knitting over the knee socks, I craved something simple to knit next, out of thicker yarn. This was the perfect next project! I'd actually started knitting this yarn into Chuck (check out both Lladybird's chuck and K-Line's chuck – how cute is this pullover?) but the cables were barely visible in the dark colour. If I'm going to go to the trouble of knitting cables, I want everyone to see it! Plus, I'd originally bought this yarn for the Classic Raglan, then got distracted by the Chuck pattern, but in the end stuck to the original plan.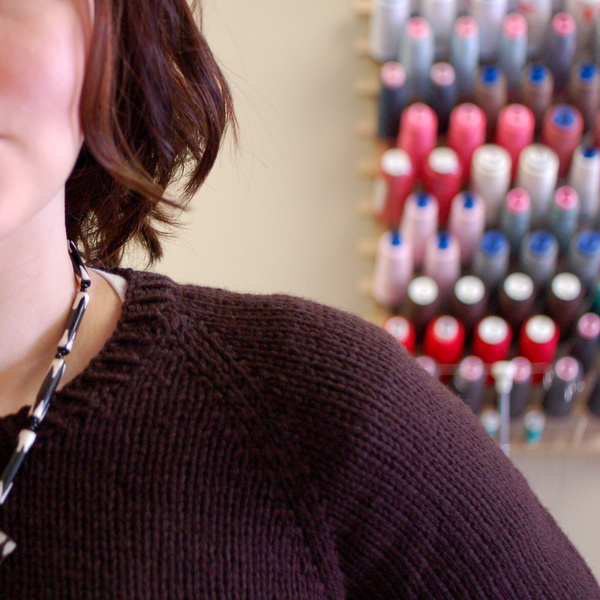 For our cold and damp Vancouver winter, this is the perfect layering sweater. Goes under jackets, layers over long sleeve or button-down shirts, even vests if you like. I'm thinking – ok, I always think this! – that I should make a handful more in different colours.  Seriously though, this is a year-round wardrobe item for me, except for maybe a few weeks in July. Even then it gets cool in the evenings, so the sweaters never really get packed away.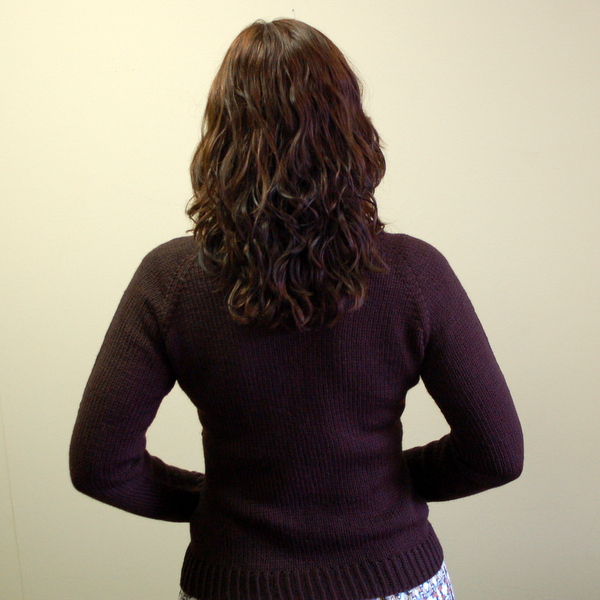 It's really easy to pull on over a dress. The body is not too cropped yet not too long. I can imagine it with my Chantilly Dress, maybe even the bright Chantilly, jeans and a leopard-print scarf – so many possibilities with a basic item like this one.
Time to complete: 2 weeks, 1 day. Very quick!
One thing about this sweater is that it isn't that exciting, as finished projects go. It's plain, it's brown, there are no fancy details or bright colours to lure you in to admiring it. It's just there. Even these photos are a little ordinary, just a plain old brown sweater. I think this is why we're drawn to making exciting pieces – they're enjoyable to make when you spend hours looking at a colour or pattern that you love, and even more fun to wear and show off when they're done! But I know I'll get a ton of wear out of this plain brown sweater, and that makes its plainness all right with me. I wore it all day yesterday, and it was warm, comfortable and only the tiniest bit itchy.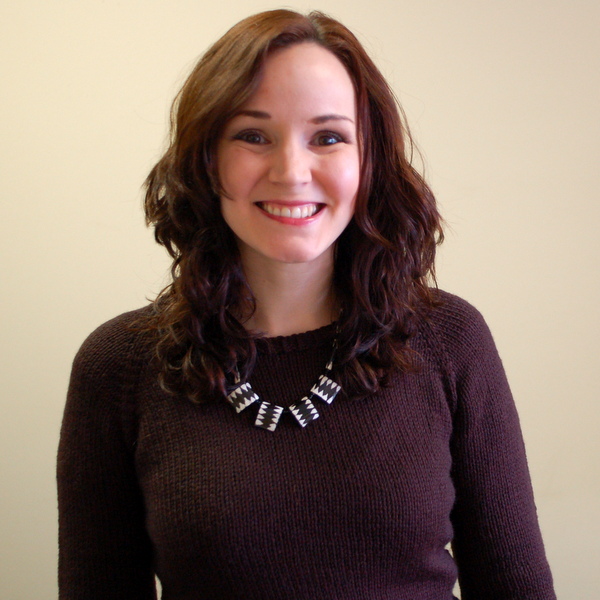 Proof that I do make cake items, sometimes! And when I do, there is more than enough frosting to go around.