Have you ever been so afraid of a technique that you avoided it, missing out on beautiful garments and new patterns simply because they contained the thing that you feared? Have you ever capped yourself at a certain level, thinking "I can sew, but I can't sew that?"
As if sewing a skirt is possible, but moving on to sewing coats is just too much to take on?
Well, that was me. I was afraid of colourwork knitting. Knitting with more than one colour in the same line, knitting motifs and patterns in various colours. I even took a colourwork class, but I was sort of expecting there to be a secret to colourwork, and when there wasn't I went back to avoiding it. Beautiful fairisle sweaters, I thought I would never own them. I was resigned to knitting only solid things, telling myself that solid things were way more practical anyways.
And then – I did it! I knit colourwork. And it really wasn't so hard, not at all painful, and actually quite fast. (It's fast because there's a mini-goal, get to the next colour! And the next colour, and the next…)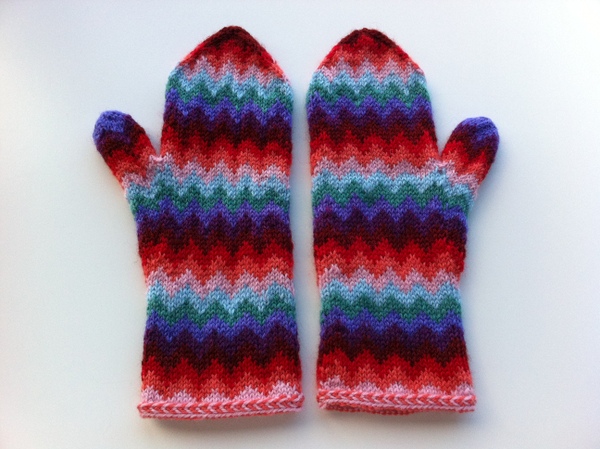 The pattern is Chevron Love Mittens, also available as a kit with yarn and pattern included, which is what I did so that I didn't have a ton of leftover yarn. And also because I really liked the colour schemes. (If I'd bought full skeins of yarn for each colour that would be a ton of yarn leftover at the end!) Buy mitten kits and the pattern here. Ravelry link to my project here.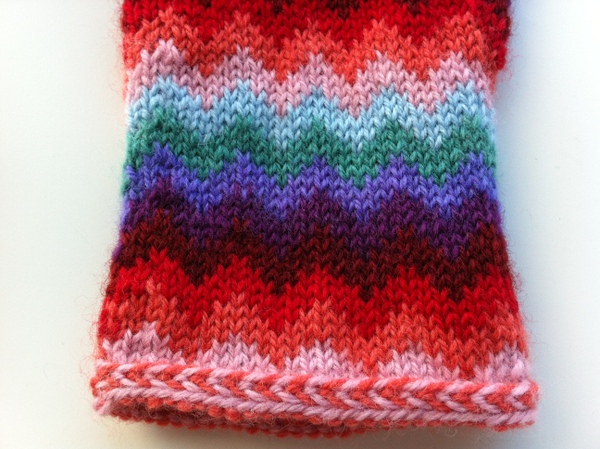 I picked these colours to match my coral rubber boots, which I bought on my birthday because it rains all the time here. Why not give yourself a reason to be excited about rain? (I realize that this is very much what children do, get excited about rain so they can wear rain boots and splash in puddles, and I don't care!)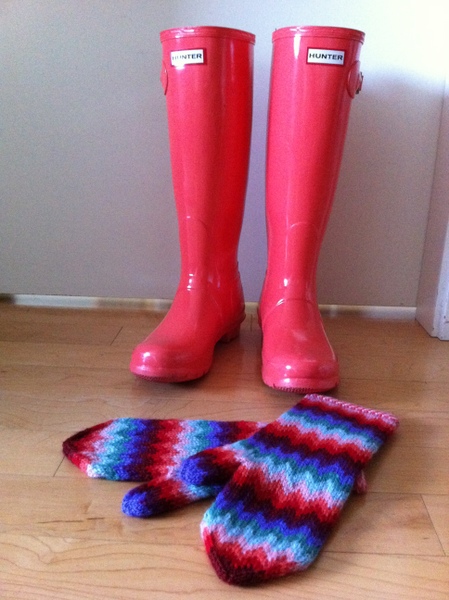 But in my case, I'll be putting on my awesome blue Robson Trench, my coral rubber boots and my toasty-warm Chevron Love Mittens. Bring on the rain, rainy Vancouver! I'll be facing it in style.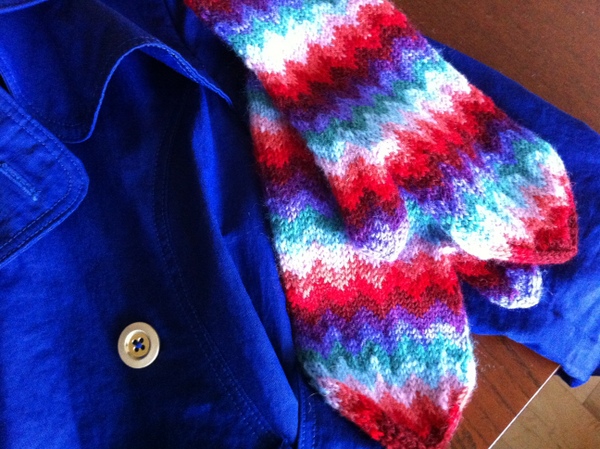 I liked these mittens so much, I wore them before they were finished! With colourwork, there are strands of yarn going across the back of your work, so whatever you're knitting ends up twice as warm because it's twice as thick.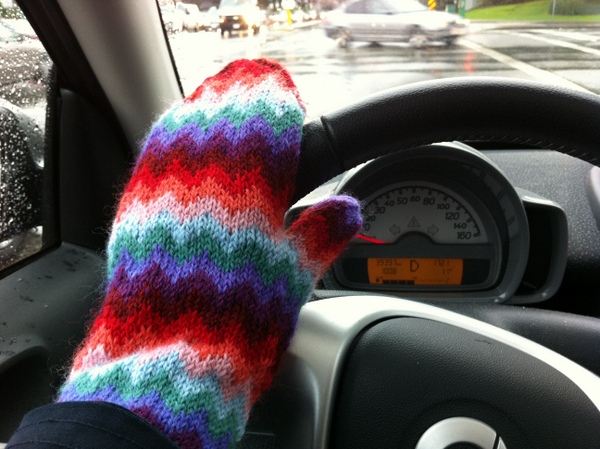 Although, you do end up with a lot of loose ends that need to be woven in at the end! (I think I counted 124 ends.)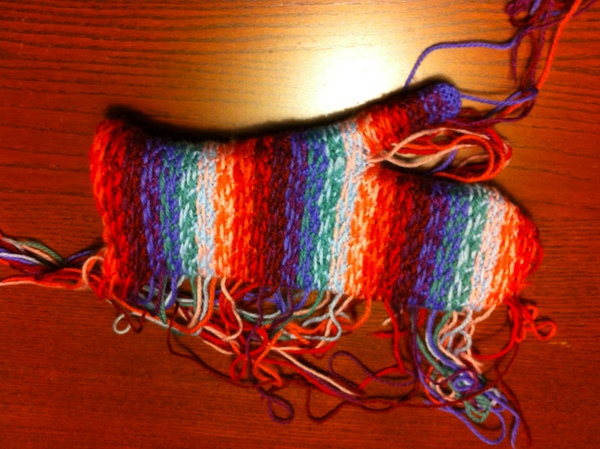 So yeah. Colourwork, not actually that scary. I didn't even master the fancy way of doing it, holding one colour in the left hand and the other in the right. I picked up the colour, knit what I had to knit, let it drop, picked up the second colour and knit with it, let that one drop and pick up the first colour. Sure, there are other ways, probably faster and better ones, but you can see that we all end up at the same result – mittens!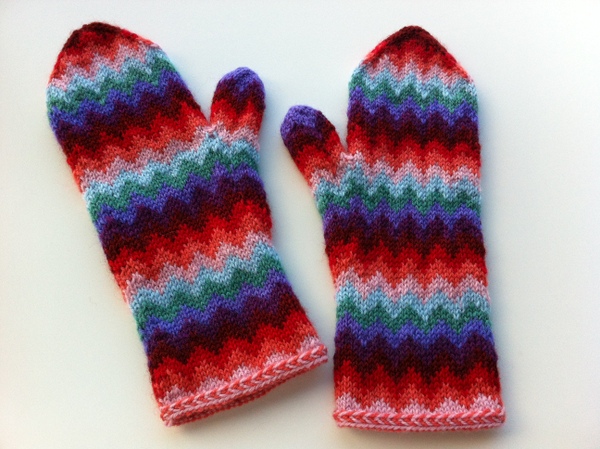 I've been sewing for over twenty years (probably closer to 25 at this point!) and knitting for nearly two, and I still find myself fearing certain techniques. I know deep down that nothing in the knitting or sewing world is life or death, and yet still I avoided knitting with two colours! How silly. Now a whole new world of knitting in colours and fair-isle patterns has opened up to me!
So if there's something that you're afraid of, think of me and my silly fear of knitting with two colours of yarn. That sort of mental block can happen to anyone, no matter how confident they are in other areas of their craft! Don't let fear stop you from making stuff!
(And now, I'm off to pick out my next colourwork project. Have a great day!)