If you guessed the sewing project in last week's sneak peek was a dress, you're right!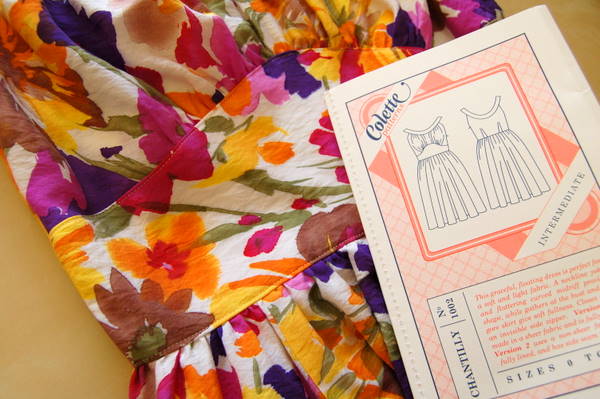 It's the Chantilly Dress by Colette Patterns. Isn't it just the loveliest colour combo for late summer? Equally gorgeous with tights and boots! (I bet I can ride a bike in it, too. Haven't tried it yet but you know I will!)
Sarai, the lovely and talented designer behind Colette Patterns, and I decided to do a pattern trade – Chantilly for Lonsdale. Isn't that fun? We may be competitors in the sewing pattern market, but our goal is the same – to inspire women to sew, to share our sewing knowledge, and to create beautiful, well-designed products for the sewing community. And we both appreciate cute dress patterns!
Back to the dress: I love this pattern! I knew I liked the style, but I loved sewing it too. The curved midriff band is so flattering, with such a nice shape. And it makes me look rather busty which is always a bonus!
Here's the project details, and a few photos of the finished dress!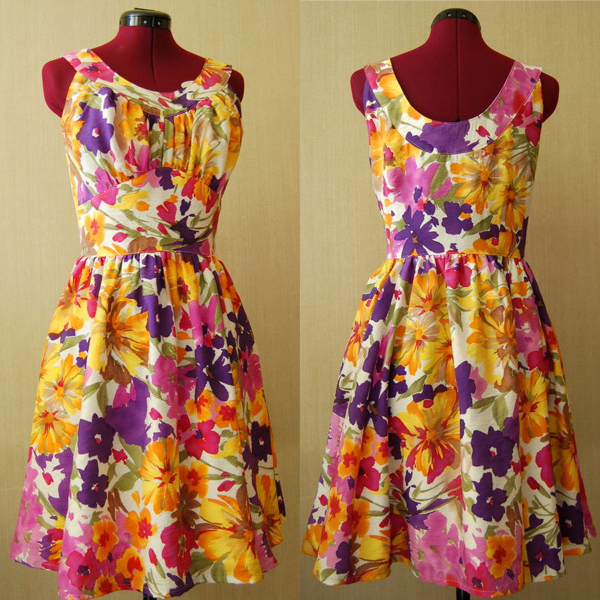 Details:
I cut a size 2, following the instructions for sheer fabric (even though mine isn't completely sheer.) I liked how the underlining brightened the floral print and made the colours stand out. Yes, I made a muslin first! I did a quick mock-up of the bodice before starting the real project.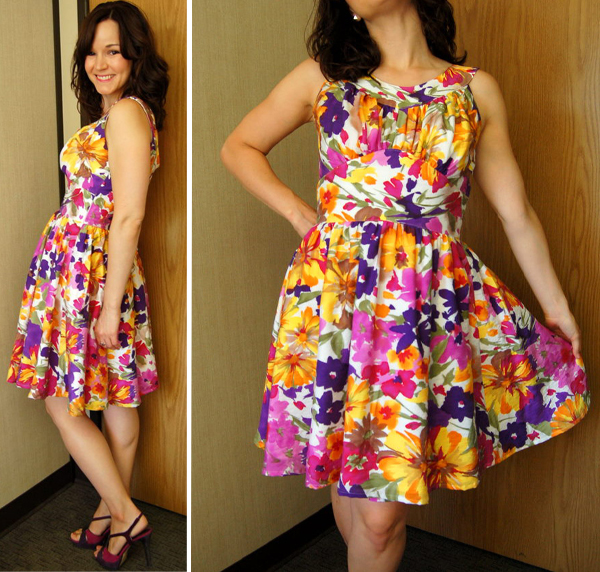 Modifications:
I cut the centre back skirt piece slightly larger below the waist – tapering from a 2 to about an 8 at the hipline. It's hardly a difference, and I would have been fine without it. This skirt is full enough to fit a pear-shaped gal without any adjustments!
I also added 1″ to the bodice length. I added the extra length just to the midriff band but looking back, I could have added 1/2″ to the band and 1/2″ to the gathered section, to distribute the extra length more evenly. Something to think about when you're adding length to a bodice with horizontal seams!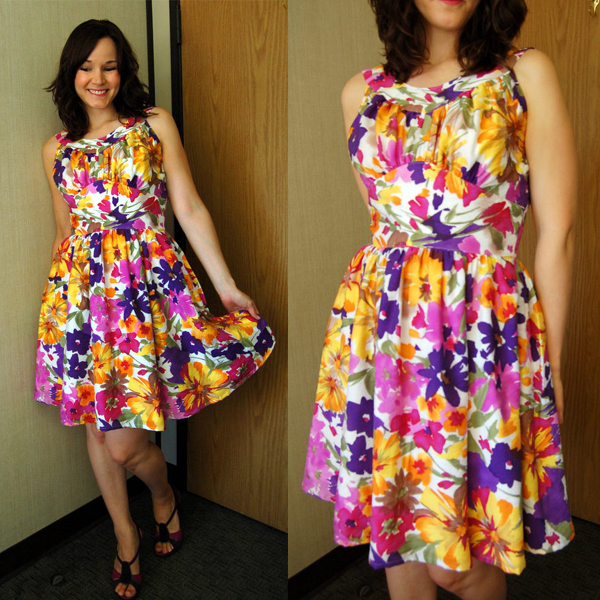 What I Like:
It makes me look super busty! It's all gathering and not a lot of actual bustiness, but I am loving the optical illusion. If you had a larger chest, this pattern allows extra room through the bust. And if you need the extra oomph, the gathers certainly add fullness and dimension! (I could have taken some of the gathers out at the bust for a closer fit, but I secretly like the extra volume.)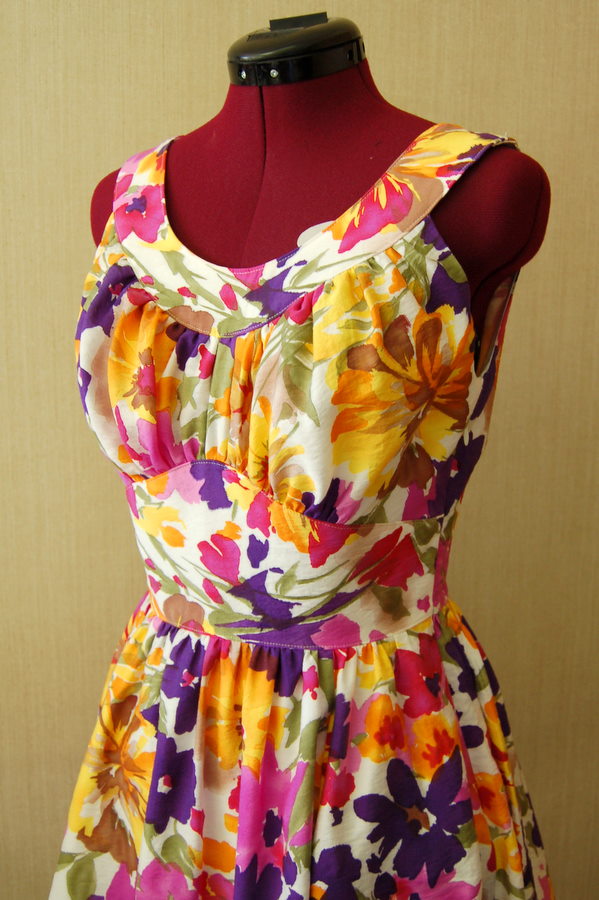 It's finished nicely on the inside as well as the outside! This dress is lined in the way where you make an entire dress out of lining, and then sew both dresses together along the neckline.
I like this method because all of your seams are enclosed and hidden inside the lining. I finished my seam allowances even though I knew they would be hidden – both because the instructions said so, and for extra strength.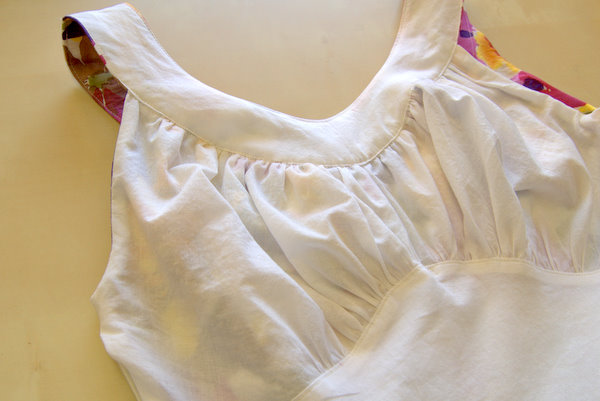 I lined the dress with cotton batiste – a good option if you have trouble sewing slippery lining fabrics! Cotton batiste is more stable and well-behaved, compared to rayon or polyester lining fabrics. I chose to line with cotton so the dress would be cooler and less sticky in hot weather. I also like how it adds a bit of body to the skirt, making it stand out from the body just slightly.
It's time to start sewing for Fall and put the lightweight floral dresses on hold for a while, but I'm glad I finished this one up before summer ended!