Hi everyone! I thought it would be fun to show you my first iteration of our new Davie Dress that I made during our testing phase. Always helpful to see a new pattern on different body types, isn't it?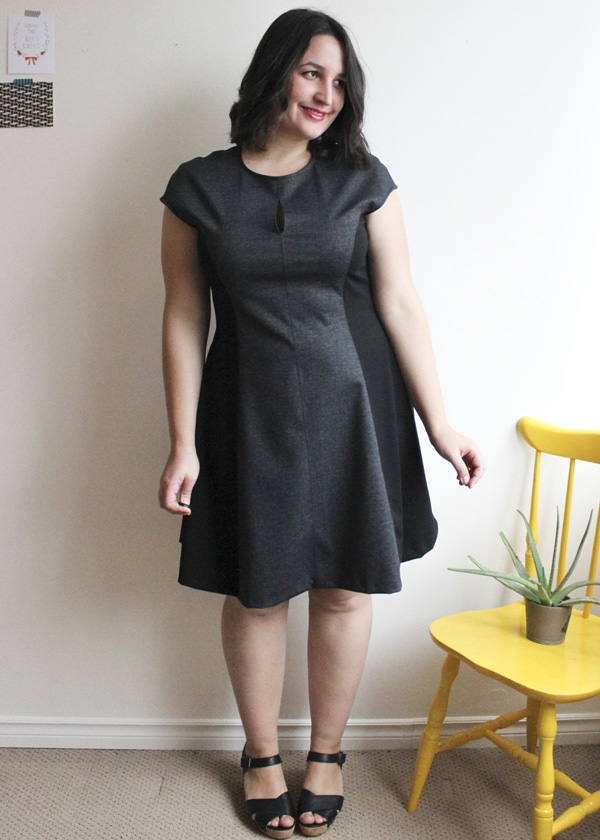 So here is our Davie dress, view B, in size 14. I lengthened it by an inch or so, which is an automatic adjustment I make for almost all dress patterns. You can always shorten but you can't lengthen once the fabric is cut – so I'd rather be safe than sorry. I'm 5'8″, in case you're wondering!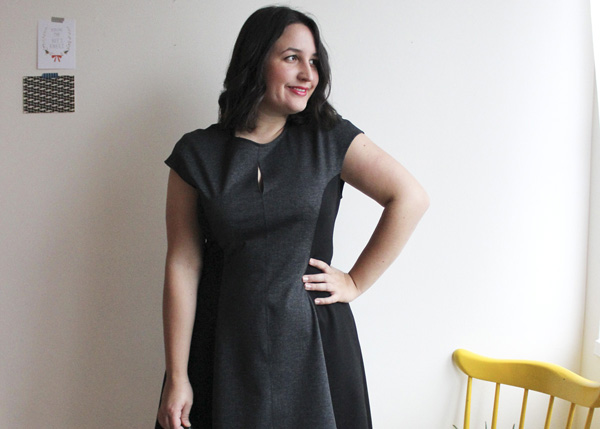 Aside from lengthening, didn't make any adjustments to the pattern. Obviously there is some pulling at the bust since I'm larger than the B cup that our patterns are drafted for. I wanted to see if I could get away without doing a FBA, since it's in knit fabric. The answer is no. Next time I'll make a full bust adjustment. Perhaps if my fabric was more slinky and stretchy it would be fine, but with a firm ponte knit, it will look nicer if there isn't any pulling from the shoulders to the bust.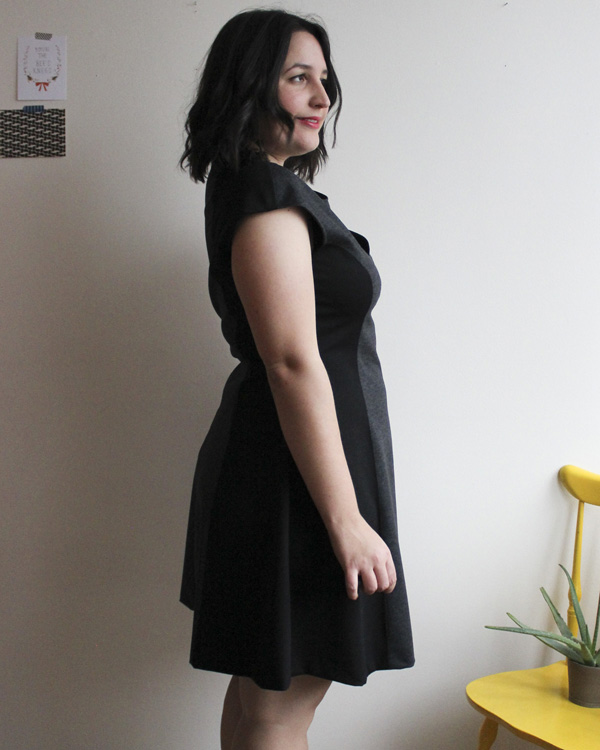 The fabric is a reversible grey/black double knit from my shop. It's sold out now though! It's the same fabric we used for two samples that the model wore in the photoshoot. I think reversible knits are perfect for this dress, because you can play with colour blocking in the different panels.
I like how this dress flares out from the waist to the hem. The princess seams make my waist look smaller and the keyhole is really cute! I think it's flattering even though it hugs some of my lumps and bumps. Being part of the pattern testing process for Sewaholic is fun, because I get to try out styles that I might not normally wear. It pushes me out of my style comfort zone a little bit. I've realized that in the past I would often rule out certain styles or cuts because I thought they would be unflattering or hug me in the wrong places. I still do this sometimes, but I'm working on not selling myself (or my body) short. This is probably part of a bigger discussion, but sewing has given me the opportunity to really get to know my body more intimately and ultimately accept and love it more. Do you guys feel that way too? It's been pretty liberating!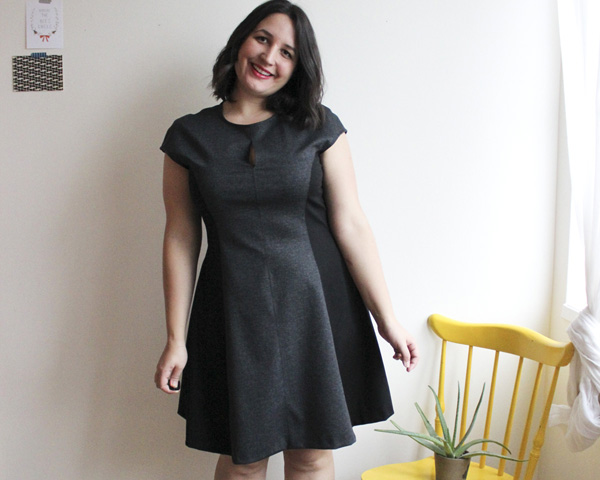 The Davie Dress evokes a bit of a 60s vibe for me, but it's still modern and fresh. I'm imagining my next version in a mustard yellow ponte knit, with creamy tights, swedish hasbeens and cat-eye makeup. Ou-la-la!