It's Mr Sewaholic's office Christmas Party tomorrow! And I realized earlier this week that I had absolutely nothing to wear.
Now I know what you're thinking – I've made lots of dresses this year, surely that can't be true? Yes, I've made lots of summery dresses, but nothing winter-party appropriate. And the one purchased dress I have that could pass as holiday party wear, I wore last year and it's pretty distinct.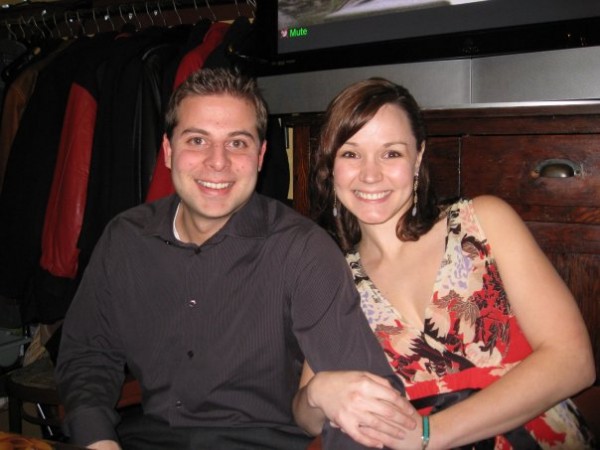 I've worn this dress to a wedding as well, with some of the same people in attendance. I've even worn it to a few of Mr Sewaholic's birthday celebrations. I definitely can't wear it again tonight! (Plus, isn't it the worst when you wear something you didn't make when everyone knows you sew? All night long people ask if you made it, and you have to admit you didn't!)
And I can't just go buy a dress. Nothing ever fits me properly off-the-rack. Either it fits in the bust and is way too snug across the hips and thighs, or the bust is sagging and the shoulders don't fit if I pick the size that fits in the hips. And for the price I want to pay, I'm looking at cheapo stores, full of polyestery or glittery goodness, either boring and conservative, or too trashy for my liking. I've always had troubles buying holiday party dresses and outfits, usually resorting to a skirt and a nice top at the last minute!
So the plan was to stop by Fabricana and pick up some black fabric. Little Black Dress, to the rescue! I was going to make Simplicity 3965 again, taking a short break from the men's shirt project and make a TNT (tried 'n' true) dress.
It's not the perfect solution, as I'd love to whip up something completely new! But I know it will work. It fits well, it's got a full swishy party skirt, and I am certain I'll wear it again (and again and again!) It would be a great wardrobe piece, not a one-time party look. Just change the accessories and shoes and it's a whole new look!
Speaking of shoes – here's what I'm thinking: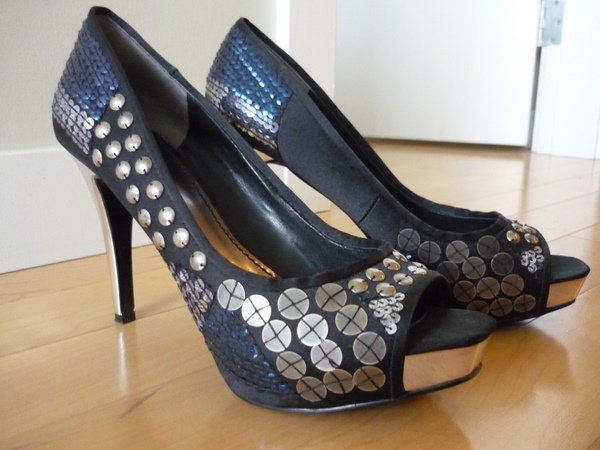 Par-tay pumps! Shiny heels and lots of bling.
Anyhow.. I went to Fabricana and couldn't find the right black fabric. I wanted wool but they were all too suit-y, I looked at silk but they were all too shiny, and I didn't want sweaty polyester. And then… this gorgeous, gorgeous tealy blue silk called out to me! (The photo doesn't do it justice – it's a beautiful, rich, iridescent color!)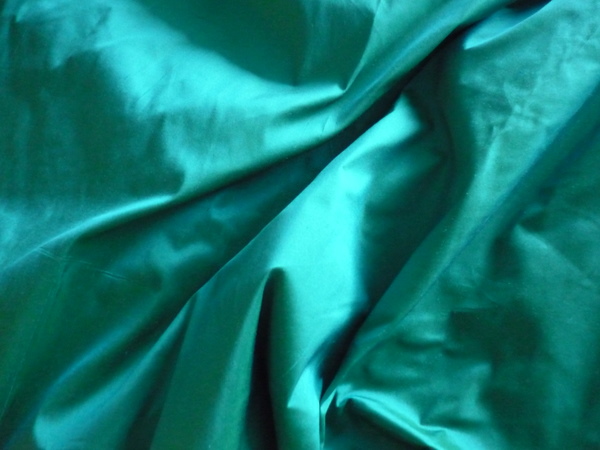 I swear, it called out to me across the room! I wanted this fabric over two years ago, when I was considering making my bridesmaid dress for a friend's wedding. It had to be a black dress, and I remember poking through the silk dupioni looking for black, and lusting after this vibrant teal instead! If the fabric's still there after two years, it's meant to be.
I picked out darker teal lining, turquoise grosgrain ribbon, and lime-green lace trim for the lining. Isn't it the most fun colour combination of sea-greens and blues? I love it!! I feel so much more pumped about this than a basic-black dress.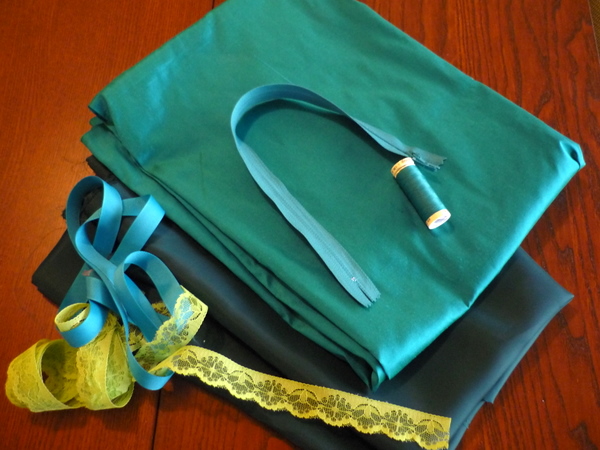 And the total cost? Under $100. For a pure silk, custom-fitted dress? Yes please! There's no way I could do as well shopping in stores.
I started cutting already, and have just under two days to sew up this dress in time for Saturday night's party. (Good thing I've made this pattern before and know it fits.) Wish me luck!
PS. In case you missed it, check out my interview with The Cupcake Goddess! She and I had a chat about the pattern business, my creative process and my hopes and dreams for the future!
PPS. Have you stopped by The Blue Gardenia recently? Denise is having an awesome giveaway, be sure to enter! I definitely did. A vintage dress pattern, teal fabric, and red lipstick to complete the look? Sounds absolutely perfect! Hurry, the giveaway ends today!