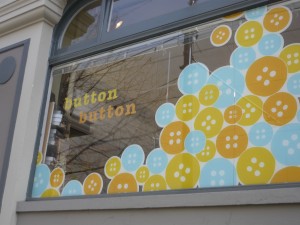 Ever pick out the buttons first, before deciding on a sewing project?
It's easy to do at Button Button in downtown Vancouver. This little shop is a candy store for knitters and seamstresses, in search of the perfect finishing touch.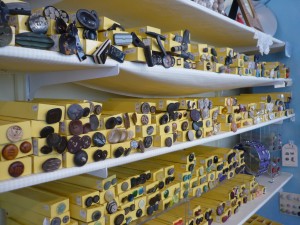 I stopped by on a lovely sunny Saturday and the store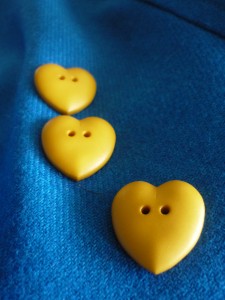 was full of knitters, sewers and other crafters, with finished projects or swatches in hand. And they were kind enough to let me take pictures!
Buttons are sorted by material, or by colour, or by theme. I could spend hours there, just looking and touching and imagining what each button could be used for.
I just had to own these sweet golden yellow heart buttons – since I didn't have a project in mind, three seemed like a good number. (I can always go back!) It's hard to tell from the picture but they're about 1″ wide. I think my Advance shirtdress asks for 3 buttons…
If you have patience and time to spare, there are plenty of goodies in the appropriately named Button Soup bin. This bin is larger than it looks in the picture, even bigger than a kitchen sink!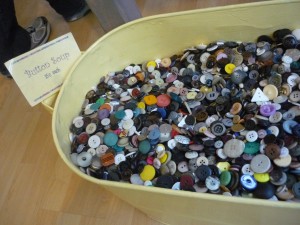 I managed to score 6 of the same black-and-white flower button by digging through Button Soup.
Won't they be adorable on this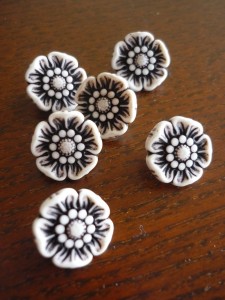 Vintage Vogue sundress I'm planning to make? And would you look at that, it needs 6 buttons. How perfect is that?
I'm already regretting not picking up a pound of assorted buttons for $4. Think of the possibilities! A pound of buttons goes a long way, and looking at the bundles from the outside, the assortment and quality looked excellent.
It's the sort of thing you wish you had on hand, when you're looking for buttons to finish a project late at night, and all the fabric stores are closed.
Once I have planned projects in need of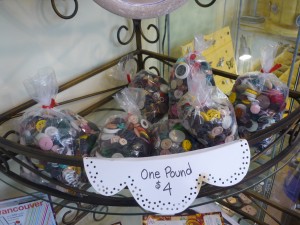 buttons, I'll definitely go back. It was a lot of fun picking out buttons for imaginary projects, but I'd like to do it again with fabric swatches in hand.
Like when I make another Beignet skirt, where the buttons are a focal point. I actually picked up 12 green and white vintage buttons for a future Beignet project.
I'm not sure of the colour for the skirt – would kelly green be too much? White? Or go completely in a different direction, stop trying to
match, and make the skirt in hot pink?
Button Button is the perfect place to choose buttons for a coat, where you need one or two big, fabulous buttons to place front and centre.
And when I'm back, of course I'll pick up my pound bag and poke through Button Soup again, how can I resist?
If you're in the Vancouver area and are looking for the perfect button to finish a project, or find inspiration for your next one, Button Button is worth the visit!