To match the Brown & Blue lingerie set posted here, I sewed a garter belt from the leftover fabric. This is a type of undergarment you don't see a lot of people sewing or wearing. In fact I've hesitated posting about it for that reason. Is it too unusual? Too personal? Should I talk about underwear in this much detail? Do people who wear garter belts want it to be a secret and pretend it's tights under there?
So today here is a garter belt I sewed. Some might say they are outdated, some might think they're a more comfortable alternative to tights. Either way, once you get into sewing lingerie, you have the potential to sew your own!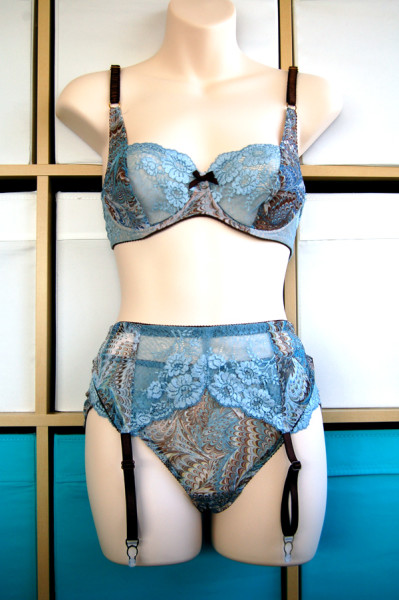 This is based on Ohhh Lulu's Theda Short Garter Belt pattern. I say based on because I started with this pattern and made so many changes it's not quite the same anymore.
I started by cutting a large, but that was a mistake. It was going to be way too big even before factoring in the stretch of my fabric. This pattern is meant for wovens and I am using knits.
I added seam allowances to the top and bottom edges so I could use picot elastic to match the bra and panties. I used leftover narrow cup elastic from the bra kit to stabilize the scalloped edge lace.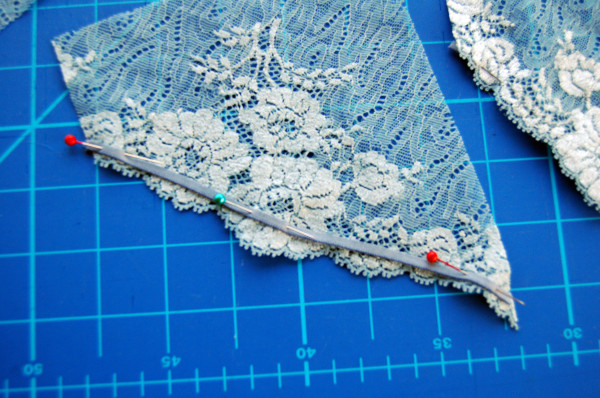 I ended up reducing the width by about 6cm pinched out of each side, and another 5cm pinched out of centre front. Quite a lot!
The back closes with a bra hook closure.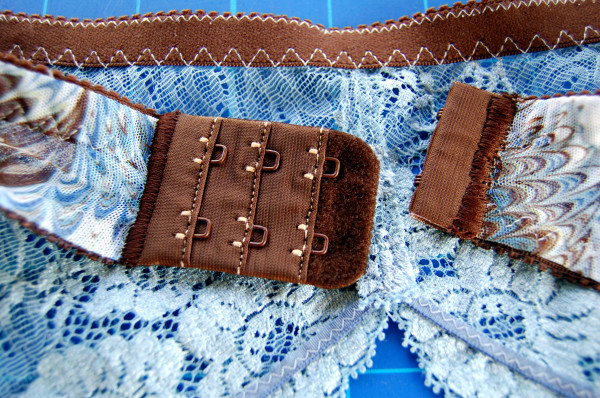 I wished there was more information included about making the garter straps, as it's not easy to source pre-assembled garter straps. I ended up buying metal clips from Bra-Makers Supply, strap elastic for the straps, and sliders and rings for making them adjustable. Lots of guessing as to the right width and how much strap elastic to buy. Though this is probably a niche market, I can't imagine many people out there sewing their own garter belts! (Although I did see Gertie mention retro-style lingerie last week and people were excited about the idea. So perhaps it's not as unusual as I thought.)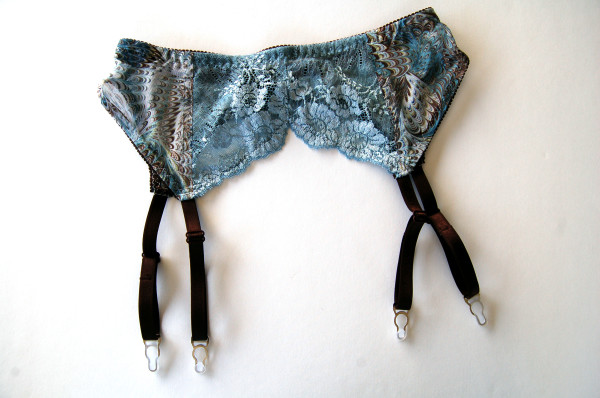 Here's how I made the straps:
First, I cut 1 yard of 1/2″ wide strap elastic into four equal pieces. I threaded the end through a slider and bartacked to hold the slider in place.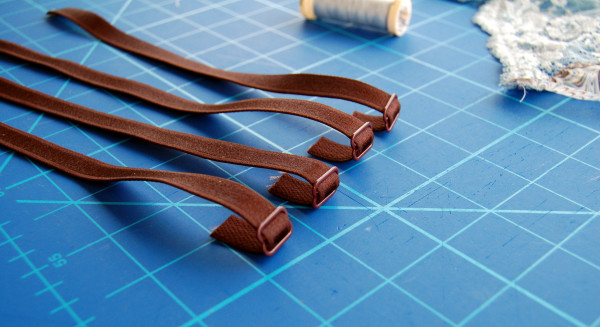 Then, I threaded the long end of the elastic through the garter clip, shiny side down, as if it was a ring.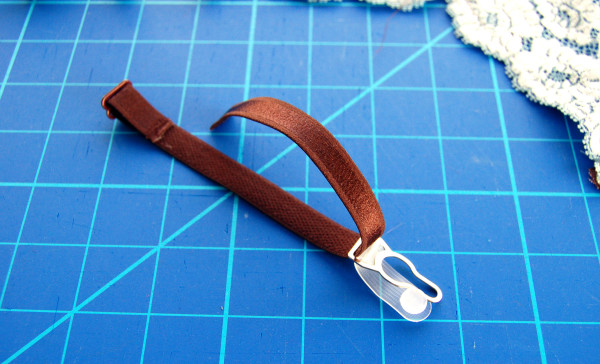 Take the loose end of the elastic, and thread it back through the slider.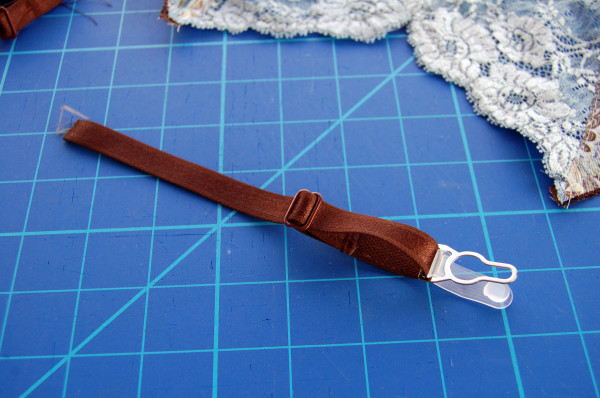 Repeat with the rest of the straps.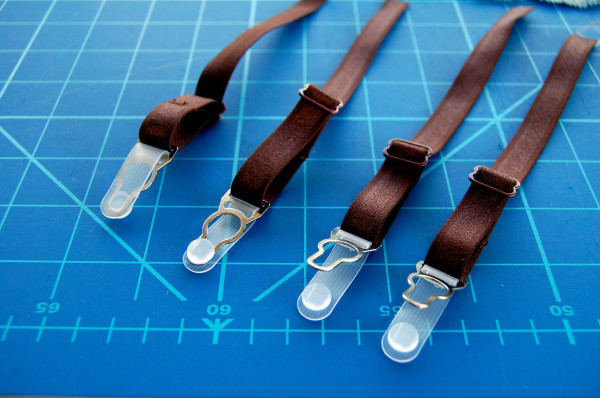 Then attach each strap to the garter belt. I thought it would be easier if I sewed each strap with a straight stitch first, then turned and bartacked them firmly.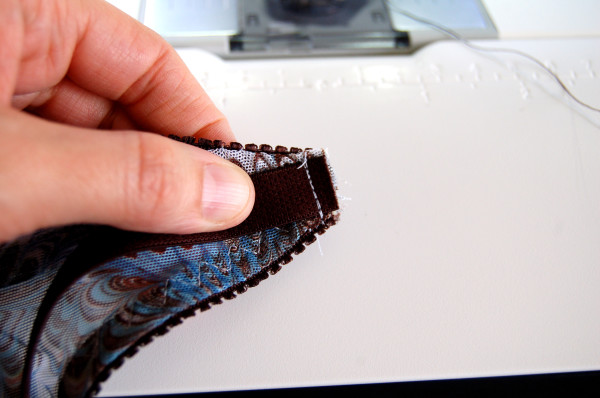 My bartacks aren't perfect as it was hard to sew through that many layers.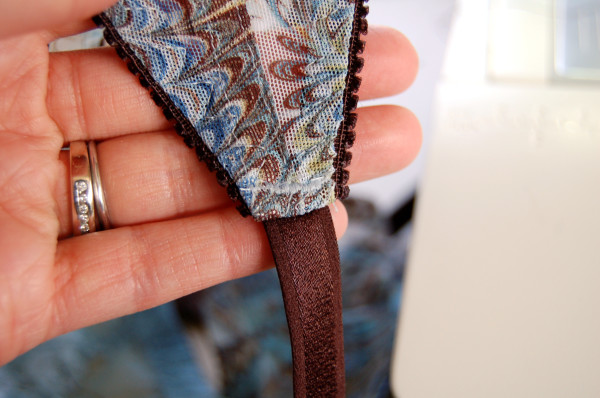 Overall, it turned out quite well for a mostly-improvised project and a first attempt at this type of garment!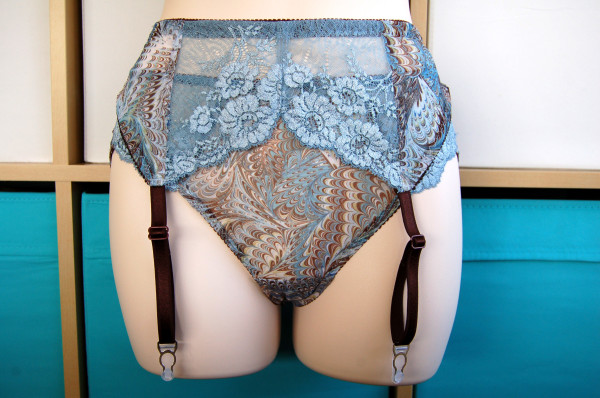 I think I'll stick with silver findings from now on for bras if there's going to be a garter set so they match the metal clips. The metal clips are really nice and I like that there is no colour, just a clear backing. Pretty expensive ($8 for 4) but again, probably the sort of hardware you can cut off when the garment wears out and re-use it.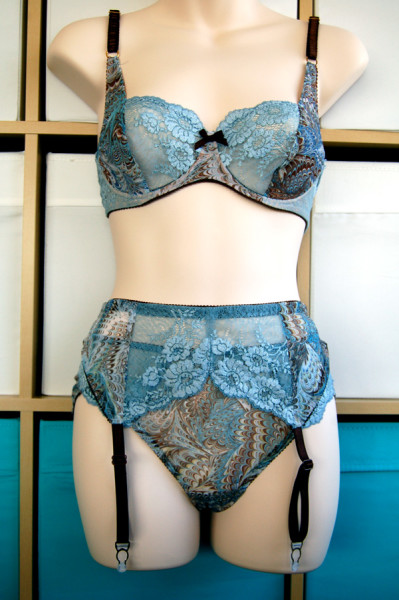 I used leftover wide elastic from the bra for the top edge, and bought narrower picot elastic for the lower edges.
That lace along the front is so pretty. The angle along the side follows the lines of the panties making it a good match for the set.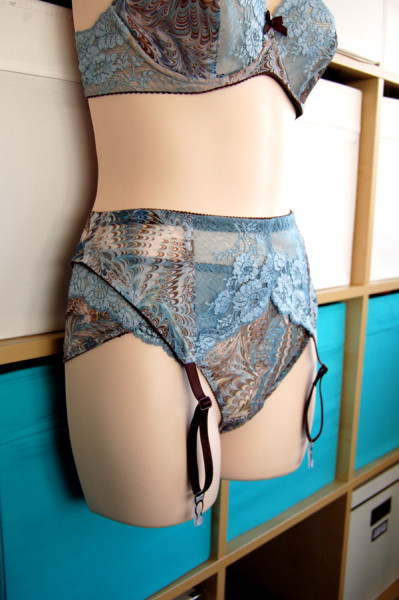 Flat view: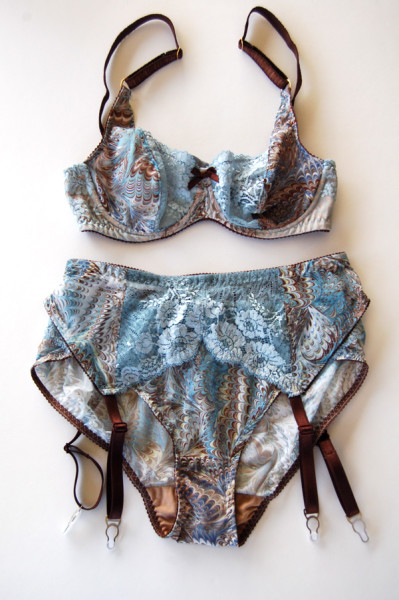 Ok! Anyone sewn a garter belt before? Has anyone seen pre-assembled garters for sale? I'm enjoying sewing all kinds of lingerie, including the more unusual and less popular items. It's great to be able to sew specialty items that may not be easy to buy.