I took a bra-making class at A Great Notion in Surrey, BC recently! I receive their catalogue and flyers in the mail and often read through the list of classes thinking 'hey, that class would be fun!' When the December flyer arrived, during the excitement of setting 2014 goals, I signed up for Bra Making! Caroline did the bra-making class with me as well. And it was so much fun! It was two full days long, all day Saturday and Sunday, and in the end we both finished two bras. Two entire bras! One day for each bra.
The class was taught by Johanne Brousseau, an expert bra-fitter and sewing instructor. I'd highly recommend taking a class with Johanne as she's extremely knowledgeable, friendly and encouraging.
The very first thing was getting fitted, which meant taking off our shirts and bras with the instructor and getting fitted for the right band size, wire size and cup size. A bit unnerving, taking off your shirt for a stranger, and having them press a wire to your chest, but I love that we got the right fitting size from the very start.
Here is my first bra!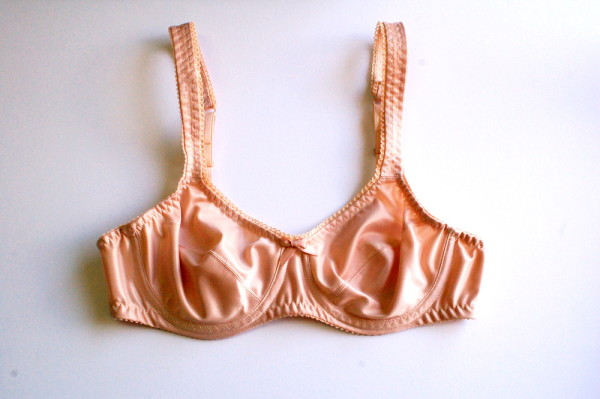 And here is my second bra!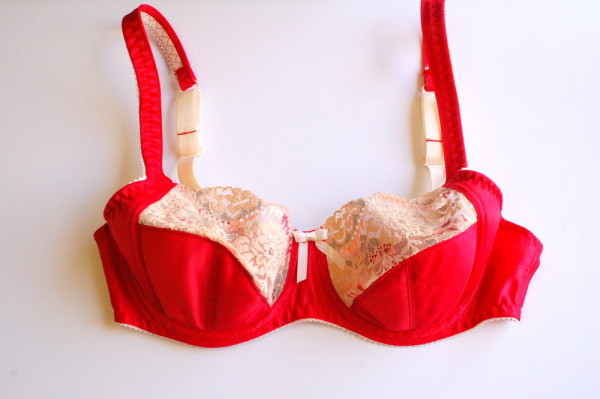 Ok, the details. The first bra is Pin-up Girls Classic Bra 1230, using a Bra Kit in beige. I made a 32C and made no alterations.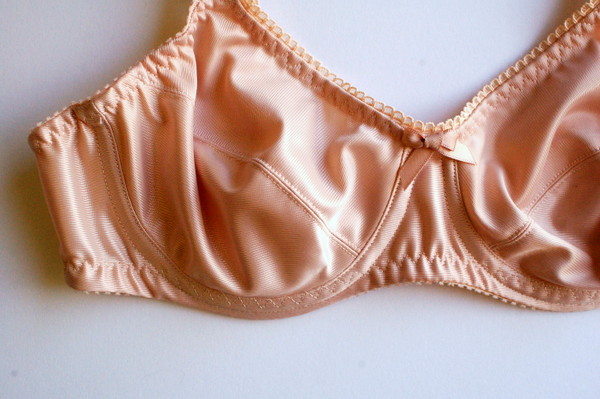 It fits very well and for the first time, my underwires sit flat against my body. My bra doesn't try to slide up when I lift my arms.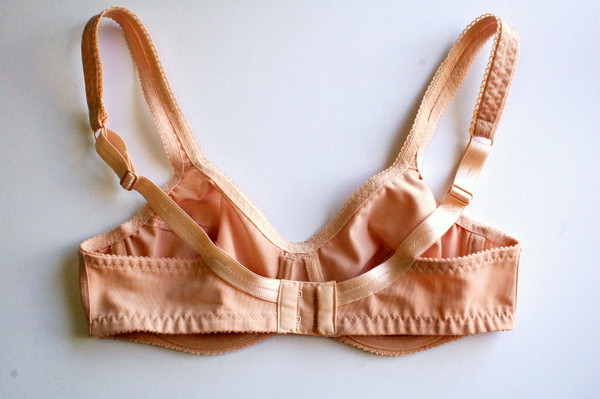 I thought the full band – elastic going all the way around the body under the cups – would look matronly, and perhaps it does compared to a sexy fashion bra, but it's soooo comfortable! Full band, all the way.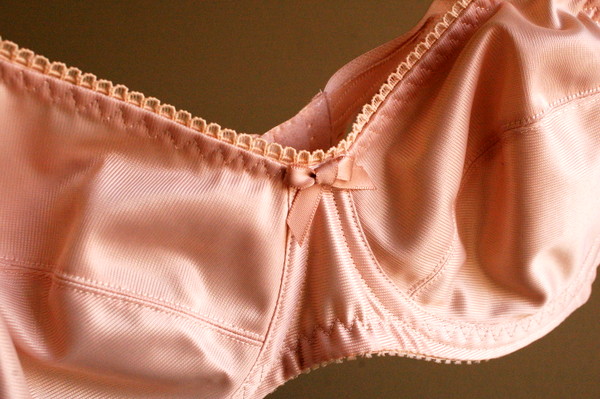 For the second bra, I got adventurous! I decided to try the Shelley pattern also from Pin-up Girls, add foam to the cups, and use lace.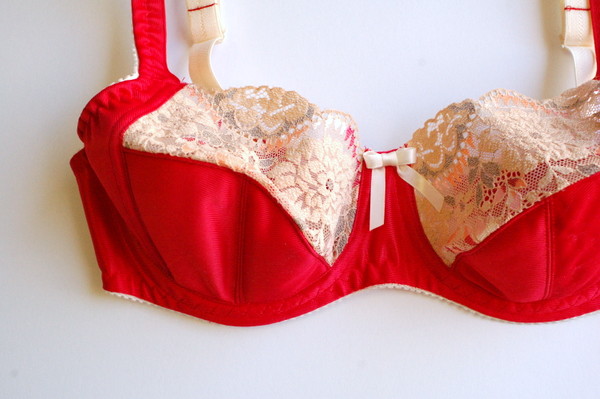 To be honest it was a lot to take on for the second bra. The foam wasn't easy to sew in, because of the lace panel, so I had to improvise how I attached it to the fabric cup. The first bra pattern would be better to sew with foam because it's an all-fabric cup. I think it's probably better to add one new thing at once, either lace or padding or trying a new pattern. But I couldn't resist this gorgeous fabric kit in red and cream lace. It's so pretty! This is the sort of bra I would admire in the store, if it existed, then choose a sensible beige or black.
I wanted a matching red elastic kit but settled for the cream colour. Now that it's all sewn up, I love the contrast of the ivory and red together!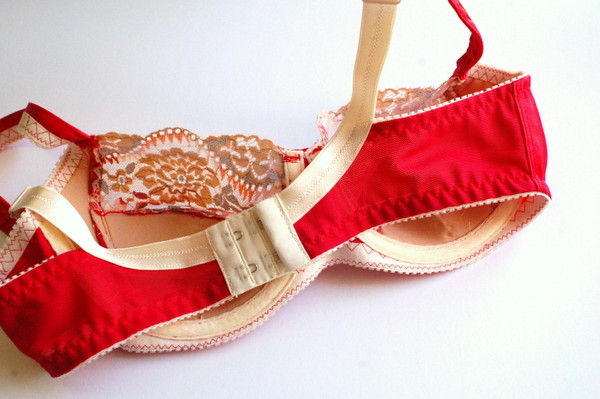 In the photos, the red bra is definitely prettier than the beige one. The lace makes a huge difference! So does the bright happy colour.
I want to compare the two patterns even more, and try making a Classic Bra with foam cups, and make a Shelley without foam. Then I'll have both patterns in foam and non-foam for a true comparison. So far I actually prefer the classic bra fit and feel. But I love the look of the lace and the bright red of Shelley. And Shelley makes me look bustier – but I can't tell if it's the foam cups or the shape of the cups that's giving it more oomph. That's why I'm going to make a few more as experiments to determine which is my favourite. Wear them several times and decide if the fit needs changing. And once I've figured out which pattern and fabric combo feels the best, time to make all the bras!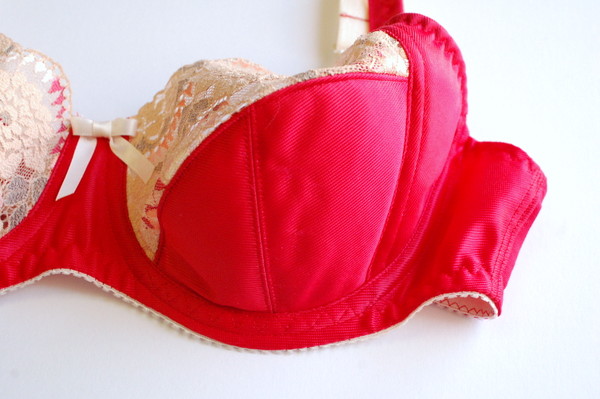 Thoughts about bra-making:
It's not as hard as it looks! It's just different. Using the right findings and elastics makes it easy to get a professional-looking bra.
There is no pressing or serging! Which makes it faster because you don't need to leave the sewing machine.
Taking a class was a wonderful way to do it. You have the reassurance of someone to ask, right there, if you get stuck or want to make sure you're doing it the right way. Unpicking tiny stitches on thin fabric is no fun. (I did it a lot on my second bra.)
We're really used to – or I am, anyways – round padded cups that give even the smallest chests a melon shape. The foam dome, as Norma from Orange Lingerie calls it. So it's different to see a soft-cup bra on me. It gives a shape more like my bra-less shape – pointier, less rounded and smoothed out. However, it's really nice to wear a lighter bra! I never noticed but a padded bra can be heavy. And hot in the summer.
When sewing bras, keep your hands moisturized so you don't snag the material. When I inserted the underwires on bra #2, I scratched the cup fabric with my rough hands. It's not the end of the world but it's a bit discouraging to snag your project before it's even finished.
Buying a complete bra supply kit makes it easy to ensure you have all the right parts.
One good thing about being a small bra size – you can get more that one bra from one kit! I think I'll be able to cut at least 2 more bras from each kit fabric; I'll just need more elastics and hooks.
There's a bra-supply company located in Canada! Bra-Makers Supply is in Hamilton, Ontario. How exciting to be able to order within my country and not have to pay international shipping and potential duties.
Even when you think you know a lot about sewing, it's refreshing to take a class and keep on learning.
Making your own anything is the best way to get a perfect fit, and customize the style. And it's really rewarding to be able to cross 'find bra that fits' off your life list.
Now there is no reason to throw away any scrap of fabric, ever, if there's enough to cut bra cups!
Caroline and I are both super excited to make more bras. As soon as we got home from the workshop, we both went online and ordered more supplies for future bra projects. So much fun!
Have you made a bra? Many bras? What's your favourite pattern, and where do you like to buy supplies? Any tips for newbie bra-makers?