Tasia has already told you all about her experience with the bra-making class we attended at A Great Notion. I thought it would be fun to talk a bit about how it went for me as well!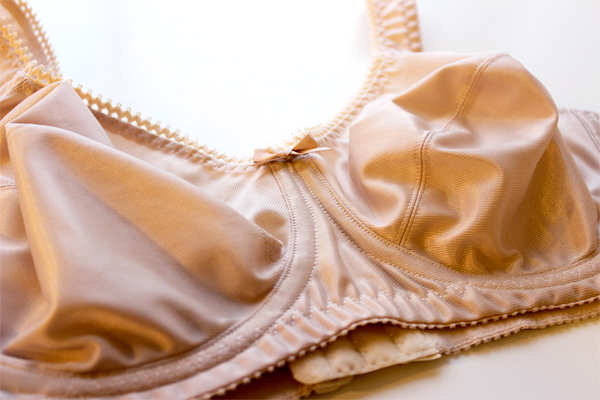 At one of our meetings right at the beginning of the year, Tasia mentioned that she signed up for this two day bra-making class. I was instantly intrigued! I have spent plenty of time ouu-ing and ahh-ing over Amy and Novita's lingerie creations, and I've always thought that I would really love to learn to make my own lingerie someday. Someday being the operative word. I say that about a lot of things! I really thought it would be a big undertaking, and the idea of sewing such teeny underthings seemed intimidating for some reason. But I decided it was time to take the bull by the horns and commit to a weekend of learning. I am so glad I went for it.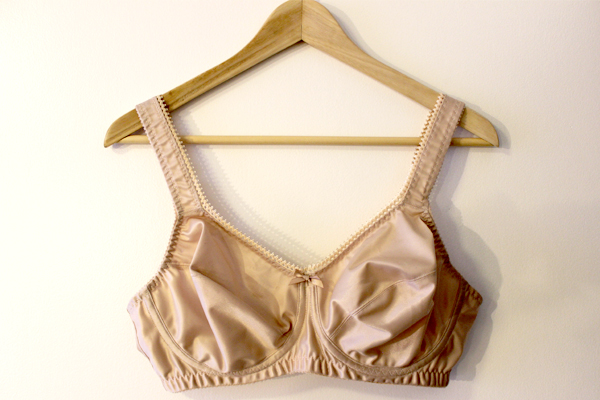 We were each able to complete two bras over the weekend. After I finished my first bra at the end of day one, I was really excited. I didn't think I would be able to pull off sewing an entire bra in one day. That included fitting, cutting our pattern and fabric, and lessons along the way. The teacher, Johanne Brousseau, was super knowledgeable and encouraging. It was really great to have her there to demo each step, and help us through the process. If we had a question, she was right there to answer!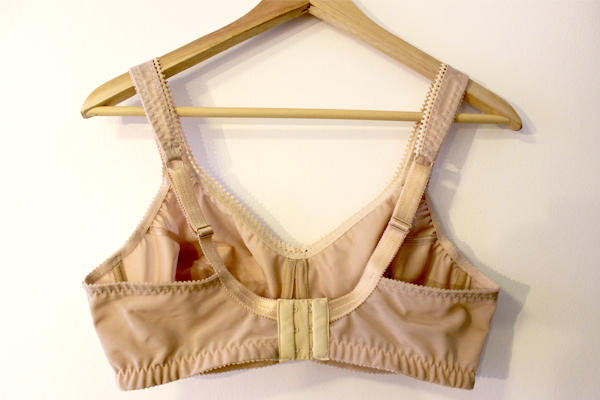 Getting fitted was a bit scary! We got to go into a private room with the teacher, and we were asked to remove our top and bra to be measured. She had all of the wires and cups ready to go and she tried them on me to be sure I was going to get the right fit. Then she told me which size to cut, how to adjust the pattern, and I was off! Johanne was super professional, and made me feel comfortable. She knows what she's doing, so it was great to know that I would get the exact right size bra. Fast forward to the end of day one, and after we finished our first bra, we regrouped with the teacher to try on our bra in private and she looked for any fit issues or small tweaks that could make the fit perfect.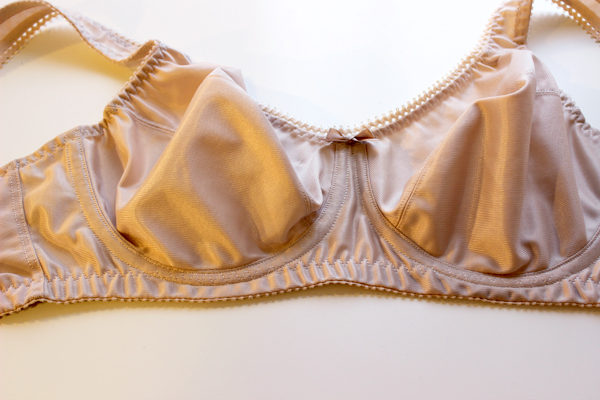 So my first bra, in the photos above, is the Pin-Up Girls classic full band bra from Bra-Makers Supply. This was the bra pattern that came with the class, and we were also given two kits (one white, one nude) to complete our two bras. The kits were also from Bra-Makers. My bra came together surprisingly well without any big mistakes or setbacks. After trying it on, I realized I am definitely not used to wearing a soft cup bra without any padding. There is no doubt that I'm busty but I still feel more comfortable with a layer of padding on my girls, it's cold in Canada, if you know what I mean! I also personally felt the fit made my bust look a little bit on the pointy side. But it looked pretty good for my first try!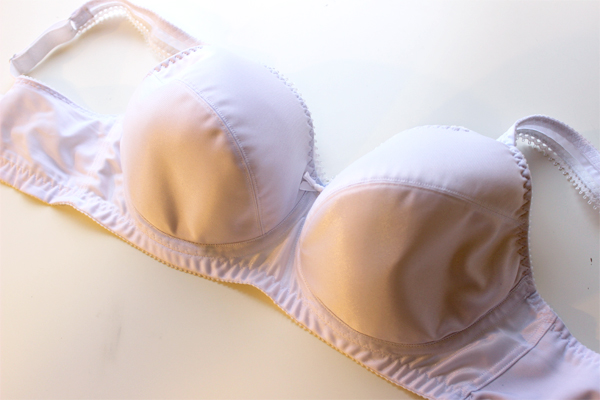 So for my second bra, I wanted to use the same pattern and tweak the fit a bit to make it right for me. I learned how to add padding to my cups, which was really easy. I also curved the bust seams a bit more so that they were not quite as pointy.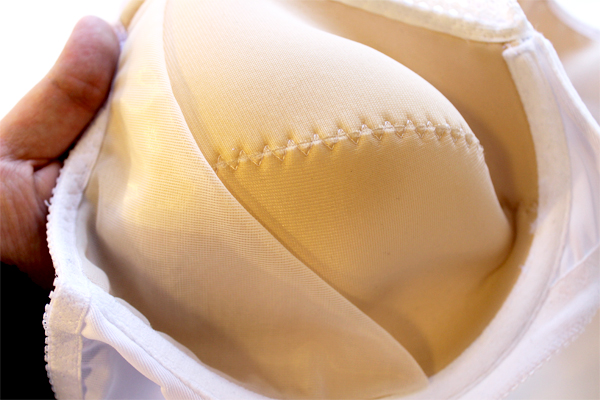 Here's a shot of the inside of my second bra. All I had to do was cut the cup pieces out of padding, remove the seam allowance, and zig-zag my padding together. Then I laid my sewn fabric cup overtop and treated it as one piece. I also added a "sling" to the side of my cups – which is really just a folded piece of mesh fabric. This gave me a little extra support and lift.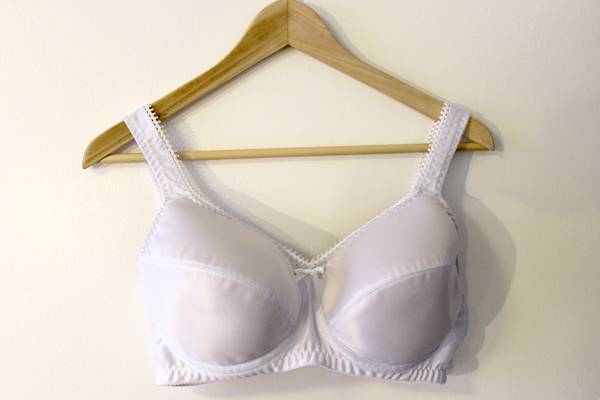 I'm a larger size than Tasia, and you can see how large my cups look in this photo! Wowie, right? These are full cups, though, something we don't see often in ready-to-wear bras. I am going to try out demi-cups and lace combinations on my next make, I'm excited to explore some sexier combos! But I do love the coverage and support of this classic full band bra, and I think in a different fabric even this bra could be sexy.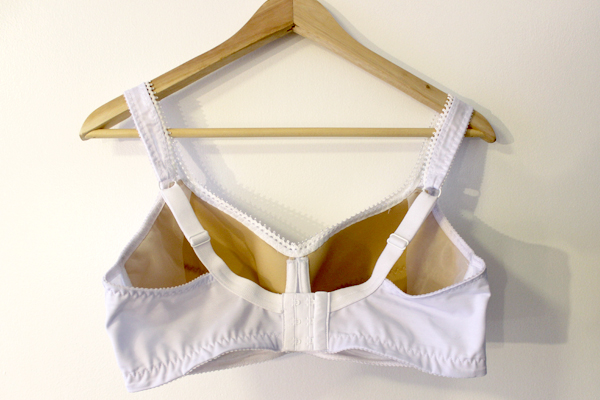 The whole energy of the class was really cool! I was really feeling the girl-power vibes in that room. There were beautiful women of all shapes and sizes. If you were comfortable, you were able to come out in your finished bra and show the class how it looked. It was really interesting to see the teacher critique each bra and point out fit issues and how to remedy them. Something I wouldn't be able to experience if I had just decided to teach myself.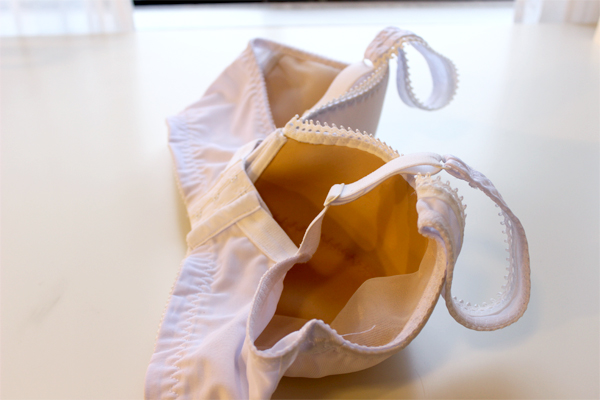 After the weekend was over I went straight home bought some supplies and kits from Bra-Makers Supply, and Merckwaerdigh. We have a gorgeous stretch silk charmeuse at Télio, and tons of gorgeous colors in stretch laces and organic cotton knits, so I am seeing some really lovely bra/panty combos in my future.
Most of all, I love that this is one more thing I can make instead of buy. After wearing my bras for a few weeks I can say that having a bra fit perfectly to your body is really pretty life-changing. I can't wait to make so many more!