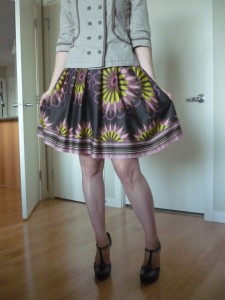 Here are a few pics of me in the border print skirt I made last week!
I wanted to share how it looks on a real person, instead of on the dress form.
It's super comfortable, and I love that I have secret inseam pockets to stash stuff. Wearing full skirts makes me instantly feel prettier and more girly.
I'm inspired to make more skirts like this – and to add pockets to more of my projects, if not every skirt I make from now on.
Here in Vancouver it's not completely spring weather yet, only 10 degrees at most.. but it sure feels like spring in this outfit!
And on another note – this pattern arrived! Finally, I can create the ultimate border print dress and parasol combo. Not only was it carefully packaged, but I also received a little surprise as well.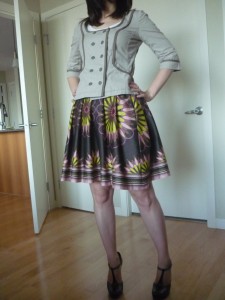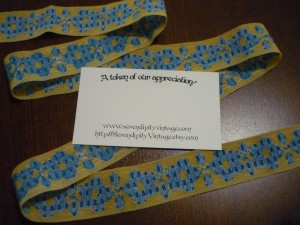 Ribbon! I love this little gift-with-purchase. I'm definitely going to find a use for this pretty little piece.
So far, my best idea is trim around the waistline or empire seam of a bodice, on a blue or yellow dress. I'm leaning towards blue.
Your thoughts? Leave 'em in the comments below!